Your Monthly Forecast
All the latest monthly forecasts, organized by sign.
Age of Aquarius
Susan Miller's astrological predictions for a new century.
Current Trends
Find out the planetary trends that might be influencing you today.
---
Scorpio (October 23 - November 21)
Your May Horoscope by Susan Miller
The month starts out with an important full moon in Scorpio, May 3, bringing something of major personal importance to you to culmination or closure. This full moon, the only one in Scorpio this year, is friendly, for it will receive a beautiful vibration from Neptune. Neptune rules your true love sector, so developments may relate to a sweetheart you are dating, or if attached, to a lovely episode with your one-and-only over that weekend May 2-3 that will take your breath away.

There are alternate possibilities. You may find you are hearing news that thrills you about a pregnancy or one of your children, or you may be proud to wrap up a creative project. The fifth house, so brilliantly lit now, is the same...
To view a forecast, select a sign from the menu below and click on Go.
---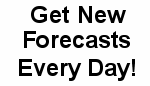 Click here to get your daily forecast
direct to your email or PC.


Fluffy Down Bedding,
Comforters and Pillows
Hosted by: