Your Monthly Forecast
All the latest monthly forecasts, organized by sign.
Age of Aquarius
Susan Miller's astrological predictions for a new century.
Current Trends
Find out the planetary trends that might be influencing you today.
---
Scorpio (October 23 - November 21)
Your February Horoscope by Susan Miller
Sometimes life is just perfect in every way, and judging by your chart, dear Scorpio, this describes you. Career, home life, love, and romance - everything seems to be coming together for you in one big package, tied with a big white bow.

A peach of a full moon in Leo, the finest of all of 2015, will occur at 15 degrees on February 3 and will seem to have been created by a whole group of fairy godmothers, just for you. This full moon will brilliantly light your tenth house of honors, awards, achievement, and fame, and bring your fine work to the attention of many influential people. In fact, you may suddenly be in the press with very positive publicity. Leo is the sign of entertainment, luxury goods, and teaching, so if you work in one of these fields, you will be especially well positioned to reap hefty benefits. Having said that, however, all Scorpios (and those with Scorpio rising) in all industries will have plenty to celebrate this month when it comes to career. This full moon on February 3 (allow a plus or minus four days) comes conjunct Jupiter, the giver of gifts and luck, expanding your reputation so that everyone will know your name. Chances are, your name will be buzzed about on everyone's lips and will appear in big letters on the marquee. Clearly, you may...
To view a forecast, select a sign from the menu below and click on Go.
---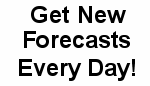 Click here to get your daily forecast
direct to your email or PC.


Fluffy Down Bedding,
Comforters and Pillows
Hosted by: