Your Monthly Forecast
All the latest monthly forecasts, organized by sign.
Age of Aquarius
Susan Miller's astrological predictions for a new century.
Current Trends
Find out the planetary trends that might be influencing you today.
---
Scorpio (October 23 - November 21)
Your March Horoscope by Susan Miller
This year promises so much acclaim in your career! You will see the truth of this on March 3, when Jupiter (good fortune), now in your fame and achievement sector, receives a rare aspect from Uranus, planet of surprise, in your workaday project sector. When news comes, it will arrive quickly and be completely unexpected, arriving like a lightning bolt! Expect a generous reward for all the superior performance you've put in. The harder and smarter you worked, the bigger your reward will be now.

A few days later, March 10, Mars will send glittering beams to Jupiter from your assignment house, so clearly the work you've done and work you will be assigned in March will lead you up the ladder of success. August will be another big month for career news, so keep putting the pedal to the metal so you can rack up victories before Jupiter departs to Virgo, August 11. Once good fortune Jupiter leaves your career sector on that date, he will not be back for twelve years. While you will continue to climb the ladder of success, you won't...
To view a forecast, select a sign from the menu below and click on Go.
---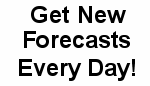 Click here to get your daily forecast
direct to your email or PC.


Fluffy Down Bedding,
Comforters and Pillows
Hosted by: