Your Monthly Forecast
All the latest monthly forecasts, organized by sign.
Age of Aquarius
Susan Miller's astrological predictions for a new century.
Current Trends
Find out the planetary trends that might be influencing you today.
---
Pisces (February 19 - March 20)
Your January Horoscope by Susan Miller
You are coming into your own, dear Pisces. It's been two long years since Mars came to visit you, but he is about to arrive now, on January 12, and remain with you until February 19. The ancient astrologers knew that having Mars in one sign makes you the "It" girl or guy. You will get things your way without compromise, which may be a new experience - you may not have seen such strong support in a long time. Mars will tour Pisces from January 12 to February 19. This is when you will have the most control over outside events. Having said that, Mercury retrograde will cause a little bit of complication from January 21 to February 11. Honestly, however, I feel almost nothing can stop your steamroller march to success. I will address Mercury retrograde later, but first, we have a more pressing concern, a difficult full moon starting the year off.

The full moon of January 4 in Cancer, 15 degrees, will be in an angry mood. This one will fall in your fifth house of love and romance, a sector that also governs pregnancy, children, and all creative efforts. Money may be a matter of concern, for the full moon will clash with Uranus, the planet of unexpected developments now based in your personal financial house. This may give you unwanted surprises having to do with your temporarily dwindling bank balance. This may be a matter of simply having done a math error, or, if you have a joint account, of your partner writing a large check but not telling you about it until it's too late to stop the damage. Many Pisces are self-employed, so it may be that clients have not paid you on time, and that may have caused a bad cash crunch. There are many possibilities, but...
To view a forecast, select a sign from the menu below and click on Go.
---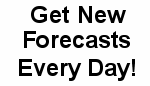 Click here to get your daily forecast
direct to your email or PC.


Fluffy Down Bedding,
Comforters and Pillows
Hosted by: