Your Monthly Forecast
All the latest monthly forecasts, organized by sign.
Age of Aquarius
Susan Miller's astrological predictions for a new century.
Current Trends
Find out the planetary trends that might be influencing you today.
---
Pisces (February 19 - March 20)
Your June Horoscope by Susan Miller
You have been working extra hard at your career, for you are hosting taskmaster Saturn in your solar tenth house of honors until December 2017, and Saturn demands your complete attention. Think of him as a high-price consultant who has not had time for you since his last visit to your professional sector 1985-1988. You might not have been born yet, or if you were, you might have been so young at the time that you still could have been in school. In that case, this is your first go-round with Saturn, and the first tour is the most important visit, for you will learn the most the first time. With each subsequent Saturn visit (we all have a maximum of three such visits in a lifetime), theoretically you will have less to learn.

This is your rare window of opportunity to make a name for yourself, provided you are willing to work with Saturn and to keep your focus and concentration, without distraction. Saturn takes 29 years to circle the Sun, and after he leaves in December 2017 next year, he won't come again to this, your most prestigious part of your chart until 2044-2047. You won't need a refresher course until then, for all of Saturn's tutoring in the professional realm will stay with you for at least three decades, possibly forever. This is why Saturn is such a tough love teacher - he wants you to learn and remember what you learned because he does not...
To view a forecast, select a sign from the menu below and click on Go.
---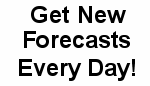 Click here to get your daily forecast
direct to your email or PC.

Hosted by: