Your Monthly Forecast
All the latest monthly forecasts, organized by sign.
Age of Aquarius
Susan Miller's astrological predictions for a new century.
Current Trends
Find out the planetary trends that might be influencing you today.
---
Pisces (February 19 - March 20)
Your March Horoscope by Susan Miller
Your life is getting more exciting by the minute. The month starts out with a lovely interplay between Jupiter (good luck) and Uranus (surprises) on March 3, one of the special features of 2015 - this aspect is rare. An assignment may come in at that time that can allow you to earn quite a bit of money. Don't be afraid to raise your fees at that time - it seems a top level VIP wants you in is or her corner. More assignments will come your way a week later, near March 10, and again, the pay will thrill you.

A relationship - someone who means a great deal to you - will be your full focus at the full moon, March 5. This will be an unusually friendly full moon, for Saturn, planet of longevity, will be supportive. You may get engaged or married at this full moon, move in together, or at the very least, promise to be exclusive to one another. If you are already married, you may now draw up new goals, or even renew your vows and give a party to celebrate. If you are not seriously dating, then you may be making a pact with a business partner or collaborator. No matter what you choose to do, with Saturn making such a strong and positive presence, you will...
To view a forecast, select a sign from the menu below and click on Go.
---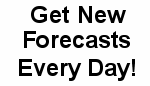 Click here to get your daily forecast
direct to your email or PC.


Fluffy Down Bedding,
Comforters and Pillows
Hosted by: