Sagittarius Horoscope for April 2013
By Susan Miller
A joyous confluence of planetary energy in adventurous Aries will assemble in your house of true love at the start of April, quite out of the blue, and remain there several weeks. Five heavenly bodies are already in place in your fifth house of true love, including Venus (love, luxury), Mars (energy and attraction), Sun (authority, ego, and confidence), and Uranus (surprise), all awaiting the arrival of the majestic new moon in Aries, 21 degrees, on April 10.
These planets will blend their unique energies seamlessly to push you forward into the social scene. No matter how disappointing a love relationship might have been in the past, April may bring you reasons to hope that a love relationship that is good for you can grow again. Astrology is not destiny, of course, as it is best used for planning. While you have time in early April and you will find the time - you must circulate as much as possible.
You've not seen anything like this in recent years, so you must take full advantage. Venus, the love planet, is now in the finest place it can be for you, Aries, but only until April 14. Venus also rules good looks, so choose a day to visit the salon or barbershop (as the case may be for you) and spiff up your looks. While you are at it, choose a few new clothes for the coming season. This is your time to have a little fun, so if you can afford a visit to the spa for a treatment, do. Choose your best days to do this, Thursday, April 4, through Saturday, April 6.
These days, April 4 to 6, are due to be outstanding for you because Venus will meet with her lover Mars for the first time in two years. Each time they meet, they meet in a new constellation and sign, but this year, for the first time since 1985, Venus and Mars will meet in Aries. Wow!
Venus loves to be with her lover Mars, but the universe sends each on different assignments, so the only time they have is a once-in-two-year meeting. Whenever this configuration comes to be, with Venus and Mars together at last, these two cosmic lovers join for only one purpose, to spark the spark of love. Mars is the natural ruler of your solar fifth house of romance, so this gives Mars extra presence and importance now. You must plan to be out and about April 5 or April 6, remarkably, a Friday and Saturday night, for your probability of meeting someone highly intriguing will reach all-time highs.
The following week, the elegant new moon will appear on April 10 and bring all the energy of the planets in Aries into higher gear. You will have ten days to circulate, but the first five days, just after the April 10 new moon, will be the strongest. Even though you may be busy at work, plan to circulate after work and over the first three weekends of April.
You will be in an audacious mood, mostly because Aries can be bold and experimental. However, with planets in fiery Aries and Jupiter, feeding the fire of these Aries by being in Gemini (an air sign), you may be in a bit too much of a risk-taking mode. Use good judgment, too. If you are planning to meet someone you met online, meet in a public place mid-day - it is always sensible to do. This month, you may be drawn to an athlete, detective, or other law enforcement officer, or someone who works in the military (or wears a uniform). Or, even more likely, you may be drawn to someone who is self-made and runs his or her own business, for Aries is a very entrepreneurial and business oriented. The preponderance of fire signs suggests this person would be jovial and have a good sense of humor.
You are not likely to meet your new love at the office, not unless you meet after Mars moves into Taurus, April 15 to May 31. Instead, your very best chance of meeting will be through an introduction of a friend, at a party or social scene, or by a short trip to a resort over the weekend of April 6-7 or April 20-21. Online dating is a possible source of meeting too, due to Venus' presence in your house of love - Venus rules your solar eleventh house of community and social media, hence, the reason you may want to try a dating site.
If you are already attached, you will have fun with your one-and-only without the usual mundane distractions of normal life. This means you might want to take a trip over a weekend to spend quality time together. If you hope for marriage, with Jupiter in your marriage house until June 25 for the first time in twelve years, it is a great time to get engaged, and an even greater time to wed. Once Jupiter leaves in June, this benefic planet will not be back until 2024.
Single or married, put a big gold star on April 23, when Mercury in Aries will signal Jupiter in Gemini. This will be a day made in heaven for you, because Jupiter is considered the Great Benefic, and is also your ruling planet, giving Jupiter much more presence in the scheme of things for you. If single, you may meet someone new simply because you'll be in a very cheerful, charismatic mood - others will find you completely irresistible. You may get an exciting text on this day, one that has your heart beating double time. If you are attached, you'll be included, too. Jupiter is still in your committed partnership house, so your partner may have a great idea for things to do together on that day or for something he or she is cooking up for the future. As an aside, April 23 will be a great day for your career or for travel, too.
If you hope for a baby, this would be the month to try. The moon always rules conception, so if your schedule permits, you might try in the days after the new moon April 10, for that area of your chart rules not only love but pregnancy and children. If that timing does not work for you, try earlier, if that is possible.
Creatively, this bright energy will fire up your imagination, and help you come up with remarkable ideas. If you are in a creative field, the work you are about to do should be remarkable. If you don't work in a creative field, you can now direct this energy to discover imaginative answers to pressing questions, and your solution would likely be quite off the grid and unusual - but useful. No matter how you'd like to use the first three weeks of April, the choice is yours, but I urge you to make an effort.
We are back in eclipse season, and the full moon lunar eclipse in Scorpio, 6 degrees, April 25, will fall in your hidden behind the scenes sector. It appears you are poised to experience a revelation when much truth is revealed. It may be a secret someone has kept private, or it may be something that person hoped you would not discover. Or, if you have been troubled by a psychological concern, you may now seek the advice of a therapist. If your psychological outlook is good, it may be that you need to attend to your health, as it appears you may feel less than energetic. If you need surgery, you may choose to have that taken care of now, or you may be near a woman - most likely your mother or other close female relative you love - who is in the hospital, a nursing home, or other medical facility.
It's also possible that you may see a client leave as a result of this eclipse, and it may possibly be one based in a foreign country. Or, if you work in publishing or broadcasting, one important project may now either end or be pulled before you can even begin it. Saturn will oppose the Sun and orbit closely to the full moon, giving a feeling of heaviness in the air in the last week of April surrounding the eclipse. It may be that the client will add a lot of extras that have to be included at the last minute, or that you are simply worn out by all the last minute work that you need to do to meet the deadline.
If your company is struggling, management may have to institute cutbacks. Should you be among those who will leave, because the eclipse will be in your sixth house of assignments, not your status-y tenth house, you can rest assured that your reputation will not be harmed. Don't see this as the end of the world - you don't want to be working for a struggling company.
With a full moon involved, and the moon rules your financial house, you may have a hefty expense, and you may have to put part of the money you need on credit cards or take out a small bank loan. See how this works out for you. If anyone owes you money, you may see a delay.
Eclipses represent extremely important moments of the year, so this full moon will be like three full moons rolled into one. At a full moon eclipse, something ends and something else begins, but not immediately. You will see things start up again shortly after, but possibly as long as nearly six months away, in November, when the next series of eclipses will arrive. All eclipses have a second act, so be patient while more information appears. In the meantime, you will become enlightened by what the eclipse presents to you - for whatever reason, that information has been hidden from you until now.
---
Summary
You may have an outstandingly romantic month in store, with five out of ten heavenly bodies filling your house of true love. Included are Venus (love), Mars (attraction), Uranus (surprise), the Sun (confidence), and to put all this wonderful energy together, the new moon, April 10.
If you do meet someone new, this person will be what you always look for in love - someone exciting and adventuresome, with a strong sense of humor. This person may also be someone with whom you would like to travel, to explore many new cities and locations, worldwide. This person seems to be self-made, in a business of his or her own, in the military, or who competes regularly as an athlete.
If you are single, and have lately given up trying to find anyone for you, get back in the dating game - early to mid-April will be your best time to find love in all of 2013. One little caveat: Pluto will not be friendly, so you may be concerned about money this month - keep socializing but watch what you put on credit cards. Expenses may get away from you.
Even before the new moon, you will have a sensational date night on April 5 and 6, a Saturday, when Venus and her lover Mars meet in the night sky in your house of romance. What a wonderful day for you to circulate to meet someone new, or to celebrate your love with someone you already have a relationship with now. This is a rare meeting of these two planets, and even rarer to have them rendezvous in your house of true love. Circle April 5 and 6 in red!
The end of the month brings big news, in terms of your work, at the lunar eclipse, April 25. Eclipses bring sudden news, so, because this eclipse falls in your behind the scenes sector, a secret someone has been harboring will suddenly surface. You may also see at least one important personnel shift that you never expected. A co-worker or subordinate may suddenly announce a departure, or a client may unexpectedly leave or switch assignments or orders.
News will affect your income if you work on commission, or if you depend on another for regular payments - it may not come, so be ready with a contingency plan. (This "other person" may be your spouse, business partner, or ex whom you expect to send child support, as a few examples.) Someone may not be completely up front with you, so if you are told something that does not ring true, dig deeper and follow your instincts.
Although you will most likely feel the eclipse in terms of work projects and co-worker-client relationships, there will be some Sagittarians who may have sudden interaction with medical personnel, either for yourself or for a woman close to you who may be infirmed at home, in the hospital, or another facility. This person may be your mother, grandmother, favorite aunt, or very close female friend, for example. In this case, you will want to keep your schedule light so you can be of service to this person who means so much to you.
---
Dates to note Sagittarius:
Most romantic dates: April 1, 4, 5, 6, 7, 10, 13, 14, 18, 19, 23, and 24.
Be sure to go out on April 6, the day Venus will meet with Mars in your house of true love. Spectacular!
The new moon April 10 will push your romantic life up another notch. Be sure to socialize from April 10 to 24 because it represents your best time to meet someone new in 2013.
Venus will be in your house of true love to from April 1 -14, a wonderful time to meet people and to improve your appearance.
You may get an exciting text message on April 23 when Mercury and your ruler, Jupiter, are in conversation. This day can also be a fine day to travel.
The full moon lunar eclipse occurs on April 25 in your confidential sector. A secret may come out that someone tried to hide form you. Alternatively, you may have more than usual interaction with medical personnel either for yourself or someone close.
P.S. for April 2013
My New iPhone App is FREE for you!
At long last, I can tell you my secret! I have designed a free iPhone app that you can download today.
If you have an iPhone, just go to iTunes and search for "Susan Miller" and find my new app that I did with mobile app company Phunware of Austin, TX, called:
"Susan Miller's Astrology Zone Daily Horoscope FREE!"
Each day you will get a small, concise forecast on your iPhone for free every day. Think of it as your daily bite of chocolate to keep you informed, motivate you, and keep you progressing toward your goals. You will always know the aspects, for they will be at your fingertips. I have included Astrology Zone in the app, so you can read it (or re-read it) wherever you happen to be.
I worked on the design of this app for over a year, and I am so excited to debut it today! It is Apple-approved to work with all iPhones, including the iPhone 5, so no matter which version phone you have, you can start using it immediately.
If you search "Susan Miller" on iTunes you will see my new app, Susan Miller's Astrology Zone Daily Horoscope Free! as well as my other app, Astrology Zone Premier, that costs $3.99 and that I have had since 2005.
My older app, Astrology Zone Premier, will eventually be retired, as I can no longer afford to give so many words - approximately 1,100 words a day and 430,000 words a year - in daily horoscopes plus evergreen (personality) content in the app, for a one-time cost. That app will be folded into the new app, and if you choose to subscribe at a low subscriber cost, you will have the same daily forecasts, chock full of information, that you've come to know and love since 2005.
We built my Twitter feed into the new app, so that you can easily write to me to ask questions, converse with other followers, or share news quickly and easily from your mobile phone. My name on Twitter is @AstrologyZone. You will also find a link to Facebook, to my page, if you search "SusanMillerAstrologyZone"
If you already own my other app, Astrology Zone Premier, you will have plenty of time to make the switch to my new free app (with the option of getting the subscription). On Astrology Zone Premier, you will get alerts from time to time to let you know when the app will end - but we do not plan to end anytime soon and we will continue to support the app with daily updated content. You can buy my premium Astrology Zone Premier app now for $3.99, and enjoy it for now with no worries that it will disappear suddenly.
Don't have an iPhone?
My Astrology Zone Premier app is available on Android.
Also, no matter what phone you have, you can get the same daily horoscopes that I write for the iPhone, sent directly to your email address. This way you can see your forecast in any cell phone or email box in your computer, every day. This is a perfect solution for readers overseas or for readers who have cell phones other than the iPhone. You will receive all 12 signs every day, for a low cost of $4.95 for one month or $49.95 for a full year at http://www.dailyastrologyzone.com
---
Order Astrology Zone Products For Yourself or a Friend for 2013!
Here are lots of ideas for gifts! We ship to all nations of the world. Hurry! International, please add 7-10 days.
1. The Year Ahead Astrological Calendar $11.99
Now discounted!
To order, call Arthur for more information: 914.271.3640, ext. 11
Never be caught unaware of the upcoming aspects eclipses and retrogrades.
All lovingly described by Susan Miller in her annual calendar. A must-have!
http://www.americadirectbook.com/The_Year_Ahead_2013_Calendar
2. Daily Astrology Zone Horoscopes
Delivered to your email box every day, written by Susan Miller.
All different costs depending on whether you order $4.95 for one month or $49.95 for a year.
Each horoscope is at least 75 words (often longer), and you will get all 12 signs each day to your email box. If you don't have an iPhone, these are the same forecasts. Perfect for readers with feature phones or BlackBerrys, or for readers overseas.
Copyright Susan Miller Omni Media Inc.
http://www.dailyastrologyzone.com
3. MY PERSONAL CUSTOM HOROSCOPE BOOKS
WRITTEN BY SUSAN MILLER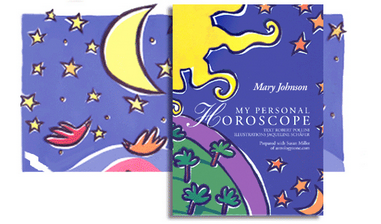 Chose among three editions:
My Personal Horoscope Custom Natal Chart Book, Adult Edition $49.99 plus shipping / tax
Have an entire book written by Susan Miller about your natal horoscope. Get to know your rising sign (also called the ascendant) as well as the placement of each of your planets, and what gifts those planets were to give you. For more information call Arthur 914.271.3640 ext 14 or click here:
https://www.americadirectbook.com/My_Personal_Horoscope_Adult_Edition
My Personal Horoscope - Baby Book - Custom Chart of the Child's Talents $49.99 plus shipping / tax
Learn about your little baby's talents and sweet proclivities with a custom book by Susan Miller. This makes a wonderful book for the parents of a newborn or small child. For more information call Arthur 914.271.3640 ext 14 or click here:
https://www.americadirectbook.com/My_Personal_Horoscope_Baby_Edition
My Personal Horoscope ? The Two of Us Relationship Book $49.99 plus shipping/ tax
Order this custom book to find out about your compatibility with the one you love.
Give us the birth information of both parties in the relationship; your keepsake book will have both charts. For more information call Arthur 914.271.3640 ext 14 or click here:
We have a version of this relationship book for straight couples and another for gay couples. For more information click here:
https://www.americadirectbook.com/My_Personal_Horoscope_Relationship_Edition
4. "Planets and Possibilities" by Susan Miller
Warner Books, 430 pages, $18.32 plus shipping / tax
Digital versions $9.99
The definitive classic astrology book that tells you about you!
Susan Miller's classic book that describes the signs in an original way, with Susan Miller's comprehensive, in-depth, and easy-to-understand style. Learn little known things about your sign that you never knew. The front part of the book includes information to help you understand the structure of astrology and how you can use astrology to help you progress. Mythological stories for each of the signs add spice and fascinating detail. This book is available as a quality paperback or digitally, on the Kindle, iPad, or Nook.
For quality paperback, $18.32 plus any applicable tax and shipping
http://www.amazon.com/gp/product/0446678066?ie=UTF8&tag=astrzone-20&linkCode=as2&camp=1789&creative=9325&creativeASIN=0446678066
For Kindle Edition (digital, Amazon), $9.99
http://www.amazon.com/Planets-Possibilities-Explore-Zodiac-ebook/dp/B000Q9INI6/ref=sr_1_1?s=digital-text&ie=UTF8&qid=1354499713&sr=1-1&keywords=planets+and+possibilities
IPad Edition (digital, Apple), $9.99
Go to iTunes digital bookstore and search for "Planets and Possibilities"
Nook edition (digital, Barnes & Noble), $9.99
http://www.barnesandnoble.com/w/planets-and-possibilities-susan-miller/1018228670?ean=9780759521322&itm=1&usri=planets+and+possiblities
5. Silk Zodiac Scarves by Susan Miller
$155.00 plus tax and shipping
A sumptuous, elegant 100-percent pure silk Jacquard scarf with hand-finished hem. You must see these beautiful scarves, with sophisticated artwork. There are 12 designs, one for each of the 12 signs, all in vibrant colors. You do not have to wear your sign's design - I wear all 12 depending on my outfit!
If you don't know your recipient's astrological sign, choose from three celestial scarves in classic design that will remind you of what chic French women wear in Paris.
See www.AhaLife.com, my distributor for the scarves, and for delivery and return information.
http://www.ahalife.com/store/?sort=relevance&q=silk+zodiac+by+Susan+Miller
---
My Facebook name URL is:
https://www.facebook.com/SusanMillerAstrologyzone
If you enjoy Twitter too, you can find me at @AstrologyZone.
To view a forecast, select a sign from the menu below and click on Go.