Your Monthly Forecast
All the latest monthly forecasts, organized by sign.
Age of Aquarius
Susan Miller's astrological predictions for a new century.
Current Trends
Find out the planetary trends that might be influencing you today.
---
Virgo (August 23 - September 22)
Your February Horoscope by Susan Miller
You are still enjoying your Emerald Year, as I call it, dear Virgo, so you must make the most of it. This should turn out to be one of your best years of your life. This will be a jewel of a year because Jupiter will remain in Virgo until September 9 of this year. You will only get a year like this every twelve years, and if you do the math, if you live to 96, you will get eight of these gorgeous years in your lifetime. Imagine eight perfectly cut emeralds from the finest jeweler - pick up one of those emeralds to a brilliant light and admire its translucent beauty. This is one of your Emerald Years, dear Virgo.

You still do have lots of time to take full advantage, but time can slip through our fingers like water if we don't pay attention to our goals. Knowing what you want to happen next will be essential if you hope to use this energy in the best possible way. These types of years are best used to make a big lifestyle change (such as to marry, have a baby, buy a house, or start a business - things that require a lot of new, joyous adjustments.) VIPs will want to help you get ahead as long as you are clear and realistic about your dreams. No need to worry about that - who better than a Virgo to be earthy and practical, and to communicate far better than most? Keep in mind that while Jupiter is in Virgo, you will increasingly find that you are standing at the right place at the right time to catch outstanding opportunities. If you are single, these months are also thought to be the very best for finding your one true love, and...
To view a forecast, select a sign from the menu below and click on Go.
---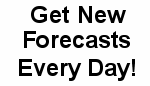 Click here to get your daily forecast
direct to your email or PC.

Hosted by: