Your Monthly Forecast
All the latest monthly forecasts, organized by sign.
Age of Aquarius
Susan Miller's astrological predictions for a new century.
Current Trends
Find out the planetary trends that might be influencing you today.
---
Virgo (August 23 - September 22)
Your March Horoscope by Susan Miller
As soon as the month takes off, you seem to be ready to make a decision about your home or a family member. Money appears to be needed to complete your plan, and with Jupiter (luck) and Uranus (sudden surprise), you may hear that you were approved for a home improvement loan, mortgage, or refinance plan, or get a cash loan from family. March 3 is a special day, and one of the features of 2015, filled with special good fortune. It would be the right day to negotiate benefits at your company concerning a new job, or to hear you will receive a generous advance on your book. You seem to be spending quite a bit, but with luck on your side, money should be flowing in to you too.

Talking about money, you will be very happy with news on March 10, when Mars will reach out to Jupiter. This would also be a fine day to see your accountant about taxes - you may owe the government less than you assumed. The following day, March 11, brings sudden, unanticipated news about money, and it seems very positive. Uranus and Pluto will square off on March 15, the only day you may have problems about a money matter with someone who is bossy and difficult. You may feel strong-armed and upset, but you have such glowing financial aspects elsewhere in your chart that your income seems protected. It is doubtful that...
To view a forecast, select a sign from the menu below and click on Go.
---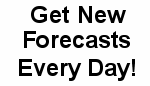 Click here to get your daily forecast
direct to your email or PC.


Fluffy Down Bedding,
Comforters and Pillows
Hosted by: