Your Monthly Forecast
All the latest monthly forecasts, organized by sign.
Age of Aquarius
Susan Miller's astrological predictions for a new century.
Current Trends
Find out the planetary trends that might be influencing you today.
---
Virgo (August 23 - September 22)
Your May Horoscope by Susan Miller
This looks to be a playful, cheerful, and charming month of May, where your schedule will open up as some things get postponed, and in the interim, you might be able to travel quite far. Your career will become very active in June and will start to show signs of good progress as early as May 20. For this reason, consider travel early on. Let's have a look at May.

The first day to circle on your calendar will be May 3, when the Sun and Jupiter make a loving, fortunate aspect to each other and help you get ahead in all areas governed by the ninth house. This is basically an intellectual area of the chart that also covers long distance travel. Energy in this house will begin to open you up to broadening intellectual and cultural experiences. VIPs will smile on your requests, and at the same time, you may get happy news about a property matter or about a person connected to your home or family, such as a roommate, landlord, decorator, or great aunt as an example of...
To view a forecast, select a sign from the menu below and click on Go.
---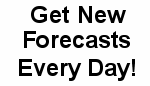 Click here to get your daily forecast
direct to your email or PC.

Hosted by: