Your Monthly Forecast
All the latest monthly forecasts, organized by sign.
Age of Aquarius
Susan Miller's astrological predictions for a new century.
Current Trends
Find out the planetary trends that might be influencing you today.
---
Gemini (May 21 - June 20)
Your September Horoscope by Susan Miller
The end of August might have brought you joyous news in regard to your home, other property, or a family member. All that happened then will continue and intensify as you enter September. Keep your eye on home as an area of considerable luck in the coming twelve months - it's the part of your chart that is shining brightest. Although you will have an entire twelve months from now for home-related good fortune, Mars will make a rare appearance in your home sector from September 24 to November 12 to help you materialize your dream quickly.

A solar eclipse - also a new moon - will occur on September 12-13 and open the door for opportunity in this same area of your chart, regarding plans you may have for your home and other property, and for family, most notably your parents. This eclipse will be friendly, for it will be in perfect angle to Saturn, planet of stability. If you buy or rent, or plan to move in the two weeks that follow this eclipse, you will likely "stay put" a very long time, and that tends to suggest you'll love the space. Pluto will also be helpful, indicating the funds you need to make your changes will be sent to you if you ask or apply for that money. A new day is...
To view a forecast, select a sign from the menu below and click on Go.
---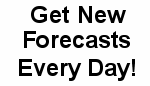 Click here to get your daily forecast
direct to your email or PC.


Fluffy Down Bedding,
Comforters and Pillows
Hosted by: