Your Monthly Forecast
All the latest monthly forecasts, organized by sign.
Age of Aquarius
Susan Miller's astrological predictions for a new century.
Current Trends
Find out the planetary trends that might be influencing you today.
---
Gemini (May 21 - June 20)
Your June Horoscope by Susan Miller
This will be a month that has plenty of opportunity, but you will likely doubt me as the month begins. Saturn will be acting up, and will almost immediately challenge the Sun on June 2, and two days later, June 4, at the new moon in Gemini 15 degrees, Saturn will oppose the new moon. Saturn is reminding you of the seriousness of the actions you are taking now. Your decisions and commitments have weight, but also have the possibility for long-term stability and gain. Venus will be in Gemini, so you will be loved and be very popular - but that's not the point. The point is, Saturn will be directly opposite delicate Venus, translating into a work versus play, love versus obligation type of aspect - and Saturn will win out, for he is slower moving and will move very slowly. You are a lighthearted soul, and Saturn in opposition of anything is a heavy aspect. On June 3, you may feel tired, depressed, sensitive to criticism, and maybe a little overwhelmed. That's because the Sun rules your sense of vitality and strength, and much of your outlook on the world. If you feel someone is being too hard on you, you may be right. Find the truth in what this person might say to you, but don't let anyone deflate you. Everyone will be feeling this difficult aspect in various parts of life, no matter what that person's Sun sign happens to be.

Saturn opposed to the new moon June 4 could bring an unexpected expense within the following days that could have your heart feeling like it's about to drop to the floor. This is only temporary. This may be a bill you overlooked, or a family member who is in dire straits and desperately needs cash from you. Or it may have to do with an expense your partner in love or business incurred, but that now you must pay. With the moon under siege too from Saturn, you are likely to see very little cash in your bank account. Frantic, you may assume it is the end of the world. It's not. The new moon next month, July 4, will appear in your second house of earned income and...
To view a forecast, select a sign from the menu below and click on Go.
---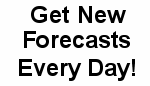 Click here to get your daily forecast
direct to your email or PC.

Hosted by: