Make sure you upgrade to my new iPhone app at the Apple App Store. My previous app for iPhone, Astrology Zone Premier, ended service Nov. 12, 2013. My new one is called: Susan Miller's AstrologyZone Daily Horoscope FREE! You will have the option to subscribe for longer, detailed content INSIDE the app once you download. See prices. One example: $12.99 for three months.
Android and Samsung: You can still get my popular Astrology Zone Premier in your app store.
Do you live overseas or don't have a smart phone? Subscribe to my same daily horoscopes, and get all 12 signs each day. They are the same as used for my smart phones. http://www.DailyAstrologyzone.com
New! Spanish speaking friends, read my mirror site to Astrology Zone ALL in Spanish. Go to this new URL: http://es.SusanMiller.com (Note, "es" stands for Espana.)
Do you want to lose weight for the coming season? I am enjoying ordering clothes that are two sizes smaller, and you can too! Order daily gourmet meals, prepared with all farm fresh food. Chefs Diet (www.chefsdiet.com) sets the gold standard. Thanks to new shipping technology, Chefs Diet ships to any city in America. To get a great introductory discount, call the toll free number just for Astrology Zone readers: 800.585.1329 and ask for Michael McDonnell. For your discount, use code "Susan Miller" For menus, photos: http://www.chefsdiet.com
Aquarius Forecast for April 2014
By Susan Miller
This will be a big month for you, for your ruling planet, Uranus, will be very prominent and leave his fingerprints over many of the month's aspects. This means you are more likely to notice and be affected by what is happening in April. You are a fixed sign, so you tend to like things "just so," but you are also intellectually curious and need stimulation and new things to things to look forward to tackling. April will give you that, for sure.
We start with a new moon that will be bent on changing old patterns, but as you start making changes, obstacles will show up as if the universe were to test your resolve and stimulate your resourcefulness. I say that because the new moon of March 30, still strong for two more weeks as you enter April, will be conjunct Uranus, bringing all kinds of unexpected news.
That new moon of March 30 was in fire sign Aries, 10 degrees, and blends well with your air sign element. Aries is highly adventuresome, so if you have become bored with too much routine and too much sameness in your life, this new moon will give you an opportunity to travel out of town and to enjoy being in a new setting. Too much sameness is dulling to the brain, so see if you can find an inexpensive way to travel. In the start of the month, it seems you will be going to cities and resorts close by. This new moon came conjunct Uranus, so you may go spontaneously, with no idea you would be waking up in a completely different environment all of a sudden when opportunity strikes.
Being independent and self-sufficient is always a goal for Aquarius, but now the desire will become all-encompassing. However, at the same time, Pluto, symbolizing behemoth companies and the government as well as people who get their own way (saying, "It's my way or the highway") will work at cross purposes to that new moon. So while you will feel a need to break the chains that bind this month, someone, brought on by Pluto, will likely do all he or she can to contain you and nearly force you to conform to certain dictates that you clearly want to resist. Pluto rules Scorpio, and that is the sign found on the cusp of your solar tenth house of career fame, honors, and achievement, so if you are in the process interviewing for a new position, or negotiating / bidding on a big venture, you may either experience a domineering VIP, a lot like the proverbial 800-lb. gorilla who gets to sit anywhere he pleases, or a ruthless competitor who will stop at nothing to get the job that seems destined for you.
You can handle this because when the chips are down, you can always rely on your sharp intellect. Anyone trying to outwit an air sign (Aquarius, Gemini, and Libra) will always have a hard time of it - air signs stay one step ahead of everyone else and are so articulate that they can run rings around anyone trying to get the better of you. Dear Aquarius, your mind moves at the speed of light.
That is doubly true now, for with your ruler, Uranus, conjunct the Sun and new moon, you will be at your intellectual and creative best this month - your mind will seem to be lit with 100,000 points of light. If you've had a dilemma that you need to solve, all sorts of solutions will now appear to you, even if you have not been able to solve this question previously. Uranus is associated with genius thinking, so if you are an inventor or paid to come up with great concepts, such as if you were a creative director at an ad agency or a scientist doing certain research, keep at your work, for a breakthrough you never expected may now present itself, possibly completely by accident. With the Sun involved, ruling your close, committed partners, collaboration with a person who complements your talents seems to be the way to move even closer to success.
Your solar third house will be lit up, and besides ruling the mind, it also rules short-distance travel. You seem to be on the road quite a bit this month, but if so, with so many squabbling planets, you do need to have your car checked and maintained in top condition. Make sure you have a tool chest in the truck, a spare tire, energy bars, water, a blanket, first aid kit and all the other things that the experts say you need in case you run out of gas or have a flat tire. Also have a powered-up cell phone and paper maps in addition to your navigation device, in case GPS sends you in the wrong direction as it can do from time to time.
Another possibility of how this new moon may affect you is to put a strong emphasis on siblings and cousins. Your sister may bring sudden news that you will want to respond to quickly and to help her if she is in crisis. Or, your sibling may be fine (I cannot see your planets in your chart and they all may be friendly to this new moon), so you might instead travel quite spontaneously in early April to VISIT your brother, or decide to take a trip WITH your sister or cousin. (Or, of course, you might decide to go away this month without your relatives, and you can!) Alternatively, you may be doing a venture with your sibling, such as to purchase property for a vacation cottage, or you may have both decided to open a business together, such as a charming bed and breakfast guesthouse. This is only one of many options for you this month, but the new moon of March 30 certainly opened the door for these types of possibilities.
This new moon also encourages anything having to do with communication, so you may be giving a speech, writing an important report, or working on a book or screenplay. It is the right time to do it. Or you may decide to redo your website or hire a designer to design your logo and stationary. Social media is ruled by the third house too, so find ways that you can use social media to have more fun and to present your business expertise in an effective way if you are self-employed. If you have your own business, it's a good time to advertise or to do a publicity campaign.
If you design or develop apps for your own business or for clients, you will be very busy this month, either because you are designing wireframes or showing your final ones for approval to the client. The project you are working on now seems to have an unusually large amount of room for creativity. (Note to readers who are outside of the app industry: wireframes are a term used by the design team in the creation of an app, and are a little like storyboards. Wireframes map out how the app will look when finished, and can also show the client how the app will be navigated, too).
If your birthday falls on January 30, plus or minus five days, you will feel this new moon, so powerful in the first half of April. The same is true if you have Aquarius rising or a natal planet in Aquarius, Aries, Gemini, Leo, or Sagittarius at 10 degrees, plus or minus five degrees.
Sometime during April, you may be asked to sign a contract. I advise you not to do so yet, for the aspects in April are much too volatile to set anything in stone. If you sign now, you would be building that volatility into the permanent DNA of the endeavor you start, and that would remain for the life of the contract. I would prefer you sign later, after Mars goes direct, May 19. That would give you the added bonus of getting away from the eclipses. Waiting, holding back, and taking time to think is usually a good idea, but this month it's vital you do so.
Mars is retrograde now, and when moving direct, he acts as an energizer or booster rocket to all ventures and new relationships. When Mars finally turns direct orbit, Mars would not zoom out of the gate at full throttle. Like a groggy little person who may have had a little too much wine the night before, Mars will need coffee and a gentle buildup to his former self. That will take time, for it will not be until mid-July before Mars will be in top form.
It tell you this, not to torture you with notices of more delays, but to show you how there will be ideal points to launch a new product, service, or creative idea, to audition for a new role, or to show a design collection, as a few examples. You can use this information to time your initiations, within the limitations you've been given. July 24 will be the most fortunate day of the year, and that is just about the time Mars will be reaching top speed, to give you a competitive edge. Sometimes you may not be able to delay the signing date for three months (the ideal time, in late July) - we can put off signing for one month. So while you can't wait for the most fortunate day of the year, you might at least be able to wait until Mars is moving direct rather than retrograde. (Or you may be working on a project that takes months, like an app, and can time your launch for the second half of July.)
The full moon lunar eclipse of April 15 in Libra, 25 degrees, will arrive next and zing energy to the house opposite the one I was just talking about, the third house, but now, energy moves to your ninth house. The ninth house also deals with travel, so I suspect that you will be traveling a lot, not only this month but in weeks to come. Along with travel, there may be emphasis on working in the international arena.
Lunar eclipses end things, so perhaps you will be finishing a media project (also ruled by the ninth house) that might air or be published not only in your own country, but internationally too. Your publisher may tell you that your book will be translated into several languages. Or you may be invited to have a column in a foreign magazine, or work for a huge, international broadcasting company. Lunar eclipses bring all sorts of changes, so you may lose an opportunity but fairly quickly get another offer, such as from another media company, and it is very possible that it will be a better position than the one you just left. It may help to know that mid-May will be a major time for your career.
Legal matters come under the ninth house too, so if you have been in court, the decision should come down within five days of April 15. This full moon eclipse is in Libra, the sign of justice. This may be a big moment for you, for big life events tend to happen at eclipse time - these are events we long remember. While this eclipse is a very difficult one, with planets in square angle to the full moon eclipse from all four corners of the sky, the difficulty of this lunar event may be felt more sharply on your adversary than on you if you are on the side of the angels. Always try to avoid court if possible, of course, and so as you begin the month, if you like you might want to send an offer for a solution to the other side if you feel it would avoid courtroom drama. If you are truly upset and feel the other side is hopelessly deaf to any sensible solution, then go ahead, proceed to court.
Pluto will be in bad angle to that full moon eclipse April 15, indicating you will be under pressure, but it will be hard to put your finger on precisely who is causing it - it is not likely to be the person standing in front of you. With Pluto in your solar twelfth house (called by ancient astrologers to be "the house of secret enemies"), this person behind the scenes may resort to high pressure or even threats. These ruthless tactics will be to get you to fold your tent and go home - or to do what this person is telling you to do.
When you have Pluto transiting the solar twelfth house, Pluto can be a bit dark, especially when he is square the Sun, square the moon, square Mars, and opposed to Jupiter, as you have at the total eclipse of the full moon. What makes this eclipse so difficult is that Mars will be stomping around in a cranky mood and will be opposed to Uranus, your ruler, suggesting someone is trying very hard to block you and will use the element of surprise to keep you off balance.
If your birthday falls on February 13, plus or minus five days, you will feel this April 15 eclipse the most, but because it falls in friendly air sign Libra, you can find a way to turn the tables on anyone who challenges you and win. The same is true if you have Libra rising at 25 degrees or have a natal planet at that degree in Aquarius, Gemini, Aries, Leo, or Sagittarius.
One day that might be excellent for finding an assignment that brings in good money, perhaps on the side, or new business if you are self-employed, is April 17, when Venus and Jupiter will be in ideal angle. If you have to make a presentation, or go on an interview, this is your day.
I should mention that the stock and bond markets may become unstable during April, due to these tough eclipses, so if you are contributing to your retirement account at tax time (always a good idea), consult an expert about how to invest considering current conditions that you will read in the paper mid-month.
Your hardest day may be April 22-23 when Mars and Uranus will reach a mathematically significant 180-degree tug-of-war, as this is a very hot aspect. We had this same configuration on December 24-25, 2013. I am not sure if you will see a similar episode, or one that takes what came up then to a new level or decision now. In truth, the whole string of days, from April 20 to 24 will be tough, where people will be fragile. Arguments are likely to become inflamed. These aspects are falling in your houses of attitude and opinion, so if you don't have to incite controversy, during these days, stay mum. If you become upset with someone, withdraw and think about what you want to say next week.
In a month that seems to have everything, we have one more eclipse, a solar new moon eclipse, on April 28/29 in Taurus, 9 degrees. This one will bring your attention to your home, other property, or your family. If you need to move, you may be moving at the end of April, or you may find a near-perfect solution within two weeks after the eclipse arrives. New moons open a path, so you can draw up blueprints for a renovation or order a large paint job, or you may be completely redoing the landscaping of your property around your house. (Taurus is very connected to nature and flowers.) It is alternatively possible that someone who helps you with your apartment, such as your superintendent or favorite doorman, may retire or take another job, as often we see something or someone "eclipsed out' of our immediate environment at eclipse time. You would miss that cheery person - it is a sign life is moving on.
At the same time, you will have to watch the health of your parents, with a bit more emphasis on your father. It may be that your father hopes you will help him search for the right medical expert or a new dentist. If you doubt your father would need attention, next in the pecking order would be husband, father-in-law, or male boss. A solar eclipse like the one April 28/29 always points to a male, whereas a lunar eclipse always points to a female. Your loving presence and wise advice will be appreciated by your relative or boss in need, so keep your schedule flexible and open so that you can pitch in to help within a moment's notice.
Romance? You want that too in this crazy month? I am laughing. I like the time when Venus will tour Aquarius, April 1 to 4, but overall this is not a standout month for engendering love, although I will admit travel may bring you relaxation and put you in the right frame of mind for love. I would advise you to keep things slow and steady. The Sun rules your committed partner, and you may have problems in your relationship on April 2, April 3, and April 8, all days it would be best to duck for cover and not pick for a "big talk." Mars in Libra will be friendly to you, Aquarius, although I like Mars when it's moving ahead, not backward. (As I said earlier, Mars moves ahead May 19.)
If you are single and hoping to find new love, your very best day will be April 29, when Mercury, the ruler of your solar fifth house of true love, will receive a shimmering beam from Jupiter, the great benefactor planet. You may strike up an attraction with a co-worker on your level at work, or someone else who is quite attractive may start talking with you at the gym or other sports-oriented location.
---
Summary
Pack your bags, dear Aquarius, for thanks to the Sun conjunct Uranus, you may leave at a moment's notice. The new moon that appeared at the end of March will likely bring up short trips, and at mid-month, you may find you are traveling a much farther distance. Uranus will also see to it that you are filled with brilliant ideas this month, so if you have writing to do, a speech to give, a negotiation to complete, you will excel at those matters during the first two weeks of April.
If you are in a legal case, the opposition is likely to get very aggressive from April 15 to April 23. If you want to make a peace offering, do so prior to April 15, for later emotions may boil over and it will become harder to come to accord. Matters of citizenship, passport, immigration, green card, and visa are likely to bring sticky or voluminous paperwork that you will have to address. If you are having an immigration interview, take it seriously, and make sure you have prepared. This is a month where anything could go either way, as the world will be quite topsy-turvy in April.
All eclipses arrive in pairs - the second one, this time a solar new moon eclipse of April 28/29 will highlight your home and bring on completely new and unexpected conditions to your space or to other property. You may suddenly need to move or make structural repairs. Alternatively, you may need to be on hand to assist an older relative, such as your mother or more likely father.
It would not be wise to travel at month's end, nor would it be the time to make binding promises, whether verbally or in writing. Many conditions will be shifting in terms of your home and your career, and some of the news may reach you now, but more information will be forthcoming in May. You would be best to watch and wait, and to look for subtle clues to the direction that events are heading. If you need to find answers to a living situation, you will find them in May. For now, sit tight.
Would you like to read more about the April eclipses?
I wrote a piece about the April eclipses for Refinery29.com
Here is the link! http://bit.ly/1dqrKIa
---
Aquarius Dates to Note
Most Romantic Dates: April 29, when Mercury, the ruler of your house of true love, will speak with Jupiter on your behalf. However, this day is very close to the solar eclipse, so be careful, and go slowly. This is a very volatile month.
On April 2, Uranus, your ruler, will conjunct the Sun. Expect the unexpected when it comes to come close relationship.
You may be able to sell an artistic product or your services if you are an actor or an artist, or work in any other realm of the imagination, on April 11.
The full moon lunar eclipse of April 15 in Libra will fall in your house of long-distance travel, foreign relationships, academic pursuits, and legal matters. Something seems off, and needs to be fixed, as this full moon will be filled with twists and turns. Nothing will be straightforward.
Money may come to you on April 17, thanks to Venus in perfect angle to Jupiter.
The days spanning April 20 to 24 will be stressful, as Mars will oppose Uranus, your ruler, and a host of other planets will be thumping around, slamming doors, and breaking dishes - you will feel tension in the air. Travel would be very difficult - delay a trip to another day.
The month's second eclipse will come by on April 28/29, and fall in Taurus, bringing changes to your home or family life.
P.S. for April 2014
Dear Reader,
I am sorry. I know you are anxious to have for my book, The Year Ahead 2014, and although I have written so much for it, including several long bonus chapters, I keep getting sidetracked. I love to write, and for weeks I would build up a good momentum, only to have to stop to write 48,000 words each month for Astrology Zone.
I have been adding the first half of 2015 in the manuscript so you will still have plenty of information. This makes sense, because good fortune Jupiter will tour Leo from July 2014 to August 2015, and taskmaster Saturn will enter Sagittarius on December 23, 2015, for a preview of what is to come, staying until June 14, 2015. Saturn will briefly re-enter Scorpio (where Saturn is now) for a farewell tour of three months, not to return until 2041. In September 17, 2015, Saturn will come back to Sagittarius, but this time, to stay for two years, until December 2019. Saturn has not toured Sagittarius for 29 years, so for everyone this will be a new influence.
Jupiter's entry into Leo will be just as vital, for Jupiter has not visited Leo for twelve years. Fortunately, with Jupiter in a fire sign, and Saturn will be in fire sign Sagittarius too, these two mega-planets will be highly compatible (as they will be this month in water signs) - a rare circumstance, but wonderful when it happens.
Also, in March 2015, the long-standing feud between Uranus and Pluto that started in June 2012 and that has since rattled us all, personally and on the world stage, will finally end. While it will take many months for these two planets to separate far enough from one another to be mathematical significant, by 2015, they will be finally headed in the right direction - apart! For these reasons, 2015 will be a better year than 2014.
Friends who know me well tease me because they know it takes me three times as long to write about difficult aspects as it does positive ones. It is true. Just this month, I was finding that writing the forecasts for every sign took me twelve hours to write each, which is far more than the usual seven hours each. (I write my summaries separately, and those take another week, all together.) I go slowly on those hard aspects because I love you, dear reader, and never want to unnecessarily alarm you. Difficult aspects require a lot more explanation. With my revised manuscript, I will no longer be chained to writing about the seemingly never-ending series of retrogrades that are happening from January to July 1 of 2014, and the very difficult eclipses of April 2014. Those weighed on me. After this month's turning point eclipses, we will look at a better future. In many respects, 2014 will finally get off the ground as a brand new year in July.
I am staying put at home in April, not traveling, so I want to get things done now. Thank you for sticking by me, dear reader. I am very sorry for the long wait.
Susan
---
SUSAN MILLER'S APPEARANCES for April, May, and June 2014
SUSAN'S WORLDWIDE CHAT on
THE WASHINGTON POST website
Wednesday, APRIL 9, 2014, NOON TO 2:00 PM EDT
You are invited to attend, for Free!
Join my Worldwide Chat for The Washington Post, Wednesday, APRIL 9, Noon to 2:00 PM EDT. There is no charge for participation, and no prior knowledge of astrology is necessary.
If you don't know what time Noon in New York City translates to your city, check with http://www.TimeandDate.com
You can post questions starting March 1 here:
http://live.washingtonpost.com/astrology-130409.html
You can use any browser EXCEPT Internet Explorer.
---
APRIL APPEARANCES, One in New York's SoHo
NEW YORK CITY
THURSDAY, APRIL 10, 2014 from 6:00 PM to 8:00 PM
La Perla Boutique
434 West Broadway
Between Prince and Spring Streets
New York, NY 10012
For questions, the store number is 212.219.0999
(For RSVP see below)
Susan will talk about summer love and the coming eclipses and planetary trends. Come with questions! Enjoy cocktails and treats, and see the new collection of La Perla, the beautiful imported Italian lingerie.
There is no charge for this event. Ladies and gentlemen are welcome.
Please RSVP so we can prepare for your visit at RSVP@LaPerla.com
Visit the La Perla website: http://www.LaPerla.com
Every girl deserves La Perla!
---
MAY 2014 -
Three Events: Rye, New York; Austin, Texas; and Toronto, Ontario, Canada.
1. RYE, NEW YORK (Westchester County)
SATURDAY, MAY 10, 2014
9:45 AM to 3:00 PM
Morning coffee, and later, buffet lunch included
My talk "A Look Ahead" will center on coming planetary trends and eclipses. I will also cover the move of Jupiter, giver of gifts and luck, into Leo in July, and the impending move of teacher planet Saturn into Sagittarius on December 23, 2014.
My event falls on Saturday, May 10, the day prior to Mother's Day, and makes a beautiful gift for mother. Whether you are a male or female reader, your Mom will be thrilled to receive a ticket, as this is something unique and memorable for you both to do together.
Wainwright House
260 Styvesant Avenue
Rye, New York 10580
Doors open 9:45 AM, check in.
Coffee and cookies provided 9:45 AM until 10:15 AM
Lecture begins at 10:30 AM and will end at 3:00 PM
You will be given a beautiful buffet lunch (taxes, tips included) starting
1:30 PM, as part of your per-person ticket price. We will be able to chat together and I will take many questions from guests.
Wainwright House is a historic mansion on an estate overlooking the Long Island Sound in Westchester County, and located on many acres of landscaped land. It is located approximately 28 miles from midtown Manhattan.
Ticket prices:
$75.00 per person if purchased on or before April 6, 2014
$95.00 per person if purchased April 7 and beyond
$110.00 per person if purchased at the door
Please do not send checks or letters to Wainwright House
For information, call Arthur Heydendael at 914.271.3640 ext 14 or
Or write to Arthur@AmericaDirectBook.com
To buy tickets, go to Arthur's secure website: http://bit.ly/1mGMD4N
Free Parking
For driving directions from various locations
http://www.wainwright.org/generalinformation.htm
By commuter train:
Take Metro North from Grand Central Station to either Harrison or Rye. It is approximately a 40-minute ride. Taxis are available at both stations. Wainwright House is located about five minutes from either stop.
---
2. AUSTIN, TEXAS - Downtown
Saturday, May 17, 2014, a one-afternoon event
1:00 PM to 4:00 PM
Event Space:
First Unitarian Universalist Church of Austin
4700 Grover Avenue
Austin TX 78756
(Please do not send questions or checks to the event space address)
Tickets: $49.99 each
I will talk about the planetary trends and eclipses for the rest of 2014, and look ahead to 2015. You will leave excited and fully prepared for the months ahead. Come with questions, for there will be plenty of audience interaction. If you are new to astrology, you are welcome to attend, as no prior knowledge of astrology is required to enjoy this afternoon talk. Also, this event is open to both members and non-members of Astrological Society of Austin. Both men and women readers are welcome.
If you are a reporter, and would like to cover this event at no charge, please submit your credentials to ASA
Payment can be made by credit card or PayPal on MeetUp.com:
Simply click on this URL: http://bit.ly/1gWxb1W
To pay for tickets by check, send to:
ASA
Suite 650-1112
3300 Bee Cave Rd.
Austin TX 78746
Questions? Write to ASA President, Naomi Bennett at this e-mail:
---
3. TORONTO, ONTARIO in CANADA
SATURDAY, MAY 31, 2014
VERITY
111d Queens Street East
Toronto
Canada
The Verity is a private club housed in a beautiful building.
Noon: Check in, meet and greet
My lecture on astrological trends 1PM to 5PM
Ticket prices:
$US 111.87 ($US 99 + 13% HST $12.87) is for my lecture only
Optional: $US 282.50 ($US 250 + 13% HST $32.50) includes my lecture and buffet dinner prepared by the elegant George Restaurant, with tips included. We will dine together in one of the lovely Verity private spaces.
(Our online e-commerce store is set up to operate in US Dollars. The conversion to $CND is done at the exchange rate of the day of your payment by our PayPal processing service accepting all major credit/debit cards. )
To buy tickets, click on this link: http://bit.ly/1jurU10
Parking in lot directly across the street
And subway: Queens Street Subway, very near
I have never appeared in Toronto, so please reserve your ticket soon. Once all 100 tickets are gone, we will not be able to accommodate additional guests.
For information Call Arthur Heydendael, my publisher, at:
914.271.3640 ext 14
Or write Arthur@AmericaDirectBook.com
(Note the company name is America Direct Book, not American.)
---
JUNE 2014 Appearance: Los Angeles in Beverly Hills
LOS ANGELES on Rodeo Drive
THURSDAY, JUNE 5, 2014 from 6:00 PM to 8:00 PM
La Perla Boutique
433 North Rodeo Drive
Between Brighton Way and South Santa Monica Blvd.
Los Angeles, CA 90210
For questions, call the boutique at 310. 861.0561
(For RSVP see below)
Susan will talk about summer love, and the coming eclipses. Come with questions! Enjoy cocktails and treats and while there, shop for beautiful Italian lingerie.
There is no charge for this event.
Ladies and gentlemen are welcome too.
Please RSVP so we can prepare for your visit.
Visit the La Perla website: http://www.LaPerla.com
---
The Year Ahead 2014 Astrological Calendar
By Susan Miller
My Year Ahead 2014 collectible calendar is $12.99 (at a 27% discount, from original price $17.99) plus shipping, any applicable tax
Calendars are used to mark time, but have you ever had a calendar that helped you use your time productively? My new Year Ahead 2014 Calendar can do just that. I write every word myself in this stunning calendar with original fine art by socialite, author, and fine artist Gloria Vanderbilt, mother of newsman Anderson Cooper, and great grandchild of railroad entrepreneur Cornelius Vanderbilt. (Grand Central Station was originally her great grandfather's business headquarters.)
Gloria Vanderbilt, now almost 90 years young, licensed the reproduction rights to her critically acclaimed artwork to Susan Miller who self-published her calendar. The inks are rich, the paper heavy, glossy, and snow white, allowing Gloria's paintings to jump off the page. Each month, from January 2014 though the extra bonus month, January 2015, is found an inspirational quote from Gloria, centering on her philosophy of living life fully and creatively. With fourteen of Gloria's paintings, this calendar will soon become a collector's edition and will not be reprinted when stocks are gone.
Aside from having happy, vibrant art to look at all year, The Year Ahead 2014 calendar has many other uses, unlike any you have had in a calendar before. On every important day of each month I list the aspect and what it means, in easy to understand laymen's language. This means the next time you are about to make an important appointment, and the VIP asks you, "Do you want to come in Monday or Thursday?" you can say you will consult your calendar and know immediately the day to choose.
In a year like 2014, where sparkling aspects will stand side by side difficult ones, this calendar will not be a luxury but a necessity.
Also included in the calendar are:
- All the start and end dates of the retrograde planets in 2014,
- Detailed discussion of the new and full moons (new!)
- The date when planets move into new signs (and how long they will be in that sign), all listed on the same day entry
- The planetary aspects of the four eclipses due in 2014, and explanation of what each eclipse will bring.
No more surprises! Be in the know about upcoming events, so that you can plan your biggest initiations. This calendar is a "must" to keep with you all year, and is available here, from Susan's publisher, but not in bookstores or other retailers. Get it now, while you can: $17.99 plus tax and shipping. We ship to all nations of the world: http://bit.ly/186zM0i
---
A New Service: WiFive.us
Don't we all love a bargain?
We all want to know about the deals being offered nearby in our neighborhoods to save money. I found a way when a brilliant entrepreneur, Luis Sanchez, came to see me to show me he had developed a way of seeing all the various deal-of the-day websites that are featuring discounts on food, entertainment, boutiques, and other establishments, all in one click. Traveling? All you need to do is enter the zip code of your new neighborhood as you travel each day and you can see the deals that may be just across the street from your hotel.
The company is called Wifive.us and is ready to use today. It is a New York-based startup with a location-based search engine that gives you access to thousands of local online deals in a single site.
For now, Wifive.us is only available in the United States. It covers most of the deals and services you would see from various sources (Groupon, Amazon, Google deals, and so forth) all at once, so you don't have to go from site to site to find a deal that appeals to you, as Luis would humorously say, "until your head hurts." There is no registration necessary, and no useless emails to stuff your inbox each day.
Just type your address or ZIP code and get the deals you want when you want them. You pull in your information, which is far better than having many emails pushed to you. Try it and like the service on Facebook!
A word about the web address of WiFive.us
You may be wondering, what exactly is .US?
You might have thought the domain ending .us would only be only for government agencies and schools, but since 2002, individuals, businesses, churches, and non-profits have adopted .US web addresses to make their mark on the Internet. The .US is a new domain ending.
Just remember the name of the new service that no doubt you will be using quite a bit: pronounced as "wi-five-dot-us" otherwise seen as: http://www.wifive.us
---
Goodbye to My Former iPhone App on November 12, 2013
Hello to My New One:
"Susan Miller's AstrologyZone Daily Horoscope FREE!"
Download today!
Now that my former app, Astrology Zone Premier, will no longer be supported for iPhone, you might want to download my free version of "Susan Miller's AstrologyZone Daily Horoscope FREE!" for iPhone today. (A search for Susan Miller or Astrology Zone should bring the app up immediately.)
My former app, Astrology Zone Premier will not automatically change over to the new free app, so you will have to download my new app. Once you have it, you can decide if you would like to upgrade to the version you've come to know and love by looking inside the app and signing up for a subscription inside the app. If you should have to reload and reinstall your app, you will not lose your subscription as long at you responded to Apple's dialog box asking you to register your purchase immediately. If you don't register, if you lose your phone or need to reinstall your app, you won't be able to do so. Be sure to register your app!
If you have any questions or need help, you can write to Jennifer@Phunware.com and engineer Jennifer will be happy to help you.
---
ANDROID AND SAMSUNG USERS
Astrology Zone Premier App is Still Available for You
Android and Samsung users have Astrology Zone Premier to enjoy a little longer. We are writing NEW code for your Android and Samsung cell phones, and making an app similar to the one for iPhone, with some cool features just for your phone.
---
Live Overseas? Or, don't have an iPhone, Android, or Samsung Galaxy?
Get all 12 of my daily horoscopes each day by email or pick yours up each day on special password-protected site.
To plan ahead, receive several daily horoscopes in advance!
By subscribing to DailyAstrologyZone you will receive a week of horoscopes inside your cell phone and / or computer. This means if you have a BlackBerry or feature flip phone, you can still get my daily horoscopes as long as your device accepts email. You will also have the option of accessing your daily horoscopes from a website online, from anywhere, any time, through a password-protected site for members only, or receiving all 12 signs my email each day.
For more information: http://www.dailyastrologyzone.com
---
Welcome Chefs Diet as a Sponsor of Astrology Zone!
Going on a Diet? Try Chefs Diet, Meals to Your Door
Get the Special Introductory Discount Only for Astrology Zone Readers! Call 800.585.1329 ask for Michael McDonnell and use code word: Susan Miller
I am already enjoying ordering new clothes at two sizes smaller. This diet works.
If you have been reading my column for a while, you know I am very picky about which companies I endorse. If you want to lose weight, I feel this is the easiest, most fun way to do it. Each day Chefs Diet will deliver farm fresh, healthy foods to your door. In the past it used to be that only those living in New York City and Los Angeles had this option, but now, through new shipping technology, UPS and FedEx have been working with Chefs Diets to find ways to ship and still keep your food as fresh as it was when it left the Chefs Diet kitchens. I simply cannot get over how delicious and carefully prepared these meals are day after day. Meals won't repeat for 90 days so you will love the variety!
You will get three meals a day, with breakfast and dinner a hot meal, and lunch a cold one for convenience. You will also get two satisfying snacks. Best of all, you can change your menu if you see something on the program you'd like to change by very simply logging on to your account and choosing a different meal from the pull down menu. If you have special dietary needs, you can choose the right program for you from the options on the Chefs Diet website. I am NOT diabetic, but I saw that that the diabetic menu had lots of protein to keep me feeling peppy from dawn to the wee hours of the morning. (If you are on social media, you see I often post in the middle of the night - a writer's work is never done.) I love knowing that if I just eat the food given to me each day I will lose weight. There is no thinking, no shopping, no weighing foods or adding points - so easy!
Television producers have told me they rely on Chefs Diets when an actor, male or female, needs to lose weight for a role. It was through that comment of a top producer that I originally found this great company.
Of course, you should always check with your doctor before starting any new dietary program.
For your special discount, call Michael McDonnell (and it MUST be Michael) at 800.585.1329 and you must also mention my name, Susan Miller. You will be given a special introductory discount for a week of meals. You will love Chefs Diet! Many famous actors that you see in the movies have these.
Have a look at the Chefs Diet website, http://www.ChefsDiet.com
Call Michael McDonnell at 800.585.1329 before beach season arrives to be sure you look your best. Mention me, code word: Susan Miller, and you will be on your way!
---
MY PERSONAL CUSTOM HOROSCOPE BOOKS
WRITTEN BY SUSAN MILLER,
A PERFECT GIFT FOR YOUR MOM FOR MOTHER'S DAY!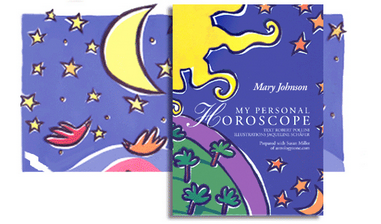 Looking for unique gifts for Mother's Day? Choose from "My Personal Horoscope" for Adults, or for Babies, or for a Relationship, the Two of Us. April 28th is order deadline for guaranteed delivery (in the US) before Mother?s Day on May 11.
Have an entire book written by Susan Miller, which runs approximately 65 pages, about your natal horoscope. Get to know your rising sign (also called the ascendant) as well as the placement of each of your planets, and what it all means. Susan's natal chart for babies centers on the talents and gifts of the little child. Order today and you will have your book within two-and-a-half weeks.
My Personal Horoscope Custom Natal Chart Book $49.99 plus shipping / tax
For more information call Susan's publisher, Arthur Heydendael 914.271.3640 ext 14 or click here:
http://www.americadirectbook.com/Customized_Books
To view a forecast, select a sign from the menu below and click on Go.