Capricorn Horoscope for April 2013
By Susan Miller
You are starting to see the plan of the universe, specifically that change is necessary, and often, with change comes a need for adjustment. You are one of the four cardinal signs - Aries, Libra, Cancer, and Capricorn - and as such, cardinals are quick to take a leadership role in any process of change. Cardinal signs define direction, for the cardinal signs align with north, south, east, and west points on the compass and on the globe.
Due to certain planets on the move, specifically Uranus in Aries, and Pluto in Capricorn, and in the past, Saturn in Libra (recently no longer there), and Jupiter (soon to enter Cancer in June), the cardinal signs have been going through a vast shift on many levels. This will keep up for a while, as the universe helps you to sweep the cobwebs from your life, delete the people who are not supportive, and shape a new life more to your liking.
Last month's full moon of March 27, the #MonsterMoon as I called it on Twitter, may have proved to be very challenging, especially if you are a December-born Capricorn. This full moon lit your house of career reputation, so that part of your life is where many of the new revelations and shifts were surfacing. As you begin April, you may still be dealing with what you learned within four days of March 27. All full moons have an area of influence of four days before and after the date of the full moon to deliver its news. That brings you to the start of April, and the Monster Moon, which caused tears for so many people, of all signs, has fully waned by April 2.
Now, in early-to-mid April, you will turn your attention to your living arrangements, including your physical space; other property you may be involved with buying, selling or renovating; the look, feel, and organization of your present home; and all family matters, including a matter that may relate to one of your parents. If you've been frustrated with a lack of options on any of these fronts, this month should open up opportunity quite suddenly - be ready!
As you begin April, an unusually large number of planets are heading to your fourth house of home and family. Those include Venus (beauty), Mars (energy), Uranus (disruption, sudden change), and the Sun (authority and focus). These heavenly bodies will all be in place and awaiting the arrival of the important new moon in the same sign of Aries, 21 degrees, due April 10. Once you get to April 10 and the days beyond, many opportunities will show up, and things will begin to click quickly into place.
However, before you get to the new moon April 10, circle a fantastic set of days that will occur over April 5-7, with the rare and very special meeting of Venus and Mars.
We know that Venus, planet of love, fun, and beauty, adores her lover, Mars. Whenever these two planets are found together in conjunction, love can't be far behind, for one of the main jobs of these two is to spark love and fun. A conjunction of these two is hard to find, for Venus and Mars only meet every two years in any one of the 12 signs. This time Venus and Mars will meet in Aries, a place they have not met since 1985.
You may want to entertain others at home over the weekend of April 6-7 (it must be at your home, for this aspect to help you, not at a restaurant) or you may want to shop or new things that add to the charm and attractiveness of your space. Saturday, April 6, should be your best day of the three. If you hope to sell things you don't need, say, on an auction site, or in a garage or yard sale, do it over this weekend.
As said, your big day for home-related efforts will be April 10, the date of the new moon plus ten days. Indeed, this will be your very finest month of the year for acting on home related matters. Mars will be conjunct the new moon, so you'll be ready to swing into action. Venus is conjunct this new moon too, adding to the possibilities that you can find beautiful new pieces for your home. Mercury, which was retrograde from February 23 to March 17, may have held up your moving ahead, especially in buying electronics and expensive furniture. (It was good if you waited, as it will never be a good idea to buy expensive items during Mercury retrograde.) Happily, Mercury will be in fine shape now, especially from April 6 on, so there's no reason to wait to act on plans, but the new moon will be best for launching truly big efforts.
If you want to list your apartment or house with a broker for sale, you will want to do it on the new moon April 10 - it should sell fairly quickly as Aries is a very rapid moving fire sign. You can gather estimates from your list of contractors, designers, and architects at the start of April, but make your final announcement of your choice of professional on or just after April 10.
By April 15, Venus will move to Taurus, followed by the Sun, April 19, and Mars, April 20. As you see, by this time, you'll be losing some of the support you had earlier for home and family matters, another reason to be organized and act early in April, on or just after that new moon April 10. (For smaller projects and touches, such as to select paint colors, or new accessories for your home, shop over April 5-7.)
Saturday, April 20, may bring very surprising news about these matters, as Mercury, still in Aries, will align precisely with Uranus, planet of complete surprise. I am not sure of the kind of surprise that will come up - it may represent a setback or a big breakthrough. With Uranus, you never know. These two planets will meet at 10 degrees Aries, so if you are born at 10 degrees Capricorn - that's December 31 or January 1 - you may not like the surprise that surfaces on April 20 (transiting Mercury and Uranus will "square" your birthday Sun), so keep your guard up. For example, a buyer may say he wants to buy your house, but don't count your chickens until they hatch. This person may not get a mortgage from the bank.
A far better day will be Tuesday, April 23, when Mercury will receive a shimmering beam from Jupiter. Mercury will be in your house of home, making this a great day to sign papers, or to buy furniture (Mercury rules commerce and is also Gemini's ruler.) You may also hear news from family that is very positive.
As Venus and Mars move into Taurus by the last third of the month, you will be more "in your element" as Taurus is an earth sign like yours. This will be good news for your social life.
By the last days of April, the picture will become more complicated, because a full moon lunar eclipse will occur on April 25 in Scorpio, 6 degrees, opposite the house where these planet are heading, your house of friendship. Clearly, with a full moon lunar eclipse, something is reaching culmination. Saturn will be eyeing this migration of these planets to your house of true love from across the skies, precisely 180 degrees away, and will conjoin the full moon lunar eclipse in Scorpio, giving a heavy, serious overtone to all that goes on at month's end. Saturn is your ruling planet, so this gives Saturn more prominence at the full moon eclipse.
Something important seems to be shaping up in regard to a friend who is important to you. You may be concerned because your friend is experiencing a crisis, or in a different manifestation, because your friend has acted badly, or even may have betrayed you. Whatever is going on seems to make you want to think deeply and move in a careful way. Be cautious what you write in social media - you may regret sharing too much information. The matter that comes up may involve one friend or a whole group of friends.
Eclipses are the most important aspect that the universe can send to you to create change and progress. How this eclipse will affect you depends in large part on how things have been going up until now. If your relationship is sound, the eclipse will show you the truth of that, and ask you to make more of the friendship. If your relationship has not been going well, the eclipse will ask you to decide what you want to do about that, to talk things over, or if the transgression was unacceptable, to leave. If your friend needs help, this will be the time to show what his or her friendship means to you, and to be there for your friend. Eclipses will often "eclipse out" someone from your life, say, if your friend moves away, and you have far less contact with him or her.
Here is another clue. Think back to last November 13 when we had a solar eclipse in Scorpio. What comes up now may hark back to that eclipse, as all eclipses are related to one another like pearls on a necklace. (I should add eclipses are related to each other ONLY within a certain family of signs, this being the Taurus-Scorpio series of eclipses that started November 2012 that will continue to occur until October 2014, arriving in pairs every six months at the new moon and full moon points. The second part of this eclipse event will arrive in Taurus next month, May 9 in your house of true love.)
Eclipse series repeat in a sign every nine years, but will repeat to exact date and mathematical degree every 19 years. Think back to April 27, 1994 and May 9, 1994 for a very similar eclipse, keeping in mind that the other planets surrounding that eclipse have since moved. Saturn, for example, was not conjunct the April 27, 1994 eclipse as it will be April 27, 2013. Eclipses are important because they bring landmark moments that you long remember. A full moon eclipse is like three full moons rolled into one, so it packs quite a bit of emotion. Still, this eclipse gets a supportive beam from Pluto in Capricorn and Saturn in Scorpio, and both planets will help you find stabilizing answers to whatever comes up.
If your birthday falls on December 27, plus or minus five days, you will feel the effects of this eclipse the most. If you have a natal planet that falls in Scorpio or Taurus at 6 degrees, the eclipse will sensitize that planet.
The month ends on another tough aspect, the Sun opposed to Saturn, April 30, a once-a-year aspect that will cut across your love and friendship sectors again. This time your money may be impacted, as the Sun rules your eighth house of shared income, credit cards, tax refunds, child support, and other such funds outside of salary. You seem to be coming up short on funds at month's end, adding to the tension.
Saturn is, as you know, your ruling planet, and Saturn makes you realistic and practical, so no matter what comes up, you'll find a way to deal with it. If you move this month, you may be coming up short on money that appears to be running out of your account like water at this point. You may want to get a line of credit lined up at the bank in early April to cover any contingency.
Keep smiling, as things are about to get better in May, a month destined to be all about love and romance, no matter what your status, dear Capricorn. You've got a lot on your plate in April, but May will be a big improvement and give you time to take a deep breath in the fresh air, and feel very proud of all you accomplished in April.
---
Summary
You will see a big buzz in your home sector, thanks to the visit of FIVE out of ten heavenly bodies in Aries. These planets are in a restless, "do-it-now" sign, so you will be infused with a sense of urgency to finally address residential, property, and family matters. Mars is now in this house, so you can expect lots of options to come up, and with Uranus there too, you'll make decisions suddenly, the minute one or more unexpected solutions come up. All this energy will come to the surface on the vital new moon, April 10.
Pluto in Capricorn will be at odds with Uranus, so you may initially have hesitation, for planets in Aries will say, "Go!" but Pluto will be saying, "Think things over first - not so fast!" If you need to make choices, do - even if you feel jitters - for you won't have as perfect a time to do so later in the year. Act now, but look over all plans carefully as you go along. You will need to balance brash action with reasonable sense of practicality.
Even before the new moon arrives April 10, you will have a dazzling weekend, April 6-7, to make home design changes, for Venus, planet of beauty, in Aries, will meet with her lover Mars in a rare conjunction in your home sector. You can also successfully create a magical environment to entertain at home with Venus and Mars taking such good care of you.
The end of the month will find you focused on a friendship, most likely with a woman, who may need your help. This comes due to a lunar eclipse, April 25, in your house of social groups. Your friend may be in crisis, or suddenly not feel well physically or emotionally, but either way, you will be the one in her circle who will be best situated to help her.
During April, be very careful about what you post on social media, as you might later regret something you wrote in haste. Saturn will orbit very close to this eclipse, and because Saturn is the teacher planet, you will want to avoid one of Saturn's life lessons. Mars and Pluto will be friendly, and both planets represent Scorpio, a good indication that you will discover an innovative answer to the events that come up at the full moon eclipse April 25 involving a friend or a whole group of friends. Next month will be wildly romantic, so hang in there - things are about to improve quite a bit.
---
Dates to note Capricorn:
Most romantic dates: April 2, 3, 6, 7, 12, 16, 17, and 20-21.
Mars will heat up your love life from April 20 to May 30 as it moves through your house of true love. This makes late April and early May your best time to meet someone new.
Venus will be in your house of true love from April 15 to May 9, still another indication of your irresistible nature this month and next.
If you need to buy decorative items for your home, or a new piece of furniture, browse on Saturday, April 6.
You are likely to find what you are looking for, thanks to the collaboration of Venus and Mars in your home sector.
If you need to rent, buy, or sell property, or renovate, decorate, or have any other plans for your home or family, the new moon of April 10 will be your friend. Initiate your plan within the ten days that follow.
Save time for a friend who may need you on the lunar eclipse April 25 (plus or minus 5 days).
Be careful what you write in social media near the eclipse of April 25. What you write you may not be able to take back.
April 28 could prove to be a tense or draining day, when the Sun opposes Saturn. Money may come up short, too.
P.S. for April 2013
My New iPhone App is FREE for you!
At long last, I can tell you my secret! I have designed a free iPhone app that you can download today.
If you have an iPhone, just go to iTunes and search for "Susan Miller" and find my new app that I did with mobile app company Phunware of Austin, TX, called:
"Susan Miller's Astrology Zone Daily Horoscope FREE!"
Each day you will get a small, concise forecast on your iPhone for free every day. Think of it as your daily bite of chocolate to keep you informed, motivate you, and keep you progressing toward your goals. You will always know the aspects, for they will be at your fingertips. I have included Astrology Zone in the app, so you can read it (or re-read it) wherever you happen to be.
I worked on the design of this app for over a year, and I am so excited to debut it today! It is Apple-approved to work with all iPhones, including the iPhone 5, so no matter which version phone you have, you can start using it immediately.
If you search "Susan Miller" on iTunes you will see my new app, Susan Miller's Astrology Zone Daily Horoscope Free! as well as my other app, Astrology Zone Premier, that costs $3.99 and that I have had since 2005.
My older app, Astrology Zone Premier, will eventually be retired, as I can no longer afford to give so many words - approximately 1,100 words a day and 430,000 words a year - in daily horoscopes plus evergreen (personality) content in the app, for a one-time cost. That app will be folded into the new app, and if you choose to subscribe at a low subscriber cost, you will have the same daily forecasts, chock full of information, that you've come to know and love since 2005.
We built my Twitter feed into the new app, so that you can easily write to me to ask questions, converse with other followers, or share news quickly and easily from your mobile phone. My name on Twitter is @AstrologyZone. You will also find a link to Facebook, to my page, if you search "SusanMillerAstrologyZone"
If you already own my other app, Astrology Zone Premier, you will have plenty of time to make the switch to my new free app (with the option of getting the subscription). On Astrology Zone Premier, you will get alerts from time to time to let you know when the app will end - but we do not plan to end anytime soon and we will continue to support the app with daily updated content. You can buy my premium Astrology Zone Premier app now for $3.99, and enjoy it for now with no worries that it will disappear suddenly.
Don't have an iPhone?
My Astrology Zone Premier app is available on Android.
Also, no matter what phone you have, you can get the same daily horoscopes that I write for the iPhone, sent directly to your email address. This way you can see your forecast in any cell phone or email box in your computer, every day. This is a perfect solution for readers overseas or for readers who have cell phones other than the iPhone. You will receive all 12 signs every day, for a low cost of $4.95 for one month or $49.95 for a full year at http://www.dailyastrologyzone.com
---
Order Astrology Zone Products For Yourself or a Friend for 2013!
Here are lots of ideas for gifts! We ship to all nations of the world. Hurry! International, please add 7-10 days.
1. The Year Ahead Astrological Calendar $11.99
Now discounted!
To order, call Arthur for more information: 914.271.3640, ext. 11
Never be caught unaware of the upcoming aspects eclipses and retrogrades.
All lovingly described by Susan Miller in her annual calendar. A must-have!
http://www.americadirectbook.com/The_Year_Ahead_2013_Calendar
2. Daily Astrology Zone Horoscopes
Delivered to your email box every day, written by Susan Miller.
All different costs depending on whether you order $4.95 for one month or $49.95 for a year.
Each horoscope is at least 75 words (often longer), and you will get all 12 signs each day to your email box. If you don't have an iPhone, these are the same forecasts. Perfect for readers with feature phones or BlackBerrys, or for readers overseas.
Copyright Susan Miller Omni Media Inc.
http://www.dailyastrologyzone.com
3. MY PERSONAL CUSTOM HOROSCOPE BOOKS
WRITTEN BY SUSAN MILLER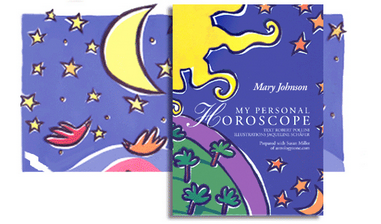 Chose among three editions:
My Personal Horoscope Custom Natal Chart Book, Adult Edition $49.99 plus shipping / tax
Have an entire book written by Susan Miller about your natal horoscope. Get to know your rising sign (also called the ascendant) as well as the placement of each of your planets, and what gifts those planets were to give you. For more information call Arthur 914.271.3640 ext 14 or click here:
https://www.americadirectbook.com/My_Personal_Horoscope_Adult_Edition
My Personal Horoscope - Baby Book - Custom Chart of the Child's Talents $49.99 plus shipping / tax
Learn about your little baby's talents and sweet proclivities with a custom book by Susan Miller. This makes a wonderful book for the parents of a newborn or small child. For more information call Arthur 914.271.3640 ext 14 or click here:
https://www.americadirectbook.com/My_Personal_Horoscope_Baby_Edition
My Personal Horoscope ? The Two of Us Relationship Book $49.99 plus shipping/ tax
Order this custom book to find out about your compatibility with the one you love.
Give us the birth information of both parties in the relationship; your keepsake book will have both charts. For more information call Arthur 914.271.3640 ext 14 or click here:
We have a version of this relationship book for straight couples and another for gay couples. For more information click here:
https://www.americadirectbook.com/My_Personal_Horoscope_Relationship_Edition
4. "Planets and Possibilities" by Susan Miller
Warner Books, 430 pages, $18.32 plus shipping / tax
Digital versions $9.99
The definitive classic astrology book that tells you about you!
Susan Miller's classic book that describes the signs in an original way, with Susan Miller's comprehensive, in-depth, and easy-to-understand style. Learn little known things about your sign that you never knew. The front part of the book includes information to help you understand the structure of astrology and how you can use astrology to help you progress. Mythological stories for each of the signs add spice and fascinating detail. This book is available as a quality paperback or digitally, on the Kindle, iPad, or Nook.
For quality paperback, $18.32 plus any applicable tax and shipping
http://www.amazon.com/gp/product/0446678066?ie=UTF8&tag=astrzone-20&linkCode=as2&camp=1789&creative=9325&creativeASIN=0446678066
For Kindle Edition (digital, Amazon), $9.99
http://www.amazon.com/Planets-Possibilities-Explore-Zodiac-ebook/dp/B000Q9INI6/ref=sr_1_1?s=digital-text&ie=UTF8&qid=1354499713&sr=1-1&keywords=planets+and+possibilities
IPad Edition (digital, Apple), $9.99
Go to iTunes digital bookstore and search for "Planets and Possibilities"
Nook edition (digital, Barnes & Noble), $9.99
http://www.barnesandnoble.com/w/planets-and-possibilities-susan-miller/1018228670?ean=9780759521322&itm=1&usri=planets+and+possiblities
5. Silk Zodiac Scarves by Susan Miller
$155.00 plus tax and shipping
A sumptuous, elegant 100-percent pure silk Jacquard scarf with hand-finished hem. You must see these beautiful scarves, with sophisticated artwork. There are 12 designs, one for each of the 12 signs, all in vibrant colors. You do not have to wear your sign's design - I wear all 12 depending on my outfit!
If you don't know your recipient's astrological sign, choose from three celestial scarves in classic design that will remind you of what chic French women wear in Paris.
See www.AhaLife.com, my distributor for the scarves, and for delivery and return information.
http://www.ahalife.com/store/?sort=relevance&q=silk+zodiac+by+Susan+Miller
---
My Facebook name URL is:
https://www.facebook.com/SusanMillerAstrologyzone
If you enjoy Twitter too, you can find me at @AstrologyZone.
To view a forecast, select a sign from the menu below and click on Go.