Your Monthly Forecast
All the latest monthly forecasts, organized by sign.
Age of Aquarius
Susan Miller's astrological predictions for a new century.
Current Trends
Find out the planetary trends that might be influencing you today.
---
Taurus (April 20- May 20)
Your January Horoscope by Susan Miller
The year starts off on a rocky note, but under no circumstances should you consider this to be a sign of what's to come in 2015. It's unfortunate that the full moon, January 4, in Cancer 15 degrees, will be in a bad mood. This full moon may see you coming back from a holiday trip, but things are not about to go according to plan. If you need to arrange a business trip, avoid doing so from January 4-9 because full moons have an area of influence that covers four to five days beyond the date it arrives. The reason for your trip is not likely to be met, and you will wonder why you went in the first place.

At this full moon, Uranus will be in hard angle to the moon, and that means unanticipated developments will likely crop up that you won't possibly see coming, and Pluto will be acting cranky in your legal house, also ruling publishing, broadcasting, pursuits to gain a high degree, international relationships, and immigration matters - none of these areas will go smoothly. However, a full moon delivers its news and does not linger, so you will hear what needs to be fixed and will need to...
To view a forecast, select a sign from the menu below and click on Go.
---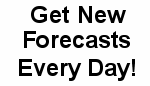 Click here to get your daily forecast
direct to your email or PC.


Fluffy Down Bedding,
Comforters and Pillows
Hosted by: