Your Monthly Forecast
All the latest monthly forecasts, organized by sign.
Age of Aquarius
Susan Miller's astrological predictions for a new century.
Current Trends
Find out the planetary trends that might be influencing you today.
---
Sagittarius (November 22 - December 21)
Your September Horoscope by Susan Miller
When it comes to career, news is about to become so exciting that you may feel as though you fell into a parallel universe, where every career wish you have ever imagined for yourself is now being granted by the wish fairy. Your ruler, good fortune Jupiter, has now moved into a brilliant position, at the very top of your chart, and is still orbiting close to the Sun. You may have seen just how rewarding your career was to become at the end of August, and as you enter September, events will unfold that will demonstrate just how dearly you are appreciated by your industry and by those who rely on your sound judgment and creativity.

The solar eclipse, a new moon, September 12-13, will bring events that will make this trend vivid in the days that follow. Pluto will be in a strong position to see that you won't have "all glory, no pay" - instead, you'll be in prime negotiating position to name your price and get it. Mars will enter your fame sector too from September 24 to November 12 and push you squarely into the spotlight. Your name will be on the lips of nearly everyone in your industry - this last quarter of the year should bring you all the gratifying progress you always wanted. The realization of the...
To view a forecast, select a sign from the menu below and click on Go.
---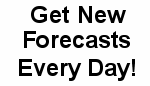 Click here to get your daily forecast
direct to your email or PC.


Fluffy Down Bedding,
Comforters and Pillows
Hosted by: