Your Monthly Forecast
All the latest monthly forecasts, organized by sign.
Age of Aquarius
Susan Miller's astrological predictions for a new century.
Current Trends
Find out the planetary trends that might be influencing you today.
---
Sagittarius (November 22 - December 21)
Your May Horoscope by Susan Miller
Life certainly has been busy for you, but you may feel you are on a spinning wheel, not quite making the kind of progress you had in mind. As the most optimistic sign in the zodiac, it's not your nature to be frustrated. On one hand, you have had Mars in Sagittarius since March 5, a big plus, for having Mars in your corner puts you front and center in all that is happening. You would have control, and be put in a leadership position where others look to you for direction. You may not be aware, but people are buzzing about you in admiration. But on the other hand, Mars in Sagittarius went retrograde on April 17 and will remain in sluggish position until June 29. Mars' brother, Mercury, is currently retrograde too, as of April 28 until May 22.

That's only half of it - Jupiter, your ruler, is retrograde, as well as Saturn and Pluto too. That makes five out of eight planets out of phase in May, which is very unusual. Happily, soon, Jupiter will go direct on May 9 and Mercury, May 22. I am explaining all that has been going on in the background so that you realize that it's likely nothing you did that has stalled your progress. Everyone of every sign has been walking through glue, finding it hard to move forward. However, when planets are looking back in retrograde, we are not supposed to be venturing forward, but looking back, with the purpose of seeing if there are any projects or relationships that can be...
To view a forecast, select a sign from the menu below and click on Go.
---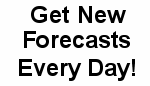 Click here to get your daily forecast
direct to your email or PC.

Hosted by: