Your Monthly Forecast
All the latest monthly forecasts, organized by sign.
Age of Aquarius
Susan Miller's astrological predictions for a new century.
Current Trends
Find out the planetary trends that might be influencing you today.
---
Leo (July 23- August 22)
Your November Horoscope by Susan Miller
As November takes off, you may get good news about money, for Venus and Mars will link in Virgo in your second house of personal, earned income. This is a sweet conjunction, and a rare one in Virgo, so you are likely to notice it. The money you seem to receive appears to be reward for doing such a fine job in your career, for Venus is the natural ruler of your tenth house of fame and honors. Your reputation and influence is growing, and your compensation appears to be growing along with it. It is alternatively possible that you will buy something elegant and expensive that you've eyed, and always wanted, but had to save to afford.

If you don't buy something beautiful or receive a valuable gift or generous check, it appears you will, in time. You may not have been working on your career, but once you do, the lovely truth about the universe is that as the planets continually rotate around the horoscope, and you will soon see opportunity come again. Next time, you will be ready to...
To view a forecast, select a sign from the menu below and click on Go.
---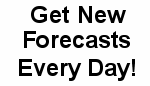 Click here to get your daily forecast
direct to your email or PC.


Fluffy Down Bedding,
Comforters and Pillows
Hosted by: