Your Monthly Forecast
All the latest monthly forecasts, organized by sign.
Age of Aquarius
Susan Miller's astrological predictions for a new century.
Current Trends
Find out the planetary trends that might be influencing you today.
---
Leo (July 23- August 22)
Your August Horoscope by Susan Miller
You are now about to enter your favorite month of 2015, and happily, it's birthday time, sure to keep you in an ebullient mood all month. I say this even though Jupiter, the giver of great gifts and luck, is due to pack his bags and leave the constellation of Leo on August 11, not to return to your sign until June 2026. Don't be blue! You will have so much to look forward to now!

Because you will pass your crown of celestial favorite to Virgo on August 11, think about anything you'd still like to do before that date. You are about to enter into the second gestation of the cycle, where you will begin to make substantial money directly from the seeds you planted from July 2014 (the month Jupiter entered Leo) to this month, August. If there were still an influential person you'd like to see to present an idea, do it quickly. The projects, ideas, and relationships you began since July 2014 will grow into big trees. Those decisions you made, and actions you took, will pay you all kinds of dividends in the coming decade, until Jupiter has...
To view a forecast, select a sign from the menu below and click on Go.
---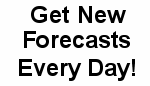 Click here to get your daily forecast
direct to your email or PC.


Fluffy Down Bedding,
Comforters and Pillows
Hosted by: