Your Monthly Forecast
All the latest monthly forecasts, organized by sign.
Age of Aquarius
Susan Miller's astrological predictions for a new century.
Current Trends
Find out the planetary trends that might be influencing you today.
---
Capricorn (December 22 - January 19)
Your May Horoscope by Susan Miller
This could turn out to be a remarkably romantic month, with lots of possibilities for fun, travel, and reconnecting with friends from the past. Despite five planets that are retrograde as the month begins, a highly unusual situation, I feel you can and will enjoy this month to the fullest. The emphasis will be strongly on love, pregnancy, children, pregnancy, leisure, fun, and your creative expressions.

The key will be to take a deep breath when it comes to work, especially in the first week - nothing of great importance will happen in May with so many planets acting like little drunk sailors. All living things need to rest, including these little...
To view a forecast, select a sign from the menu below and click on Go.
---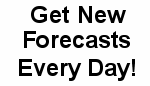 Click here to get your daily forecast
direct to your email or PC.

Hosted by: