Your Monthly Forecast
All the latest monthly forecasts, organized by sign.
Age of Aquarius
Susan Miller's astrological predictions for a new century.
Current Trends
Find out the planetary trends that might be influencing you today.
---
Capricorn (December 22 - January 19)
Your February Horoscope by Susan Miller
This will be such a happy month that at times, as I describe February to you, I may sound positively giddy. Forgive me if I do, it is just that I rarely see a month so chockfull of delicious aspects as this one will have for you. You've had more than your share of difficulties in recent years, so I am so happy to have so much good news to report for you!

Last month, Mercury was retrograde in Capricorn, so you were subject to setbacks and frustrations, but Mercury is now direct and getting back to former strength with each passing day. By February 15, he will be precisely back to full health, quite strong and robust again. This is still another reason you will love February! So much...
To view a forecast, select a sign from the menu below and click on Go.
---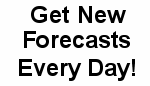 Click here to get your daily forecast
direct to your email or PC.

Hosted by: