Scorpio Forecast for September 2014
By Susan Miller
You have entered a much improved, happier phase, where things are about to go your way. You've paid your dues, and it's about time you had an exciting boost of cosmic support. The universe agrees, and soon you will see the tide is turning to your favor. It may take two or three months for all the planets to move into the right positions, but what matters is they are all heading in better positions for you.
Ever since Saturn entered Scorpio in October 2012, life had become more serious for you, and you had little choice but to keep your eyes on the road and your forehead to the steering wheel. Saturn was making a rare tour to your sign, and is still with you, two years later. During the intervening years with Saturn, you gained authority, sharpened your ability to be realistic, and learned to handle the kind of responsibility that would have thrown you only a few years ago. Saturn also helped you build a firm structure to your life, so that in coming years you can build on the foundation you have created. Saturn required you give full concentration to goals you chose to tackle; he expected no less. You have come through a strenuous, at times exhaustive period, but you have so much to show for your efforts.
All this did not allow much room for fun, but you were being productive and learning more in the past two years than you had in a decade. Think back to where you were in life just two years ago (2012) and see how far you have come since then. Saturn tutors each sign for approximately two and a half years every twenty-nine years, so you would only get two or three visits of Saturn to your Sun in a lifetime. Saturn needs you to remember all that he teaches you, for that knowledge would need to stay with you nearly three decades, until Saturn can come back to refresh your course of study. This is why Saturn periods tend to be so memorable, even indelible.
Having Saturn in your sign would have been enough for anyone to handle, but as luck would have it, you also had a series of eclipses working on moving you from one phase of life and maturity to another too. Eclipses work in sudden, dramatic ways and get progress almost instantly. Your eclipses started coming by every five and a half months over approximately two and a half years, beginning November 2012. As you see, the eclipses dovetailed with the arrival of Saturn, so you had both to contend with at once. No one doubts you had a lot on your plate.
The dates of the eclipses in the Scorpio - Taurus series included November 13, 2012; April 25, 2013; May 10, 2013; and November 3, 2013; and most recently, the last one, April 28, 2014. Have a look at this list and see if any of these dates jump out at you as important turning points in your life.
You'll notice dates in April and May among the dates. Why did I include those knowing you are born in October or November? Scorpios with birthdays that fall October 25, November 10, and October 28 were directly touched by the eclipses in your opposite sign of Taurus on April 25, 2013; May 10, 2013; and April 28, 2014 respectively. Those dates are found 180 degrees away from the Scorpio birthdays, on the same Scorpio-Taurus axis. Those eclipses were directly opposite your Sun. You would have not have likely felt all the eclipses in the series in Scorpio or opposite sign of Taurus, but you would feel one or two eclipses listed if it fell within five days of your birthdate. Those eclipses that were near your birthday were the important ones for you.
Next month we will have a last eclipse in the Scorpio-Taurus family of eclipses when the new moon solar eclipse in Scorpio arrives on October 23. It will be a very friendly eclipse, and open up all sorts of opportunities for you, and you may even begin to view yourself in a new light. This will be the last eclipse in the Scorpio-Taurus series, so after October 23, you can rest. After that one, there will be no more eclipses in Scorpio or Taurus for eight years. I will go into more detail about the two eclipses due in October, including the total eclipse of the moon in Aries, October 8, in my report to you next month.
Here is more good news: Taskmaster Saturn is due to leave Scorpio on December 23, 2014 - yes! This year! It is true that Saturn will retrograde back to Scorpio next year for thirteen weeks, June 14 to September 17, 2015. Only those Scorpios born at the end of the sign, near November 18-21, will even notice this period. If you were born at the end of the sign, don't become anxious. You have dealt with Saturn for many months, so you know Saturn's drill, and nothing you will experience will be new. Saturn by then will have his mind trained on Sagittarius, not Scorpio, so you should glide through those weeks easily, like a pro.
Also, beginning July 25, Mars, one of your rulers, entered Scorpio and is still in your sign. This was a lot of energy focused on Scorpio! That much focus on your sign can add pressure, but as you will see, that pressure is about to be reduced. Usually having Mars in your sign is a positive development, for Mars would fire up your courage, determination, and drive. Having Mars in your sign allows you to have presence, so that influential people notice you and offer to help you - another wonderful development.
This particular tour of Mars in Scorpio was not always easy, however, because in August, Saturn was also in Scorpio, and orbiting very close to Mars. This meant you were getting mixed messages from the two planets. Mars was saying, Be assertive! Go out there and slay a dragon! At the same time Saturn was saying, Be cautious! Don't be brash! Wait, hold back, and perfect your strategy! This was making the past few weeks hard, so if you were pulling out your hair, not knowing quite what to do, that would have been understandable.
By now, in early September, Mars has since orbited far enough away from Saturn so that Mars is out of reach of Saturn. This means you will find the first two weeks of this month (until September 13) will be kind to you. You can take the lead, and it appears you've already perfected your strategy in August, so you won't have Saturn pulling on your sleeve, holding you back. You can bolt out of the gate, and no one will hold you back.
September will be a far more productive month than October, as eclipses always have a way of changing agendas and timetables. Be flexible as your priorities change. As a Scorpio you like things to stay fixed, so you may wonder why I would even suggest that next month your order of what needs to take precedence may change. Eclipses often bring up matters that we failed to see developing, and when those situations suddenly arise and become clear, they have certain urgency to them, requiring we drop everything and attend to what we learn instantly. In your case, the October 23 new moon solar eclipse in Scorpio may bring up a sudden opportunity that you will need to take advantage of quickly and grasp it before it vanishes.
Financially, you appear to be entering a phase where you will be spending more than usual, from September 13 to October 26, the time Mars will spend in Sagittarius. Mars is your ruler, so his whereabouts and activities take on special significance to you. It may be that you have planned to send in a large tuition payment, will be fixing your roof, taking an important vacation, or doing another expensive activity you had planned for some time. If so, you already know you will be spending more. If you have no idea what it could be, then you may want to put off spending for anything optional and expensive on your list until you can see the lay of the land. This way you can space out large additions to your credit card, and more easily manage your money.
As said earlier, you should not be spending much during Mercury retrograde anyway (October 4 to 26), as later a new model of the product you want to buy may come out, or you see a competitive brand that would better fit your needs. The probability of getting a product or machine that does not perform well rises when Mercury retrogrades, so you might buy a lemon that is later recalled. Get what you need in September, and then consider putting your credit card in mothballs until November.
Mercury will end retrograde October 26, but don't come to close to the start and end dates of the retrograde. Some people rush to sign contracts at the start of the period, in this case October 4, forgetting that Mercury acts in his most wild and wooly way at the start and end dates of the retrograde.
Mercury will fully regulate its orbit by November 10, but you won't have to wait that long if you need to sign a contract or get going on a venture - just wait a few days beyond October 26. November 10 is for those who want perfection: a fully operational, fully awake and speedy Mercury. October has Mercury retrograde all month and two eclipses, so it's a time to observe and reflect on what you see and hear. Things will be changing under the surface in October but in what way will not be altogether clear. Wait until the dust settles in November.
You see why I say September will be your productive month!
The new moon, September 24, will be superb for ending a habit you know is detrimental to your health. Falling in Libra in your twelfth house, it will appear at the powerful 1 degree of a cardinal sign, that degree considered as powerful as the life force. Cardinal signs correspond with the four points of a compass (north, south, east, west) so they define direction. Even if you have been disappointed with your progress to overcome a certain dependency on a substance in the past, this new moon is different, and you should be encouraged to try again. (Your dependency might be as mild as eating cookies in bed at midnight, to smoking, or having a drug dependency.) This new moon is in Libra, the sign that perfected one-on-one collaborations, suggesting you would do best if you work with a coach / doctor / professional therapist or buddy.
Mars, planet of action, will be very friendly to this new moon, too, so you have your ruling planet on your side, and that's awesome help - Mars gives plenty of energy, helpful in overcoming any challenge. Mars is now in your first house - the engine that runs the entire chart. The first house is the house that describes your personality and character, and is linked to your appearance, physical vitality, and inner determination to succeed.
In case you needed even more encouragement to overcome your habit, the September 24 new moon will coincide with a glittering golden triangle in the sky, linking planets in fire signs: Mars in Sagittarius, Jupiter in Leo, and Uranus in Aries. Uranus is the planet of surprise, and is in your sixth house of health, so you can overcome this substance and return to better health, perhaps by using unusual and unconventional methods, like hypnosis. Jupiter's presence is awesome, too - this planet is associated with healing and at times even miracles. Jupiter in the tenth house suggests your doctor, if you go to one for advice in your quest to overcome this challenge, would be distinguished and have a proven track record.
Now I have the BEST news of all! On the following day, Thursday, September 25, Jupiter, giver of gifts and luck, will receive a golden beam from Uranus. This aspect has not happened in similar way since January 2011. This is an aspect of hope, optimism, and sudden, happy breakthroughs. Circle it on your calendar, as it is a five-star day. Uranus is in your work project sector, and Jupiter in your house of fame and honors, so this tells me you may get a project out of the blue that has the ability to raise your profile very high in your industry and gain you respect. Mars will be at just the right spot in the sky to see you get decent compensation. This is a very special aspect, so take it seriously! Open the window and see what flies in on this wonder day!
Before I go, let's talk about romance. The full moon in Pisces, 16 degrees on September 8, will fall in your true love sector, and bring a beautiful interlude. You may hear a confession of love, or you and your sweetheart may promise to remain exclusive to each other. If you hope for a baby, this would be the time you may near news of your pregnancy, give birth, or find ways to help a child you already have in your family. This is the only full moon of the year in your solar fifth house of love; it's due to be special.
You may be invited to a highly romantic party over the weekend before the full moon arrives (September 5-6) or later in the week (September 8 to 12), all as a result of this full moon. Mars will still be in Scorpio and will amplify up your magnetism and charisma, so you are sure to sparkle. Pluto, your other ruler, will be also friendly, so you would meet very successful people at the party, and one or two may give you help, a tip, or an idea that enthuses you. This is wonderful full moon!
If you are a Scorpio with a birthday that falls on November 8, plus or minus five days, you will feel the benefits of this full moon more than most. Also, if you have Scorpio rising at 16 degrees or a natal planet at 16 degrees of Scorpio, Pisces, or Cancer, plus or minus four degrees, you too will feel this full moon in a very enchanting and important way.
---
Summary
July and August may have been exciting months for your career, and the theme will continue in September. This time, however, you won't have to work in a formal way, by writing proposals at your computer, but rather, simply attend social gatherings and be on a mission to widen your circle of friends and contacts. Always bring business cards when you leave home, for the new faces that come to you now will be fascinating, successful people, and you may want to cultivate one or two of those new relationships, for one person you meet now may change the course of your career.
Next month Mercury will be retrograde from October 4 to October 26, and two eclipses will occur, one in Aries, October 8, and the other in Scorpio on October 23. With Mercury due to be out of phase in October, it will not be the right time to develop new territory or make a major launch; it's a month to watch and wait. Your agenda, timetable, and priorities will change, and with new information and conditions due to surface as a result from the eclipses, you will need to adjust to a changing landscape. You will soon see that the shifts that are coming were necessary, and so even you - a sign that likes to keep things "as is" - will agree, "Change can be good."
You have enjoyed having Mars in Scorpio, for Mars, one of your ruling planets, has put your interests first, and other signs have had to wait for their turn. Mars is the energy planet that you can harness to make a new venture or relationship a success. In August you were getting mixed messages from Mars, because Saturn was close to Mars, and Saturn was urging you to stop, look, and listen, and not move ahead too fast. This could have been frustrating to you. Mars imparts courage, drive, and energy, so it's always a privilege to have Mars in your sign, and now Mars has orbited away from Saturn, so you are back in business. Ventures started at this time have a better than usual chance for success, if only because you would be willing to give your "all" with competitive Mars behind you. Mars will move into Sagittarius mid-month, so make your biggest initiations prior to September 13.
This month will not be all work and no play, for the full moon of September 8, influential for four days before and after this date, will likely bring on a lovely romantic interlude and one you may always remember. You may attend a very special party, wedding, or other celebratory event that will turn out to be quite bewitching, with candles, flowers, music, and fine food and wine for the well-dressed guests to enjoy. You may meet someone new at this event, or, if you are newly dating someone you are serious about, you may experience a very special romantic evening that has your heart beating double time.
If you are married, you may get results back that you are pregnant, or have special joy being together with your mate and children. If you feel you'd love to have a weekend away with your spouse, ask your mother or a friend to babysit, and have a "just us" private weekend for two.
At the new moon, September 24, you appear to be in a contemplative mood, and you will want more privacy. You are coming close to birthday month, and with an eclipse due in your sign, changes are likely to be in the wind, especially if your birthday falls near October 23. You'll find next month to bring news that will require one or two adjustments, but it's all for good. Take your chance to rest while you can, and be ready for the adventure that October will bring. This will be a superb new moon to tackle a habit you would like to delete for a healthier you. Because the new moon is in collaborative Libra, seek a coach or professional therapist to help you get ahead.
Hold on to your hat on September 25, when a sensational career opportunity will come up, quite out of the blue. News will make you so excited, you will want to dance on the tables. Your status is clearly on the rise, and soon nearly everyone in your industry will know your name. This day is a cosmic gift from Jupiter in perfect angle to Uranus, an aspect so special and rare that we have not seen it since January 2011. Make this day, September 25, even bigger by scheduling an important career move, such as an interview, presentation, product launch, or the opening of your own business. On a day this golden, the seeds you plant are likely to grow tall, just like the beans in the Jack and the Beanstalk fairy tale. Wow!
---
Dates to note: SCORPIO
Most important dates for love, meetings or actions: 3, 4, 8, 11, 12, 16, 17, 22, 26, and 27.
Scorpio is a serious business sign. The new moon of last month is still strong, from August 25, plus ten days. You would be wise to loosen up and be open to making new friends and contacts. Not all business has to develop in an office - sometimes it is forged over a meal or in a social atmosphere.
Speaking of business, if you need to find accord with a very powerful VIP, do so on September 25.
Saturn is now in Scorpio, so sometimes, life has seemed like an uphill battle for you. That may change on or near September 11, when you will get help from a top level, older and experienced person. Also, Saturn is due to leave Scorpio on December 23, 2014 - celebrate!
When Mars moves into Sagittarius September 13 to October 25, you will find you will be spending much more money - perhaps you have prepared for this, possibly to pay for tuition or to pay off student loans.
One of the most romantic moments of the year may be when the full moon "Harvest Moon" rises in your fifth house of true love September 8. Watch for a breathtaking weekend September 5-6, or in the days September 8 to 12 - you may have a very tender experience. If hoping to have a baby or adopt one, good news about conception or the baby's arrival may come within four days of this date too.
When Jupiter sends a golden beam to Uranus on September 25, you may get career applause, praise, or a magnificent job offer. This is a rare, five-star day. The projects you will do will appeal to you, and all that you do will lead to your growing stature. This is a vitally important day and one that will bring you a very happy surprise.
P.S. for September 2014
My New Apps for Android and iOS Are Ready to Download!
Last January, Phunware met with me and we set out to design a completely new app for AstrologyZone readers. The new Android application is free to download with an option to upgrade to a paid subscription to get in-depth, full daily horoscopes, just like the iPhone readers received a year ago. The apps are now on the Google Play App store, and Apple will debut my new app design this week in the Apple App Store as well. My new app has a completely new, sleeker design and many new features. You will still have a free daily horoscope, or if you prefer to subscribe, a much longer daily horoscope. The long version is the one most readers prefer. You will purchase your subscription directly from Apple App Store or Google Play, depending on your smart phone type. The new applications work with iOS 7.0+ and Android OS 4.0+. If you are already a subscriber to my app on your iPhone, the new design will just slide in to replace the old design when you updated your app. If you have a Samsung Galaxy smart phone, you use the Android operating system, so you will get the new design too.
A feature of my new apps is that each app will automatically expand or shrink to fit your other devices, whether iPad or tablet, or any size smart phone you choose. These newly designed applications have kept screen real estate in mind, allowing users with phones or tablets to get a fully optimized experience for their device screen size. Don't worry - once the iPhone 6 is out, the app will beautifully translate to that new screen size as well! Keep in mind that you are purchasing a subscription to my app from Apple or Google as retailers, and I get a commission on the purchase price of the subscription you buy.
Whether you choose the free version of my app or choose to subscribe to the premium version, either way you will still always have your monthly Astrology Zone report on your phone, and my previous month's report as well. You can check all twelve signs of the daily or monthly horoscopes too by simply going to the home screen and choosing a different sign. The new apps will list my appearances too, but so far, I have no appearances on my schedule, but that might change in time, and if it does, you will be able to see where I will be immediately. Until now, only readers who went to their computers online would know in what city I would have new events. You can also see my Twitter feed on your mobile device too.
The designs for Android and iOS are consistent; you get the same visual design and features for either application. When we were ready to send the app to Apple and Google for approval, Phunware flew to New York in May and asked me if I had any last minute changes. I went through the app with my account person, and I had a few - 89 in all! They were tiny changes that were important to me, and she agreed they were good suggestions. I was a bit worried they would think I was a bad client for tweaking my app so much, but my account person assured me the team liked my suggestions and were happy to make the tweaks. My point in telling you about this is that a lot of thinking goes into the development of an app, and I am very excited to finally be able to show it to you. I feel as though I am having twins - two apps, and I love each one equally.
I would appreciate you taking the time to review my app, for I will read all your comments. I am grateful that sales of the premium subscription are so strong, for this allows me to keep Astrology Zone free. Thank you for your support and understanding while I recover from my illness. In case you were wondering, I write the daily horoscopes three months in advance, so although my long, 48,000-word monthly may have been a little late, my dailies are never late. I am getting better every day as the doctors tweak my medicine. I am very optimistic and excited about getting my old life and original strength back!
---
Live Overseas? Or, don't have an iPhone, Android, or Samsung Galaxy?
Get all 12 of my daily horoscopes each day by email or pick yours up each day on special password-protected site.
To plan ahead, receive several daily horoscopes in advance!
By subscribing to DailyAstrologyZone you will receive a week of horoscopes inside your cell phone and / or computer. This means if you have a BlackBerry or feature flip phone, you can still get my daily horoscopes as long as your device accepts email. You will also have the option of accessing your daily horoscopes from a website online, from anywhere, any time, through a password-protected site for members only, or receiving all 12 signs my email each day.
For more information: http://www.dailyastrologyzone.com
---
SUSAN MILLER'S APPEARANCES for September 2014
Susan Miller has no further appearances during September
---
A COMPLETELY NEW WAY TO FIND LOVE ONLINE WITH DREAMCLIQ.COM
I have partnered with a new online dating site Dreamcliq.com, an entirely new way to meet people. We all know how hard it is to write personal descriptions. Dreamcliq is doing something new: users create visual profiles to easily express what they love. Instead of awkward written descriptions of yourself, you can use images to express who you are and what you love in style, art, travel, design, and entertainment. You will click on photographs that express the real you, and the process is fun. If you see someone that interests you when looking at the photographs they chose to express themselves, you can read my previews of your Sun sign's compatibility with the person you are interested in contacting. Just remember, all signs can get along with any other sign, for if love is there, the stars will open a path!
As a special gift to all my readers, you will receive 10 free cliqs to use on Dreamcliq.com when you sign up using this special access link. This promotion will be in place from now through December so that you can increase your chances of starting 2015 with a grand love in your life. This promotion on Dreamcliq is open to all my readers, male and female, straight and gay. Everyone of every sign is invited. Sign up - you have nothing to lose and everything to gain. When CEO of Dreamcliq Melissa Jones came to me with her idea sketched on paper a year ago, I didn't know her yet, but I was so impressed with her originality and intelligence, I knew immediately I wanted to work with Melissa. The media has reviewed her brand new site, and the rave reviews are in. You can see them as you explore the site.
To learn more about love and astrology, read my article on Dreamcliq's blog. I have lots to say in my essay about love and how astrology works to help you find love, so be sure to scroll down to catch all that I wrote. You may find my words helpful as you embark on your new adventure to find love. I love Dreamcliq because by choosing from images for your profile, you reveal your personality in an artistic way that is honest, stylish, and exciting. Give it a try!
---
A New and Important Book on Fashion and Style:
"365 Style" by Nicky Hilton
There are many books on the market on fashion and style, and I admit, I have bought many of them. In this new book being published September 15, Nicky Hilton, designer, author, entrepreneur, daughter of Rick and Kathy Hilton, and sister of Paris, has created a completely original, honest, and remarkably wise book on style. It comes complete with many color photographs, and in it Nicky shows you ways you can upgrade your own fashion style from good to style icon level. The goal is to sharpen your personal style by looking within, not by copying someone else's style. Nicky gets you started by showing you some of her favorite style icons, but only to get you thinking. She gives many stories and examples from her own life, and she makes you enthusiastic about going through your own wardrobe to find ways to amp it up. The title of the book refers to Nicky's suggestion that you consider 3 aspects of your lifestyle, and choose 6 staple items of clothing and 5 essential accessories. Doing that will instantly get you a stylish starting point.
Nicky has attended all the fabulous fashion shows in New York, Paris, Milan, and more in her young years, but her advice is down to earth and certainly does not require you have a trust fund. Just the opposite, her tone is one of a best friend going through your closet and handing you advice that is at times funny but always wise. Certainly a lot of what Nicky says makes you think. In one chapter, she advises, "Always dress like you are going to meet your worst enemy" (i.e, bumping into the ex-boyfriend who betrayed you, or the mean girl in high school who made your freshman year a terror.) Nicky gives many examples of her own life and shows how running into that old boyfriend looking like a million because she had taken just a little extra time with her appearance on the way to meet girlfriends for a casual Mexican dinner gave her a happy boost during that unexpected nano-second on-the-street encounter.
With each page, you will rethink your own wardrobe and habits, and occasionally Nicky will casually toss out the very advice you needed most. When it happens, you will feel like you were hit by a thunderbolt. I enjoyed her advice about dressing for a first date, meeting his parents, and more, and all along she gives you many vignettes that allow you to see her own lifestyle. Those peeks into her own life allow you to understand why she has the authority and experience in her early thirties to write this wonderful jewel of a book.
She has advice on such things as:
The $30 wardrobe item you can't live without.

The one closet accessory that keeps everything organized at all times.

Five must-have wardrobe items, all affordable.

How to pack a suitcase like a jet-setter.
I feel you will enjoy this book and get much from it. Just click here to order your copy:
http://amzn.to/1qE6BzC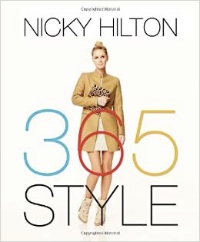 ---
My Book
If you ordered my book, you can get you money back in full. Please email Arthur at Arthur@AmericaDirectBook.com with your full address and phone number, or call Arthur at 914.271.2640.
I had asked my publisher not to advertise the book until it was written as a policy, but Arthur, being the optimist that he is, did anyway. I am very sorry. You can get all your money back.
---
Astrology Zone Coming to TV! More news in weeks to come!
Newsflash: I am very pleased to announce that I am developing the Astrology Zone TV show with Paul Duddridge and TV4, and we plan to be on air from November 2014.
I am being secretive here, but I will say I will be back in Hollywood in September to start work on the show. Viewers in America and in international countries will be able to view it in English. You will get more news as it comes!
---
"OUTLOOK for the Second Half 2014 by Susan Miller" is now available:
In Print $4.99 plus shipping via USPS with tracking. Total under $10.00. One and two copies same shipping charge. https://www.americadirectbook.com/outlook2014
Digital PDF: $5.00 https://www.americadirectbook.com/outlook2014pdf
Amazon's Kindle: http://amzn.to/1lE7a8t
Barnes & Noble Nook: http://bit.ly/Uec9D3
---
The Year Ahead 2014 Astrological Calendar
By Susan Miller
My Year Ahead 2014 collectible calendar is now $9.99 (at a 45% discount, from original price $17.99) plus shipping, any applicable tax
Calendars are used to mark time, but have you ever had a calendar that helped you use your time productively? My new Year Ahead 2014 Calendar can do just that. I write every word myself in this stunning calendar with original fine art by socialite, author, and fine artist Gloria Vanderbilt, mother of newsman Anderson Cooper, and great grandchild of railroad entrepreneur Cornelius Vanderbilt. (Grand Central Station was originally her great grandfather's business headquarters.)
Gloria Vanderbilt, now almost 90 years young, licensed the reproduction rights to her critically acclaimed artwork to Susan Miller who self-published her calendar. The inks are rich, the paper heavy, glossy, and snow white, allowing Gloria's paintings to jump off the page. Each month, from January 2014 through the extra bonus month, January 2015, is found an inspirational quote from Gloria, centering on her philosophy of living life fully and creatively. With fourteen of Gloria's paintings, this calendar will soon become a collector's edition and will not be reprinted when stocks are gone.
Aside from having happy, vibrant art to look at all year, The Year Ahead 2014 calendar has many other uses, unlike any you have had in a calendar before. On every important day of each month I list the aspect and what it means, in easy to understand laymen's language. This means the next time you are about to make an important appointment, and the VIP asks you, "Do you want to come in Monday or Thursday?" you can say you will consult your calendar and know immediately the day to choose.
In a year like 2014, where sparkling aspects will stand side by side difficult ones, this calendar will not be a luxury but a necessity.
Also included in the calendar are:
- All the start and end dates of the retrograde planets in 2014,
- Detailed discussion of the new and full moons (new!)
- The date when planets move into new signs (and how long they will be in that sign), all listed on the same day entry
- The planetary aspects of the four eclipses due in 2014, and explanation of what each eclipse will bring.
No more surprises! Be in the know about upcoming events, so that you can plan your biggest initiations. This calendar is a "must" to keep with you all year, and is available here, from Susan's publisher, but not in bookstores or other retailers. Get it now, while you can: $9.99 plus tax and shipping. We ship to all nations of the world: http://bit.ly/186zM0i
---
MY PERSONAL CUSTOM HOROSCOPE BOOKS
WRITTEN BY SUSAN MILLER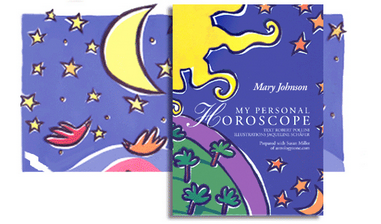 Looking for unique gifts for the summer months? - Choose from My Personal Horoscope for Adults or for Babies, or for a Relationship, the Two of Us.
Have an entire book written by Susan Miller, which runs approximately 65 pages, about your natal horoscope. Get to know your rising sign (also called the ascendant) as well as the placement of each of your planets, and what it all means. Susan's natal chart for babies centers on the talents and gifts of the little child. Order today and you will have your book within two-and-a-half weeks.
Two weeks on average from order receipt to delivery to any US destinations. One week longer elsewhere.
Also PDF option available for destinations overseas where delivery tracking of printed books is prohibitively expensive.
My Personal Horoscope Custom Natal Chart Book $49.99 plus shipping / tax
For more information call Susan's publisher, Arthur Heydendael 914.271.3640 ext 14 or click here:
http://www.americadirectbook.com/Customized_Books
---
A New Service: WiFive.us
Don't we all love a bargain?
We all want to know about the deals being offered nearby in our neighborhoods to save money. I found a way when a brilliant entrepreneur, Luis Sanchez, came to see me to show me he had developed a way of seeing all the various deal-of the-day websites that are featuring discounts on food, entertainment, boutiques, and other establishments, all in one click. Traveling? All you need to do is enter the zip code of your new neighborhood as you travel each day and you can see the deals that may be just across the street from your hotel.
The company is called Wifive.us and is ready to use today. It is a New York-based startup with a location-based search engine that gives you access to thousands of local online deals in a single site.
For now, Wifive.us is only available in the United States. It covers most of the deals and services you would see from various sources (Groupon, Amazon, Google deals, and so forth) all at once, so you don't have to go from site to site to find a deal that appeals to you, as Luis would humorously say, "until your head hurts." There is no registration necessary, and no useless emails to stuff your inbox each day.
Just type your address or ZIP code and get the deals you want when you want them. You pull in your information, which is far better than having many emails pushed to you. Try it and like the service on Facebook!
A word about the web address of WiFive.us
You may be wondering, what exactly is .US?
You might have thought the domain ending .us would only be only for government agencies and schools, but since 2002, individuals, businesses, churches, and non-profits have adopted .US web addresses to make their mark on the Internet. The .US is a new domain ending.
Just remember the name of the new service that no doubt you will be using quite a bit: pronounced as "wi-five-dot-us" otherwise seen as: http://www.wifive.us
To view a forecast, select a sign from the menu below and click on Go.