Scorpio Forecast for July 2014
By Susan Miller
You have now entered the most exciting month of 2014 - July! For so many reasons, you will find each week will bring you more reason to celebrate. You have been coping with a series of retrograde planets, but as you started July, Mercury turned direct on July 1. Mercury will need a little time to orient himself and get into a faster orbit - that will happen by July 16 when Mercury reaches the point when he first went retrograde (3 degrees Cancer). This return to the start degree of when Mercury went retrograde is considered significant, so if you want the very strongest Mercury possible, you would be best to wait until mid-month to act. I realize this might not be possible, so be happy that Mercury is finally going direct.
In so many ways, 2014 will officially begin in July. Venus, planet of love and affection, had been retrograde from December 21, 2013 to January 31, 2014. At that time, some revisited their feelings for a relationship, or slowed one down that was moving too fast. After Venus went direct, Mercury, planet of contracts, negotiation, and judgment, went retrograde February 7 to 28. By then, you and the rest of us were ready to scream because it was so hard for you to be productive.
As luck would have it, however, things were not to straighten out any time soon. The energy planet Mars went retrograde March 1 to May 21. Because Mars is your ruler, you were likely particularly frustrated with delays, so there was no rest for the weary. This planet is the booster rocket to all big ventures, lifting them into the stratosphere to get them into good orbits and ensuring their success, and without Mars' help, projects were likely to limp along. When Mars awakened on May 21, little groggy Mars needed time to come up to speed, a process he always has to do gradually. Astrologers look at the mathematical speed of a planet, so we can know precisely how fast, or slow, a planet is moving.
It would not be until this month, July, that Mars would be up to speed, functioning at full throttle, and you would notice this by a quickening of the pace of your days. However, before you were to get to this month, Mercury went retrograde, from June 7 to July 1. As you see, we were all were being held back, not only you. If you look at the dates of these retrogrades, you will see they almost dovetail precisely, leaving no room for an oasis of productivity.
When any planet is retrograde, the planet is weak, and we mortals below, on earth, are not able to access any of the powerful energy that the retrograde planet can normally give us. Instead, we have to work extra hard to get projects approved, and to get new relationships of all kinds on track and proceeding forward. This required enormous concentration and determination on your part. A retrograde planet urges us to go back to projects and decisions made earlier, to review them for any needed changes or corrections. Although we all like to hear that new things will be cooking up soon, when it came to January through June 2014, the universe was demanding that we address unfinished business left over from 2013 first.
On top of that, we had two very difficult eclipses, first on April 15, which may have affected your work life (but not your reputation) when a project or job was suddenly ending. If this is how the eclipse affected you, you may have felt as if the momentum of life suddenly stopped, and it may have seemed very jarring when it did. You went from very busy to almost no work on your desk. That eclipse, in Libra, also may have alternatively affected your physical health or psychological outlook, as would the next eclipse that arrived two weeks later, a new moon solar eclipse in your opposite sign of Taurus on April 28. The April 28 eclipse drew your attention to a relationship, critic, detractor, or competitor, and was especially not easy for Scorpios with birthdays that fell at the end of October.
Now the scene will change enormously, and for the better. The biggest, juiciest, and most exciting news of July (and actually, the best news of the entire year) will come at July's end for you, but since the first half of July will bring opportunities for you too, let's start at the top of the month and go chronologically.
You had one of the best new moons of the year, in Cancer, 4 degrees, on June 26, to coax you to travel a far distance, and that new moon will still be strong in the first half of July. If you can take a vacation in the first half of July, do, for you will likely be too busy to do so later. Neptune was very friendly at the time of that new moon, so you may want to choose to go to the seaside or lake - choosing a location like that would be very inspirational, relaxing, and refreshing for you.
That same new moon in Cancer 4 degrees that appeared on June 26, still strong in early July, and might have opened up an international opportunity for you, such as to work abroad or to allow you to do the import-export of ideas, services, goods, or information overseas. You may have been on the phone with a person based in another country who will offer you an assignment or tell you your novel will be translated into another language. Or, in a different way this may be manifested, you may be hosting important visitors from abroad in your city. Matters of passport, immigration, visa, and green card may come up, and it's a good time to work on those matters. If you work in publishing (print or Internet) or broadcasting, you will be in luck, as that new moon would help you generate an interesting assignment in the media in the beginning of July.
If your birthday falls within five days of October 26, you would feel this new moon the most, and be in best position to take advantage of it. The same is true if you have Scorpio rising, plus or minus five degrees of 4 degrees, or a natal planet or moon in Scorpio, Pisces, Cancer, Virgo, or Capricorn at 4 degrees (or within five degrees of that degree).
Next, look to the full moon of July 12 in Capricorn, 20 degrees. Again, you will have an opportunity to travel, but this time, much closer to home. You may go away for the weekend or have been traveling and heading back home.
Legal discussions may come up and a decision made within four days of this same full moon, July 12, and at this point, I feel you can do well. If you have paperwork to sign, and your lawyer says the document is ready for your signature, schedule the signing in the following workweek on July 15.
Mars will be at hard angles to this full moon of July 12, so it may be that you will need to make changes to the document first, and you may face some resistance from the other side when suggesting those changes. Have several remedies in your pocket in case the other party has problems accepting the first idea you offer. I have a motto - "One idea is a dangerous thing." I always have many ideas to offer in case I need more, but of course, I always start with my favorite, most fair, win-win solution to offer to the other party when changing a clause.
Prioritize the ideas you've discussed with your lawyer ahead of time. If the other party does not like your first idea, you can go to the second one, or the third, and so forth. If nothing works, agree to break off talks temporarily and to resume talks later in the week, giving both sides to think and reflect on all that was discussed. That often helps when you reach a deadlock and can actually bring about a brilliant solution.
At this same full moon, July 12, you may hear from your sister or brother, and may be planning something together, such as a party for your parents, a trip you'll take together, or ways to help one of your parents in regard to something that has been going on lately. There are plenty of possible ramifications.
This full moon is also the perfect one to plan to launch a new advertising or publicity campaign for your own business (or the business you work for now), or to get more involved in social media. You can have your logo for your business changed and updated, or
If your birthday falls on November 12, plus or minus five days, or Scorpio rising at 20 degrees, plus or minus five degrees, you will benefit from this full moon. The same is true if you have a natal planet or the natal moon, in Capricorn, Taurus, Virgo, Scorpio, or Pisces within five degrees of 20 degrees.
Now for the most exciting news of the month! Jupiter, the Santa Claus planet that brings heaps of gifts and luck, will move into Leo on July 16, and light your tenth house of honors, awards, achievement, and fame (tenth house) for a full year, from July 16, 2014 until next year, August 11, 2015. You've not hosted Jupiter in this part of your chart since August 2002 through August 2003, so it's been a very long time since you've had cosmic help with professional matters. You are now poised to enjoy your best career year of the decade, starting this month. If you have been looking for a new, responsible position, with more status than your last one, you are in luck, for now you can aim high, with the reasonable expectation that you can ace the interview process.
Jupiter will bring plenty of choices; so even if you've been frustrated over the past few years with the entire job-seeking process, say to yourself, "That was then, this is now." You truly have a completely new outlook for success and an open road ahead. Jupiter will give you help with authority figures, and one VIP will likely go out of his / her way to give you tips, advice, or a fine reference.
To welcome Jupiter to Leo, the Sun will have a celebratory dinner with Jupiter on July 24. This is an annual event, but this is the first time in more than a decade that these two luminaries will meet in your tenth house of career. This day, July 24, should be simply spectacular! Use it for a major interview, presentation, performance review, or the start date of a new job (even though it is a Thursday). You can use this for any action that would affect your career for the long road ahead. You can defend your thesis, or if starting a business, open the doors on that day. You can do a new product launch, say, for a new app you've developed. You get the idea. Remember, this is the luckiest day of the YEAR and your best career day in a DECADE!
To extend your luck further, just two days later, the glorious new moon in Leo will appear on July 26, and as all new moons do, this new moon will set up two weeks of exceptional opportunity. The point to remember is that the actions you take in the two weeks that follow the new moon has the power to change your life for the better in the coming year. You only get a new moon in your house of fame and honors once a year - the next one will come August 15, 2015 - so it behooves you to jump on this rare chance to go after the job of your dreams. The position you find to interview for would not be on the level you had done in the past, but instead allow you a spot that's on a higher place on the mountain.
Work hard to unearth new job openings now. Start by looking at job listings, and by asking friends to be on the lookout for emerging jobs so that you can hear about them before the opening becomes public. Even though most companies require the human resources department to post the job on the company Internet site before they begin the interview process, you can mobilize when you hear of a position you love, and be ready when it is posted.
Ask friends to direct you to other friends who may have an inside track on the company you are interested in. Do research about the company on the Internet, so that you can come across intelligent and knowledgeable about all the company has been up to lately. If you want to open your own business, act on the meeting of Jupiter and the Sun on July 24, or just after that, at the new moon, July 26. Get your Federal paperwork done, open a commercial account at the bank, and meet with your lawyer and accountant to come up to speed on all the legal requirements you have to know about running a business. Sign the lease of your office space on one of those days, or if you have a business in place, launch a product or an advertising / publicity campaign.
Keep in mind that if you hope to change jobs, you do not have to capture the position you interview for now, but you must BEGIN the process on or just after the new moon to have it work for you. Think of a new moon opening and change of energy. Even if doors to success have been firmly padlocked, blocking you for entry, they will now swing open. Begin the process, and before long you will be singing a happy tune. Of course, the harder you worked in the past, the easier the process will be now, but all my readers work hard - we are all alike.
Do not, under any circumstances, be out of the office for an extended period on vacation at the end of July. Too many wonderful things will be bubbling up, and if you are away you may miss out. As I mentioned earlier, you have superb aspects for a vacation in the first half of July, so perhaps you will be able to catch time off at that time.
You will be helped by another planet this month that is about to change signs on July 25 - Mars. Mars is one of your two ruling planets, and has been, until now, in Libra since December 7. It's unusual to see Mars spend nearly eight months in a sign, but that's what has been going on. (Mars usually only spends six weeks or so in a sign.) Mars has been stuck in Libra, forcing you in a behind-the-scenes position during all this time, another reason you may have felt that you were walking through glue in the first six months of 2014. You may have had to do a lot of tweaking your career or product / service strategy before you would be ready to move forward. That process is now over. This month, all the conditions will be right to move assertively forward.
Certain industries will shine especially brightly for you. If you work in entertainment, music, and the other arts either as talent or support to talent, you will be in the right place at the right time. Also lit up would be industries that deal with children: teaching, toys, books, clothes, movies, and so forth, from kindergarten age through teens. Of course, other industries will light up for you too, and your managerial skills and sense of organization will be highly prized.
Mars will move into Scorpio from July 25 to September 13, giving you more determination, courage, and drive than ever before, and that's saying something, because you are known to be a highly resolved, focused sign with an extraordinary sense of purpose. Now you will become a virtual dynamo. This is the first time in two years that you've had the competitive edge of Mars in Scorpio. It appears you are about to take on important responsibility in your life, on some front, if you have not already done so earlier. In October 2012, Saturn entered Scorpio for the first time since November 1982 to November 1985. Mars will join the same area of your chart later this month, so decisions may need to be made, but if so, joyfully.
The responsibility you soon take on (or recently did take on) may happen on any front - you may marry, have a baby, take on a new position, open the doors of your own business, buy your first house or condo, write a book, or go back to graduate school, as a few examples. There are any number of choices, but you will (or have already) chosen one to devote your attention to, for Saturn's presence suggests you are eager to stabilize your life by creating one of the pillars that will hold up your life. It's something you cannot undo easily, but that's why you are doing it - it will form a comforting, long-lasting structure to your life.
Mars will energize you to now assertively go after your one main desire. You and I have been discussing career, but Mars in Scorpio will help you go after ANY dream on any front. Finally, the timing will be right, and you will notice how fast the pace will become at the end of July. Mars will be conjunct Saturn on August 25, so an obstacle may temporarily stymie you at that time next month, and it would not be a day to have an important meeting or venture, whether your goal is personal or professional.
As said, July is, in my mind, the very start of 2014, with no more retrograde planets due to slow you down. I should say that Mercury is set to retrograde again later in the year, from October 4 to 26, and at the same time, two eclipses are due, October 8 and 23, 2014.
That makes October not the right month to start anything new in your life, but to watch and wait for news to see which way things are headed. Mercury retrograde always portends that the wind is changing direction. Things will be evolving and changing and you will need to adjust to those shifts, but you won't know in precisely which way things are going until after October, at year's end. Yet October won't likely give you the same kind of problems you had in April - those April eclipses were quite harsh. Admittedly, if you were born on October 23, or close to that date, you will experience more changes than most, but the universe won't ask you do anything that will be beyond you - you can deal with them.
In matters of love, this month, Venus will be a wonderful placement for you in fellow water sign Cancer from July 18 to August 12. Use this time to refresh your appearance in every way, from head to toe, and to buy new clothes. Step out with confidence, dear Scorpio - you will have Mars in Scorpio too, from July 25 to September 13, a powerful advantage in matters of the heart.
Venus and Mars have been called the cosmic lovers, and when compatible as they will be from July 25 to August 12 (I am using overlap dates), these two planets will work to amp up your charisma and allure. If you ever felt invisible, you won't be at this time, and unlike all the weeks that have leaded to this month when you may have found the spark of love lacking, now you will likely have a powerful effect on someone you meet. If you are attached, you will be able to get more attention from your partner and enjoy more time out together. In so many ways, dear Scorpio, you are coming into your own, starting in late July.
---
Summary
You will enter one of the finest periods of your life for you career, starting this month, when Jupiter, giver of gifts and luck, enters Leo on July 16. For the first time in a decade you have your very best shot for extraordinary professional gain. The coming thirteen months that Jupiter will tour Leo, from July 16, 2014 to August 11, 2015 will bring you help from VIPs who want to ensure you do well and will go far out of their way for you. You must have very clear career goals, so that you don't drop the ball when a bigwig asks, "How can I help you?" While the entire thirteen months will be special for your career, late July and early August will be simply extraordinary.
Jupiter will conjunct the Sun on July 24, considered the luckiest day of the year for everyone. Each sign will experience this day in different terms, and for you, this stunning day would be ideal for scheduling a career interview or presentation, or to sign a contract. On this day, luck will be on your side, and you can make a big breakthrough. You'll have to wait twelve years for a day this special again for professional matters. If you want to launch a product or service that you feel has powerful profit potential, do so on the same date, July 24.
If July 24, the luckiest day of the year, is not convenient for you to plant a seed for your career, then act just after the stellar new moon in your career house, July 26, operative for two weeks. That is a Saturday, so plan to jump on goals quickly, as soon as Monday. Realize that you should not wait too long - a new moon is always strongest in the day it appears, and then will gradually decrease in strength until you get to ten days after its appearance, at which time that new moon will be completely "spent."
Plan NOT to take a vacation at the end of July or in August, for it would be a shame to miss these shimmering career vibrations. Your very best time to schedule an exciting trip would be in the first two weeks of July, for your career will heat up in the second half of July. If you go abroad, your mind would be stimulated by the culture, colors, and people, and you would fully relax - perfect for a person who is about to get the corner office in the weeks that follow the entry of Jupiter to Leo on July 16.
You will have even MORE help from the switch to a new sign of Mars, one of your ruling planets (whose job it is to take good care of you). Mars will move out of Libra on July 24, a constellation it has toured since last December 2013. That was a difficult place for you to host Mars, for it cast you on the sidelines, making it nearly impossible for you to grab the reins to move forward on any front in an assertive way. You were in a supportive or strategic role and had to work behind the scenes. If you dared to take the reins, you knew you would incur the political backlash of others around you. It was a frustrating trend that lasted for months, but now will end, on July 25. Mars will move into Scorpio on July 26, favoring you above all others. You can now apply all your energy toward your goals, freely and without hesitation. You will be in the driver's seat at long last. Mars will jazz up your charm and charisma too, which will help you on all fronts, personally and professionally.
Mercury, the planet of contracts and negotiation, has been retrograde throughout June and will turn direct on July 1, another indication that the tide is turning in your favor. As if you needed any other sign that things are moving to support your goals, here is another. Saturn has been retrograde too, and Saturn also holds sway over your most serious agreements and contracts. Saturn has been retrograde since March 2 and will go direct on July 20.
Romantically, with Mars in Scorpio after July 25 until September 13, and Venus in Cancer from July 19 to August 12, both planets in water signs, you have it made, for you will be dripping with allure. Taking a long trip will sizzle up your romantic life, particularly if taken in the first two weeks of July. You've paid your dues, now it's your time to shine, professionally and romantically! The hard days of last year and the first half of 2014 are behind you!
---
Dates to note: SCORPIO
Most important dates for love, meetings, or actions on any front to favor Scorpio: July 1, 2, 3, 6, 7, 11, 14, 15, 16, 20, 24, 25, 29, and 30.
Mercury goes direct July 1 after having been retrograde since June 7.
Saturn goes direct July 20 after being retrograde since March 2.
On July 1, Mercury goes direct and will clear up any miscommunication snafus you might have had over the past month. You can now sign contracts and buy expensive things.
The full moon on July 12 will signal an end to a communications delay that might have come up when Mercury went into retrograde June 7 to July 1. The weekend of July 12-13 will be superb for a romantic getaway nearby.
If you want to take a vacation, do so in early (first two weeks) of July, when Jupiter will see to it that your trip will be exciting.
July 18 brings forth good news and possible advances in your investments, when Venus enters into Cancer. Check with your financial advisor if there are new chances to increase your holdings.
You have a spectacular career opportunity on July 24, when the Sun will join Jupiter. Pitch your proposals, extend out your business to new places, and use this day for a critically important interview for a top position or for any initiation in your professional life.
On July 25, Mars moves into Scorpio to stay until September 13. You can now make unusual progress on all your goals - you are the frontrunner, at long last! Time your biggest initiations for this period!
Interview for a new position, discuss a promotion, or get outstanding publicity for work well done just after the new moon of July 26 and in the two weeks to follow.
P.S. for July 2014
SUSAN MILLER'S APPEARANCES for July 2014
Susan Miller has no appearances during July
---
"OUTLOOK for the Second Half 2014 by Susan Miller" is now available:
In Print $4.99 plus shipping via USPS with tracking. Total under $10.00. One and two copies same shipping charge. https://www.americadirectbook.com/outlook2014
Digital PDF: $5.00 https://www.americadirectbook.com/outlook2014pdf
Amazon's Kindle: http://amzn.to/1lE7a8t
Barnes & Noble Nook: http://bit.ly/Uec9D3
---
The Year Ahead 2014 Astrological Calendar
By Susan Miller
My Year Ahead 2014 collectible calendar is now $9.99 (at a 45% discount, from original price $17.99) plus shipping, any applicable tax
Calendars are used to mark time, but have you ever had a calendar that helped you use your time productively? My new Year Ahead 2014 Calendar can do just that. I write every word myself in this stunning calendar with original fine art by socialite, author, and fine artist Gloria Vanderbilt, mother of newsman Anderson Cooper, and great grandchild of railroad entrepreneur Cornelius Vanderbilt. (Grand Central Station was originally her great grandfather's business headquarters.)
Gloria Vanderbilt, now almost 90 years young, licensed the reproduction rights to her critically acclaimed artwork to Susan Miller who self-published her calendar. The inks are rich, the paper heavy, glossy, and snow white, allowing Gloria's paintings to jump off the page. Each month, from January 2014 through the extra bonus month, January 2015, is found an inspirational quote from Gloria, centering on her philosophy of living life fully and creatively. With fourteen of Gloria's paintings, this calendar will soon become a collector's edition and will not be reprinted when stocks are gone.
Aside from having happy, vibrant art to look at all year, The Year Ahead 2014 calendar has many other uses, unlike any you have had in a calendar before. On every important day of each month I list the aspect and what it means, in easy to understand laymen's language. This means the next time you are about to make an important appointment, and the VIP asks you, "Do you want to come in Monday or Thursday?" you can say you will consult your calendar and know immediately the day to choose.
In a year like 2014, where sparkling aspects will stand side by side difficult ones, this calendar will not be a luxury but a necessity.
Also included in the calendar are:
- All the start and end dates of the retrograde planets in 2014,
- Detailed discussion of the new and full moons (new!)
- The date when planets move into new signs (and how long they will be in that sign), all listed on the same day entry
- The planetary aspects of the four eclipses due in 2014, and explanation of what each eclipse will bring.
No more surprises! Be in the know about upcoming events, so that you can plan your biggest initiations. This calendar is a "must" to keep with you all year, and is available here, from Susan's publisher, but not in bookstores or other retailers. Get it now, while you can: $9.99 plus tax and shipping. We ship to all nations of the world: http://bit.ly/186zM0i
---
MY PERSONAL CUSTOM HOROSCOPE BOOKS
WRITTEN BY SUSAN MILLER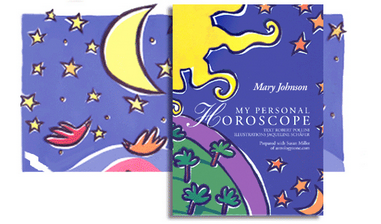 Looking for unique gifts for the summer months? - Choose from My Personal Horoscope for Adults or for Babies, or for a Relationship, the Two of Us.
Have an entire book written by Susan Miller, which runs approximately 65 pages, about your natal horoscope. Get to know your rising sign (also called the ascendant) as well as the placement of each of your planets, and what it all means. Susan's natal chart for babies centers on the talents and gifts of the little child. Order today and you will have your book within two-and-a-half weeks.
Two weeks on average from order receipt to delivery to any US destinations. One week longer elsewhere.
Also PDF option available for destinations overseas where delivery tracking of printed books is prohibitively expensive.
My Personal Horoscope Custom Natal Chart Book $49.99 plus shipping / tax
For more information call Susan's publisher, Arthur Heydendael 914.271.3640 ext 14 or click here:
http://www.americadirectbook.com/Customized_Books
---
A New Service: WiFive.us
Don't we all love a bargain?
We all want to know about the deals being offered nearby in our neighborhoods to save money. I found a way when a brilliant entrepreneur, Luis Sanchez, came to see me to show me he had developed a way of seeing all the various deal-of the-day websites that are featuring discounts on food, entertainment, boutiques, and other establishments, all in one click. Traveling? All you need to do is enter the zip code of your new neighborhood as you travel each day and you can see the deals that may be just across the street from your hotel.
The company is called Wifive.us and is ready to use today. It is a New York-based startup with a location-based search engine that gives you access to thousands of local online deals in a single site.
For now, Wifive.us is only available in the United States. It covers most of the deals and services you would see from various sources (Groupon, Amazon, Google deals, and so forth) all at once, so you don't have to go from site to site to find a deal that appeals to you, as Luis would humorously say, "until your head hurts." There is no registration necessary, and no useless emails to stuff your inbox each day.
Just type your address or ZIP code and get the deals you want when you want them. You pull in your information, which is far better than having many emails pushed to you. Try it and like the service on Facebook!
A word about the web address of WiFive.us
You may be wondering, what exactly is .US?
You might have thought the domain ending .us would only be only for government agencies and schools, but since 2002, individuals, businesses, churches, and non-profits have adopted .US web addresses to make their mark on the Internet. The .US is a new domain ending.
Just remember the name of the new service that no doubt you will be using quite a bit: pronounced as "wi-five-dot-us" otherwise seen as: http://www.wifive.us
---
Goodbye to My Former iPhone App on November 12, 2013
Hello to My New One:
"Susan Miller's AstrologyZone Daily Horoscope FREE!"
Download today!
Now that my former app, Astrology Zone Premier, will no longer be supported for iPhone, you might want to download my free version of "Susan Miller's AstrologyZone Daily Horoscope FREE!" for iPhone today. (A search for Susan Miller or Astrology Zone should bring the app up immediately.)
My former app, Astrology Zone Premier will not automatically change over to the new free app, so you will have to download my new app. Once you have it, you can decide if you would like to upgrade to the version you've come to know and love by looking inside the app and signing up for a subscription inside the app. If you should have to reload and reinstall your app, you will not lose your subscription as long at you responded to Apple's dialog box asking you to register your purchase immediately. If you don't register, if you lose your phone or need to reinstall your app, you won't be able to do so. Be sure to register your app!
If you have any questions or need help, you can write to Jennifer@Phunware.com and engineer Jennifer will be happy to help you.
---
ANDROID AND SAMSUNG USERS
Astrology Zone Premier App is Still Available for You
Android and Samsung users have Astrology Zone Premier to enjoy a little longer. We are writing NEW code for your Android and Samsung cell phones, and making an app similar to the one for iPhone, with some cool features just for your phone.
---
Live Overseas? Or, don't have an iPhone, Android, or Samsung Galaxy?
Get all 12 of my daily horoscopes each day by email or pick yours up each day on special password-protected site.
To plan ahead, receive several daily horoscopes in advance!
By subscribing to DailyAstrologyZone you will receive a week of horoscopes inside your cell phone and / or computer. This means if you have a BlackBerry or feature flip phone, you can still get my daily horoscopes as long as your device accepts email. You will also have the option of accessing your daily horoscopes from a website online, from anywhere, any time, through a password-protected site for members only, or receiving all 12 signs my email each day.
For more information: http://www.dailyastrologyzone.com
To view a forecast, select a sign from the menu below and click on Go.