See Susan Miller's new Astrology Zone 30-minute streaming TV Show! For now, it will be seen once a month and will not duplicate any information you get on Susan's site - the broadcast will provide fresh, new material. For more info, see Susan's note to you found here, in the PS (post script) directly below your sign's summary and the dates to note. Express your ideas about Susan's new show in social media - we will be reading your comments. The show will not be seen yet on Susan's smart phone apps (stay tuned) but instead here on your computer or tablet. Please tell your friends to have a look!


Astrology Zone with Susan Miller for October 2015 from Television Four on Vimeo.



---

Last month I showed you the surprise I had for you, special animated videos called Glamourscopes that I had done with Conde Nast Entertainment (CNE). Each sign's video runs a little under three minutes. The animators illustrated my words with visuals in a very original and imaginative way, so most people think the videos are especially cute. You told us you loved the videos, but said in a loud and clear way, "We want them longer!"

We listened! Here is the short version of Glamourscopes:

http://bit.ly/1yPzZEF

and the NEW Extended Cut version of Glamourscopes (not duplicating the short forecasts of Glamourscopes above):

http://bit.ly/15nk8m5

Each sign's video has new material, there is no duplication of information that you will get. Don't miss these! Listen for your Sun sign and your rising sign as both are equal in importance.

---
Cancer Forecast for September 2015
By Susan Miller
As you began September, you may be fresh from having taken a stimulating week's vacation or business trip that was so enjoyable it felt like a holiday. The full moon of late last month, August 29, was in Pisces, a sweet spot for you, so the likelihood is that you enjoyed every moment away, especially in that you appear to have gone quite a distance. If you managed to be near water at least part of the time, you likely enjoyed it even more. That full moon reset your inner and outer view of the world and helped to dispel much of the tension you had been feeling lately. If you were not able to get away, you may have decided to be a tourist in your own city and take in the galleries, movies, Broadway shows, and other cultural offerings that gave you a chance to take a deep breath and let go.
The start of September will brim with phone calls, meetings, emails, texts, and negotiations, so you'll have to keep your wits about you. The pace will be quick, and with Jupiter, giver of gifts and luck, protecting you and expanding all that you touch in the communication realm, you'll be excited by possibilities.
You are now moving into a new chapter, and being the highly intuitive soul that you are, you probably sensed this already. Jupiter will put an emphasis on this area until September 2016, so you are just at the very start of the unfolding of this trend.
You will need to work purposefully because Mercury is about to retrograde, September 17 to October 9, but you will have already started to feel the characteristic slowdowns, inability to get in touch with decision-makers, mixed communications, and forgetfulness that is the hallmark of Mercury retrograde periods. It is actually too late to sign papers now, but see if you can hold off until the end of October, or better, November, to do so. That may be impossible, but do the best you can. There are lots of wild cards in September, and you will need to see what comes up to make an informed decision. We will come back to Mercury retrograde again in a moment.
The theme of communication will be emphasized more vividly just after the new moon solar eclipse, September 12-13. This eclipse will be friendly and will open a door for you, so stay optimistic. Pluto will be very friendly, so it may mark a fresh start with a partner in business or love. It appears you will be traveling more than you have done all year during the coming weeks. In fact, you will be on the road so much so that if your car has been giving you problems, you may need a new car. (Don't do so while Mercury is retrograde, September 17 to October 9, for Mercury rules all moving parts in machines, and all electronics. It's never wise to buy an electronic item while Mercury is out of phase, as you will later likely regret your choice.) Watch September as a day you might have to suddenly travel by car, rail, or bus, and you'll be quite happy about the possibilities.
The emphasis on travel and communication will be no short-term trend - this one will be enduring, for this month's eclipse and the ones coming in 2016 and 2017 will continue to point to these themes. I assume your trips will be done for work, but that is not entirely clear. It is also possible that you may have been so powerfully held down by family obligations over the past several years that suddenly being released now from those responsibilities may have made you ready to spread your wings.
As if the emphasis on travel, negotiation, and communication weren't being underscored enough, Mars will enter this part of your chart on September 24, too, and remain there until November 12. This is the time you may be making most of your quick trips to nearby cities for your work. Mars is the natural ruler of your tenth house of fame and honors, so it appears you will be racking up impressive victories on your travels.
This month, alternatively, you may be working on a plan or project with your sister or brother, for your third house that will be so lit up also rules your siblings. If so, you will be in close communication with each other now and for months.
Speaking of communication, you may be asked to write, edit, proof, code, translate, memorize and deliver scripts, write courtroom opening and closing speeches, design an advertising campaign and be in charge of specific important advertising copy, be asked on a panel or TV game show, audition for a movie or commercial, be trained in improvisation, or do a voice over or other projects of this nature. When it comes to communication, you will be the most likely sign to be introduced to a new venue and to shine in it.
An eclipse will always move up your timetable, so no matter what you had planned previously, it is bound to change after what you learn in days that follow September 12-13. Saturn's position to the eclipse suggests that all you gain at this time will remain with you - you will be making inroads no matter if you reach your goal now or not. If you don't, you have time, as second chances are coming down the pike early next year.
In the meantime, against this activity in the foreground, Saturn is about to move out of Scorpio and into Sagittarius on September 17, to stay until December 2017. Saturn is, of course, the planet that readies us all for the taking on of mature responsibilities. Saturn will now leave your love sector, and that's good news, for you won't have the obstacles in finding love, or preserving love, that you may have had since October 2012, when Saturn first entered Scorpio.
If you had problems with conception - the number one question that comes up with friends and readers on Twitter - you will have reason for hope. By all means in late October or in the first half of November be ready to consult a fertility specialist.
In Sagittarius, Saturn will demand patience at work. You may have problems hiring people who would report to you, for the candidates will be slim pickings. Keep the resumes you receive on file for future use. Your projects will take longer to complete than you may suppose, and will likely cost more money than you will estimate. Be kind to yourself and give yourself a bit of elasticity of time and money whenever you submit estimates. You will work very hard, but what you win with Saturn will remain with you for years, possibly forever.
If you are part of a three-way bid, this will put you in a bit of a bind, for you can't bid more the costs of the others. If you are in a situation where you can get the money later if you can show cause, then play the bid tighter. I was able to do that when I worked as an agent in the commercial photography business and knew my competitors were deliberately underbidding me to capture the job. I would explain to the art buyer at the ad agency that if I artificially lowered my bid on the onset, I would have to come back and get more money approved later. Oddly, if the agency wants your photographer, they will agree to be open to approving funds later if you can show cause. Being the low bid may be the only way your client will sign off on your company for the job, as a matter of company policy.
We all do the same thing for a living - we know what costs should be - so the ad agency knew I was being truthful and realistic, but oddly I would be lose out if my estimates were on target and accurate at the onset. It all seemed so weird to me. However, the ad agency knew what market prices were, and if they truly wanted my photographer, they would almost guarantee to me without coming out and saying so that the extra money would be approved later when we needed it and showed cause. I always got those approvals.
In situations like those, it all comes down to mutual trust that will ultimately rest on the reputation you earned. Do what you need to do. With Mercury about to retrograde, there will almost always be revisions on all that you are doing in the coming three-and-a-half weeks. Stay confident and take one day at a time.
Mercury will retrograde in Libra, in your fourth house of home and family, so you may be working on your house or an apartment, or an estate that you recently inherited from a family member, and perhaps you will need to do repairs or maintenance. Or, you may be clearing out clutter in your garage, or if you live in the city, your closets. You may come across valuable treasures that you forgot you have or thought were lost forever. I love that part of reorganizing closets, for you are sure to find interesting items, some that may make you sentimental. Boxes of old photographs always do that for me, and I am drawn to them, to linger over them to find tiny details in the background that may hint at the year they were taken and clues to the culture of the times.
If you have older relatives, interview them this month. Ask about your mother's childhood in the city you grew up in, or that she did. You will learn fascinating facts about history in general from a person who personally lived through famous moments, and you will also learn about your mother or father when they were little. At times those stories will be revealing of each relative's personality, talents, and interests. The stories may turn out to be funny, insightful, and a revelation to you, or a little sad, but each will become a window into your relative's personality.
I always marveled at how close my mother was to my father's three sisters, my three loving aunts. I had thought, gee, she was German American, brought into a family that was completely Italian American, and yet was accepted by my grandmother and aunts as one of their own. My father's side of the family had bought a walkup brownstone in Manhattan where we lived, so my sister and I, along with my mother and father, were living on the second floor and my father's family only one flight up, on the third floor. That's close quarters.
Then, just after Little Mom died, my sister handed me an 8x10 photograph of my mother and my three aunts. They were all in cute little one-piece bathing suits on Coney Island beach in the late 1950s. I was not born yet, for my parents weren't married yet. I was struck that they were all the same size and height, all holding one another around the waist and smiling brightly.
Suddenly I understood. My mother had married into a loving, welcoming family with three sisters who adored my mother, and they instantly became her sisters in a way. They were all about the same age, with the same values and similar interests, and must have had much in common. It must have been a little like moving into a sorority. My mother was new to New York City, but being married to my father and being with his family brought such warmth for her. Her love for my father's family never wavered.
I was the first baby to be born into the family later, so here I was with three adorable, doting young aunts who were all single, and a loving mother. I had all the attention I could ever need as a young child, say, with my homework or when younger, to have someone read a storybook to me. All of a sudden, that one photo clarified everything to me. You may have a similar eureka moment.
I had another enlightenment. I never had the "Who am I?" phase when I was a young teenager, and always wondered why my friends were going through that but not me. I was solid as a rock inside, always feeling my strong core, and have always remained that way to this day. I was so fortunate to be born into a stable, loving little nest that gave me a strong sense of security. I never realized how fortunate I was to have that - I thought everyone did. Of course, little children don't know any better, and not until later do you see how others grew up. Do you see how much you can learn from one black-and-white photograph? Start looking, and you too will be amazed!
Interview your relatives soon, while you can. Each relative you interview will be so flattered that you are interested in learning more, and the bond between you will grow stronger. Or, you may decide to do fun research on your family tree, perhaps on a site that explores family history.
If you feel there has always been a family mystery, or if you always hoped to find your biological parent because you were adopted, this would be the time to try again to discover one another. These are all perfect activities to do while Mercury is retrograde, for Mercury, the intellectual planet, will want you to turn back to the past to find closure on something you've always been eager to find out about.
Generally, solar eclipses like the September 12-13 are kind, and they open surprising, often sudden, opportunities. Or, if something has been lagging, and you were ready to give up, an eclipse will often bring a breakthrough if it touches a natal planet, Sun, or moon in your chart. You simply cannot get progress without the push of a new moon, or better yet, a solar or lunar eclipse, because they make things happen. You can have the finest aspects, but without a new moon, full moon, or lunar or solar eclipse, you have to wait for one. Just when you thought you had to give up, in comes the news you had awaited and you'll be ready to celebrate.
The September 27 full moon lunar eclipse in Aries will bring your mind back to the other theme of the month - work and career. This eclipse will be more emotional, but nevertheless, does have the potential to be quite exciting and positive. You will see something end or culminate. The news you get now will let you plan with greater certainty. If you have been interviewing for a new, high status position, you may now hear the answer. Or, a top manager may suddenly leave the company unexpectedly. If you have been pitching a client, you will find out if you were chosen for the project. Saturn will be in strong, supportive position to this full moon, and that's new and welcome, especially if you are trying to get a particular project funded and started on its way.
The eclipse will be in Aries, so this points to your being involved in an entrepreneurial project that would be quite new and pioneering. It seems this has not been done before, so it may very high-tech, perhaps with risk that you've worked through in your analysis and are ready to do. Or, it may involve producing an athletic event or something highly competitive - all very "Aries." The fact that Mercury will still be retrograde September 17 to October 9 is a caution not to make a binding agreement just yet. Let the dust settle, think about what you learn this month, and then move forward.
Your very best day for earning more money, say in a sudden fee or sale, will be September 22, when Venus and Uranus collaborate in a sparkling way. Circle it in gold! I know you should not sign papers when Mercury is retrograde, but if someone is waving a solid check with your name on it, take it. Be prepared for paperwork glitches, and work hard to make sure you are fastidiously accurate with every fact you present. It's better if someone comes to you with a financial offer than the other way round, but nevertheless, this day should make you smile when it comes to money.
Will this month give you a chance for romance? There is not a lot of emphasis on love, as you will be very busy. If this news disappoints you, know that November should bring lots of options, so take care of all your career interviews and travel this month, and clear the decks for a brilliant holiday time. Remember, too, old Saturn has left your house of true love - now the floodgates are open, and you don't be limited in matters of the heart anymore. Saturn won't be back in your romance sector until 2041, decades from now. Rejoice!
---
Summary
Lots of cosmic energy in your travel house suggests you'll be heading to the airport as you enter September to enjoy sunshine and fresh air. If you can go in the first week, choose a scenic spot near water, for Neptune, ruling the sea, will be quite prominent. You've been working exceptionally hard lately, so a change of scene would do you a world of good. If you need a car, buy it in the first week, as Mercury is about to go retrograde September 17 to October 9, not a good time to acquire any electronic product or machine with moving parts.
The solar eclipse of September 12-13, a full moon, will bring another reason to travel, this time more likely to a sumptuous mountain range. If attached, your partner will be enthusiastic about going with you, and the chance to get out of town will invigorate you both. Venus and Mercury will be beautifully oriented, so your travels should be smooth, even though Mercury is about to go retrograde, a time when life in general tends to slow down. Keep track of your devices and small items like your wallet, eyeglasses, sunglasses, and so forth, and label your suitcase and other items you may be carrying with you with your name and phone number. Before leaving one venue for another, make sure you have everything with you - you cannot be too deliberate when Mercury is about to retrograde. By September 23 and 24, the Sun and Mars will move into your travel sector too, indicating even MORE travel to nearby cities is ahead, a trend that will delight you until mid-November.
Watch for news in your career, possibly concerning a major client or boss set to announce a departure. This could occur on or within a week of the total eclipse of the moon, in Aries, September 27. Although almost all eclipses send unexpected news of some sort, this eclipse will get the support from grounded Saturn and financial Pluto. Although you may at first proclaim, "This eclipse is the worst!" relax, and give it time - aspects suggest that you will eventually agree that, in the end, change is good.
Your spending has increased in recent weeks, since August 9, but the flow of money out of your checking account will slow down by the third week of September. You have ample reason to be excited about your career and salary prospects. Venus and Mars will join forces on September 1-2, and both will send a golden beam to Uranus, suggesting you will score a sudden career victory that will bring you an influx of cash along with flattering applause and praise. Yay! More celebratory career news is likely on September 8, when Mars will enter conversation with Uranus and, on September 22 when Venus contacts Uranus on her own. You have many opportunities to do well professionally in September - take full advantage!
Make an important decision or agreement on September 23, and it will remain in place nearly forever, thanks to the Sun and Saturn in cahoots.
In terms of love, Saturn has been putting the monkey wrench in your love life since mid-June, but the good news is that Saturn will finally depart from your love sector on September 17, not to return until November 2041. (That is not a typo!)
Over the past three years you may have encountered many obstacles in regard to enjoying love. Perhaps you were challenged by meeting only romantic interests based in a city geographically far from you, or were in love with a partner studying around the clock for a medical or law degree - and unavailable for that reason. Or, your new partner may still be technically involved with someone else, or hurt by a previous relationship and still not willing to become vulnerable emotionally in a new union. All these obstacles will now melt away, either because you have found the strength to move on, or because the situation surrounding your partner will change and improve. Saturn was teaching you life lessons - you will see that you are infinitely lovable, and ready to love again once Saturn leaves.
For Dates to Note: Please watch my September TV show broadcast.
Here is the link to use: http://bit.ly/1eTnXol
About Eclipses: A Guide for Coping With Them
also
Mercury Retrograde and What it Means for You
P.S. for September 2015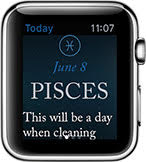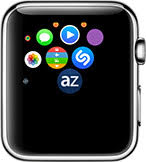 Astrology Zone is now on the Apple Watch!
It's FREE to add, and loading is invisible and seamless through Bluetooth!
On July 7 my Susan Miller's Astrology Zone Daily Horoscope app for IOS that appears on the iPhone was approved by Apple to appear on their new watch! Apple had approached us with this option earlier this year, and we were all so excited to do it! My app developer, Phunware, immediately set to work on the extra coding to make my app work perfectly on the Apple watch, and it's been tested and approved by Apple for you!
If you have my app on your iPhone, the way this works is that your new Apple watch will "talk" to your iPhone and automatically load the Apple watch app from your iPhone, through Bluetooth. You need not use any wires or be concerned about downloading instructions - it all happens seamlessly and invisibly. There are no extra fees for you to pay either - it's free! If you already have the Apple watch, you know how much fun this is to use! From now on, I can be as close to you as your wrist, and it's remarkable how crystal clear my words can be read on the beautiful Apple Retina watch screen.
The Apple store helpers will assist you by loading my app on your watch, and it only takes a few minutes. It works best if you have the premium version of my app, so you might want to order a subscription to my longer, more detailed daily horoscopes. Try the premium version of my daily horoscopes for one month for $4.99 or for three months for $12.99. See how you like a longer daily forecast - most people do. We find 87 percent of readers opt for the upgrade. Or, you can always stick to the free, short version of my app for your iPhone. Tell me what you think on Twitter, @AstrologyZone.
I am so excited!
---
I Did a Cameo in Peter Bagdanovich's New Movie,
"She's Funny That Way" Debuting August 19!
Last summer, the executive producer of Mr. Bagdanovich's new movie wrote to me to ask me if I would like to do a cameo in the great director's newest movie, a romantic comedy called "She's Funny That Way." Of course I said yes! Mr. Bagdanovich is right up there with great American directors like Woody Allen. It was during the last week of July 2014 that I was invited to come to the movie set to do my part. I am not SAG, so I do not speak lines. The movie was shot in my hometown, New York City, so the set was only a taxi ride away. I have told no one about this exciting development, not even close friends, until now!
To give you a hint of how to recognize me, I am in an audience scene wearing a white dress with black lace (by Nanette Lapore) and clapping my hands. Not to spoil the fun for you, Astrology Zone is mentioned early in the script, delivered by Miss Poots! I could not have imagined a more exciting opportunity! I am still breathless!
Last July, after the movie was shot, and to celebrate Mr. Bagdanovich's birthday (he is a Leo), I was invited to a small cast dinner party at the Waverly Inn in New York City's West Village. It was there that I met the young, lovely English actress Imogen Poots, who is the main character and star of the ROM-COM, and Jennifer Aniston, who plays a therapist. Ms. Aniston arrived with her partner, Justin Theroux, and both immediately made me feel at ease. Owen Wilson stars in the movie too but was not able to come to the party due to a conflict.
I have now been invited to the movie premier in Los Angeles on August 19. I am having such an exciting month!
By coincidence, I wrote about August 19 in almost all of my reports this month - it's a great day for you too!
Here is a peek at the movie trailer. I am not in the trailer, but I thought you might enjoy seeing what the movie is all about. I hope you will go to the movie!
https://www.youtube.com/watch?v=h7kLUOjKAqE
---
Fresh Zodiac Oval Soap Collection Collaboration
Announcing my Partnership with Lifestyle Beauty Brand, Fresh
Check it out here: http://bit.ly/166wPSX
I joined forces with Fresh on their limited-edition Zodiac Oval Soap Collection, a collection of their iconic Oval Soaps reimagined for each astrological sign. The soaps are of the highest quality, and their scents are simply divine. When you purchase a soap at a Fresh retail store, you will get a little booklet I wrote for Fresh about the qualities of your sign and a look at the Year Ahead for 2015. These beautiful soaps make an elegant birthday gift for a friend or relative, or a treat for yourself.
In addition to my exclusive content live on Fresh.com and Fresh's social channels, the beauty brand featured me on a section of their site called Fresh Moments, which is their editorial platform. Click here http://bit.ly/1EHAh4P to see childhood photographs of me (please scroll down to bottom of page), my Fresh Forecast video series (12, one for each sign on top of page), and my inspirations.
---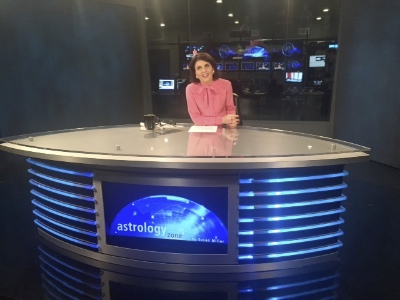 Proudly Announcing the Debut of my NEW TV Show!
For many years, I have had the dream of having my own TV show - that dream came true in February, when my show debuted. The show will stream internationally on Vimeo.com, our host provider, and it will run 30 minutes.
Each month, I will explain points about astrology in an easy to understand way. All the material on the broadcast will be fresh and new, and I will not duplicate any information that already appears in my monthly Astrology Zone report. My aim is to help you understand how astrology works, and how you can harness this ancient art to make your dreams come true.
The show will now be available on the first day of each month - or even a few days before the end of the month.
Astrology Zone and my normal long monthly horoscopes will always remain free for you as they have every month for the past 19 years on the Internet. Please always look at my PS on my website each month as I list appearances and other free events that do not appear on my app. You can only view my TV show from clicking on the link from my site, as it is not possible to do straight from my app.
Viewing my TV show will give you special insight and detail on the coming month and also help you get more from the information you already get from me on Astrology Zone. I hope to teach you a few handy skills that will allow you to understand how astrology works and how you can harness that information for your own purposes to achieve enjoy a brighter future.
Tell us how you feel on my social media accounts, on Twitter @AstrologyZone, and on Facebook "Susan Miller." Also, Vimeo.com, our server host for the show, provides a place for comments too, and so do post a note there too - all of us will be reading your comments
---
Announcing the NEW, Extended Cut Glamourscopes Videos!
Last month I showed you the surprise I had for you, special animated videos called Glamourscopes that I had done with Conde Nast Entertainment (CNE) on a forecast for The Year Ahead 2015. Each sign's video runs a little under three minutes. The animators illustrated my words with visuals in a very original and imaginative way, so most people think the videos are especially cute. You told us you loved the videos, but said in a loud and clear way, "We want them longer!"
To CNE's credit, they immediately went back into the film I had already done for the original videos to see if they could create longer ones. I had originally taped for three hours per sign in various ways to help the animators do their work, so there was plenty of material for CNE to sort through. CNE designed new, longer, seven-minute videos that did not duplicate any of the material I had given you on the first, shorter, three-minute versions.
Called the NEW Extended Cut Glamourscopes, you are telling us that you love these even more. Don't miss them! In these Glamourscopes, I give you plenty of dates, so you will want to click on the links below to hear all the advice I have for you, dear reader! Remember to listen to your Sun sign and rising sign - both!
Shorter Glamourscopes: http://bit.ly/1yPzZEF
Extended Cut Glamourscope (not duplicating the short forecasts of Glamourscopes above): http://bit.ly/15nk8m5
---
Mercury Retrograde and What It Means for You
Keeping track of Mercury retrograde periods can allow you to increase your productivity and avoid at least some of the frustration they can bring about. Let's look closely at Mercury retrograde and what it means to you.
---
Fashion Trends in 2015 to Consider By Sign
If you didn't catch the very long article I wrote for The Coveteur, a dazzling Canadian fashion website, you may want to read it today. I take all the runway looks and match them by sign. Be sure to read for your rising sign too, if you know it. Over 150,000 women clicked on this article according to my bitly link, so it seems popular!
Click here: http://bit.ly/1zaxu1j
---
Happy Birthday, Virgo
Each month I write a Happy Birthday forecast for Neiman Marcus' Blog, and then post the URL on Twitter and Facebook for my readers to see. If you are not on social media, you are not seeing it. Here is Happy Birthday, Virgo! Click here: http://bit.ly/1hs4s7x
Neiman Marcus archives some of the past ones, so if you go to this fine retailer's website, scroll to the bottom of their homepage, find The Blog, and go in to Lifestyle, Horoscopes. (I am a bit buried there.) You can still get some of the past signs that you may enjoy reading.
If you want to read my Twitter feed, I am on @AstrologyZone
And on Facebook I am simply "Susan Miller".
---
See Childhood Photos of Me on Fresh.com
I am proud to be the new brand ambassador of Fresh, the LVMH brand that specializes in beautiful natural skin care. Last year, I collaborated with Fresh to come up with oval soaps by sign sold on their website and in their stores. The scent of these soaps is simply divine, and the soaps are of the highest quality. When you purchase one or more soaps, you get a little booklet I wrote for Fresh about the qualities of your sign and peek ahead for 2015.The oval Zodiac soap Collection makes an elegant birthday gift for a friend or relative, or a treat for yourself.
Have a look at these links to see what we've been up to!
SOAP COLLECTION
Link to Collection: http://bit.ly/166wPSX
- Drawing inspiration from the field of astrology and the four elements, Fresh's Oval Soap have been reimagined to represent each of the 12 Zodiac signs.
- As a special bonus with purchase at any Fresh Retail Store, each Zodiac Oval Soap comes with an exclusive booklet featuring a look at the year ahead by Susan Miller
FRESH MOMENTS:
Link to Fresh Moments: http://bit.ly/18EBbBJ
- Featured on Fresh.com as part of Fresh's Ambassador Program Fresh Moments
- Personal photos from Susan's childhood, her inspirations and her favorite Fresh products included in the feature
FRESH FORECAST VIDEOS
Link to Videos: http://bit.ly/1Fqy7pJ
- 13 part video series featured on Fresh's YouTube channel and Fresh.com.
- One video per astrological sign featuring Susan giving a synopsis about the sign, predictions for the year ahead, and curated product pick by sign
EVENTS
- Stay tuned for special events in the spring at Fresh Retail Stores with Susan Miller
Events to be highlighted on Fresh Facebook (www.facebook.com/fresh)
---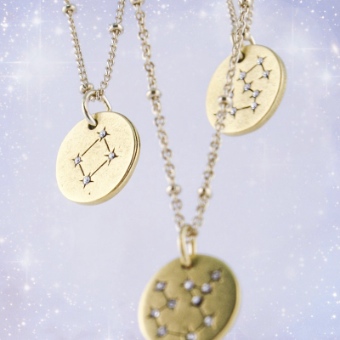 You Love The Zodiac Jewelry Collaboration I Did With Sequin!
Thank you for your Overwhelming Response!
Now A NEW, IMPROVED WEBSITE!
http://www.sequin-nyc.com/star-maps
Last March, when I was still well, I was invited by Sequin executive women to look at an idea their talented New York City Sequin Design Studio had for a collection of pendants with an astrological theme. I immediately fell in love with the various astrological pendants, and they asked me to check to make sure all the designs and keyword descriptions of the signs to be used on their site were astrologically correct. (Everyone, it seems, at Sequin reads Astrology Zone!) I love the quality of these beautiful pieces. Many girls layer several of these necklaces, using various lengths, and that's a great look too.
The pendants are all made in America and handcrafted by artisans using material components from around the world, and are so well priced that I feel they will fly out of their inventory. These necklaces are gorgeous. They are made of 22K gold-plated brass with antique finish and crystal details. I was impressed with the lovely chain that the pendants come with too, as it is tangle-proof and delicately made to look beautiful when worn. Whenever I wear my necklaces, I get so many compliments.
These necklaces make great gifts or a treat for yourself. I quickly chose those necklaces as part of my favorite things to give for a friend's birthdays. Imagine how surprised I was that Oprah had chosen this Sequin Collection as a part of her "favorite things" in her December issue! I was so happy for my new friends at Sequin and the incredible success of this new line of jewelry. It seems Oprah and I think alike!
Click through to see the entire range of jewelry, using this link:
http://www.sequin-nyc.com/star-maps
---
My New Apps for Android, Samsung Galaxy, and iPhone are Ready to Download!
Last January, Phunware met with me and we set out to design a completely new app for AstrologyZone readers. We have a free version and an optional paid subscription version for Google's Android and Samsung Galaxy, just like the iPhone readers experienced approximately a year ago.
My new app has a completely new, sleeker design and many new features. You will still have a free daily horoscope, or if you prefer to subscribe, a much longer daily horoscope. The long version is the one most readers prefer. The new applications work with iOS 7.0+ and Android OS 4.0+. If you are already a subscriber to my app on your iPhone, the new design will just slide in to replace the old design when you updated your app. If you have a Samsung Galaxy smart phone, you use the Android operating system, so you will get the new design too. The bugs in the iPhone are all fixed, no more signing in each time you check your forecast, and the tools section for subscribers, the prettiest section, is working flawlessly now. Android/ Samsung Galaxy were bug-free from day one, so go get my app in either one of our retailers, Google Play or Apple App Store, depending on your smart phone type. Search: "Susan Miller."
A feature of my new apps is that each app will automatically expand or shrink to fit your other devices, whether iPad or tablet, or any size smart phone you choose, large screen or small. These newly designed applications have kept screen real estate in mind, allowing users with phones or tablets to get a fully optimized experience for their device screen size. The iPhone 6 is now out, and my app will beautifully translate to that new screen size as well. Keep in mind that you are purchasing a subscription to my app from Apple or Google as retailers, not from us at Astrology Zone. I get a commission on the purchase price of the subscription you buy.
Whether you choose the free version of my app or choose to subscribe to the premium version, either way you will still always have your monthly Astrology Zone report on your phone, and my previous month's report as well. You can check all twelve signs of the daily or monthly horoscopes too by simply going to the home screen and choosing a different sign. The new apps will list my appearances too, but so far, I have no appearances on my schedule, but that might change in time, and if it does, you will be able to see where I will be immediately. Until now, only readers who went to their computers online would know in what city I would have new events. You can also see my Twitter feed on your mobile device too. The designs for Android and iOS are consistent; you get the same visual design and features for either application.
I would appreciate you taking the time to review my app, for I will read all your comments. I am grateful that sales of the premium subscription are so strong, for this allows me to keep Astrology Zone free. Thank you for your support and understanding while I recover from my illness.
---
Live Overseas? Or, don't have an iPhone, Android, or Samsung Galaxy?
Get all 12 of my daily horoscopes each day by email or pick yours up each day on special password-protected site.
To plan ahead, receive several daily horoscopes in advance!
By subscribing to DailyAstrologyZone you will receive a week of horoscopes inside your cell phone and / or computer. This means if you have a BlackBerry or feature flip phone, you can still get my daily horoscopes as long as your device accepts email. You will also have the option of accessing your daily horoscopes from a website online, from anywhere, any time, through a password-protected site for members only, or receiving all 12 signs my email each day.
For more information: http://www.dailyastrologyzone.com
---
MY PERSONAL CUSTOM HOROSCOPE BOOKS
WRITTEN BY SUSAN MILLER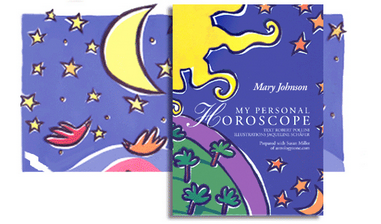 Choose from 'My Personal Horoscope' for Adult, for Babies, or for a Relationship, the Two of Us either in Print or in PDF format.
For the Print version count on two weeks on average from Order receipt to Delivery for any US destinations. One week longer elsewhere.
For the digital PDF version count on one-week turnaround to receive the emailed download-link of the file with the same full-color illustrations by Jacqueline Schafer.
Adult Edition

Baby Edition

Relationship Edition

Annual Birthday Solar Return
My Personal Horoscope Custom Natal Chart Book $54.99 plus shipping / tax
For more information call Susan's publisher, Arthur Heydendael 914.271.3640 ext 14 or click here:
http://www.americadirectbook.com/Customized_Books
---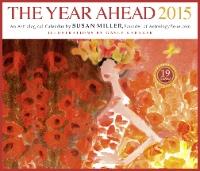 The Year Ahead 2015 Astrological Calendar
By Susan Miller
The calendar is reduced 85 percent! Don't miss this opportunity to plan ahead for the rest of the year.
PRICE: $3.00 plus shipping and handling (85% discount from the original price of $19.99) via Priority Mail to any US destination. Depending on your shipping address outside the US, we offer First Class Mail or Express Mail. More options for shipping with tracking are also available.
To order: http://bit.ly/17dpW2k
More calendar news: The artwork of the esteemed fine art painter Gayle Kabaker, used in the Astrology Zone calendar, are available as prints in three sizes. If you'd like to see them, check Gayle's Etsy site at this link:
https://www.etsy.com/shop/gaylekabaker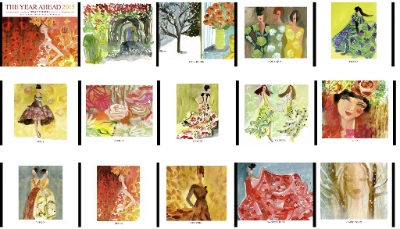 To view a forecast, select a sign from the menu below and click on Go.