Cancer Horoscope for April 2013
By Susan Miller
You have just arrived at your most important month of 2013 for professional progress and affairs, and if you play your cards right, you should see a major breakthrough in the weeks ahead. Top-level positions are hard to get, as is new business, but if you begin interviewing or pitching now, you have the best new moon of the year to help you. Along with the new moon in Aries will come the Sun, Uranus, Mars, and Venus - all in Aries, too - to help you. All these will gather in early April to get things ready for the majestic new moon to arrive April 10, at 21 degrees Aries. Once that new moon arrives, hold on to your hat - things will move very quickly, because Aries is fire, and fire is fast!
To have FIVE cosmic bodies in your tenth house of honors, awards, achievement, and fame is remarkable, and each will act like little loyal friends dedicated to seeing you get ahead. To have Uranus as part of your team of supporters says that when offers come up, they will come up suddenly and surprise you. You may find yourself standing at the right place at the right time. Mars will be part of the team too, and that's good news, for it means you will be very motivated to investigate any opportunity presented to you.
Having Mars now in your prestigious tenth house of career success is very good news, and you will have Mars there until April 19. Mars typically stays six weeks (he arrived in March) and won't be back again to your tenth house of fame and honors for two more years. While you still have him at your side, you must make the most of this, by making appointments for interviews and presentations. Be determined to see as many high level people as will let you through the door. Ask friends for tips and introductions too, and leave no stone unturned from April 1 to 19. Show the world that you are on a mission to make a name for yourself and you will see results!
One day to watch will be April 6, when Mars and Venus align perfectly in your house of reputation and career success. This would be an ideal day to schedule an interview. Your natural charm will be very strong, and I bet you could turn anything to your advantage on this day. Give it four gold stars!
Jupiter, giver of gifts and luck, is in Gemini, and is still orbiting in a hidden place in your chart (twelfth house). In this area, benefic Jupiter will see to it that you get help from a VIP who cares about your progress and will do all he can to see you do well. You may not be aware of this person who has singled you out to be groomed for a bigger role in the future. If you do find out, you will have to promise to keep the identity of this VIP confidential. You really do have a guardian angel, dear Cancer - and it's not the fuzzy blue kind in animated films - but a real life guardian angel who will go the distance to help you do well.
Every plot needs a villain (a harsh word, I agree; I am over-dramatizing a little here to help you see the contrast). The "villain" this month might be your present or ex-partner, most likely a person you are linked to in the romantic or business sense. This partner may be jealous of your career success now, or if in business, is staying up nights thinking of ways to ride your coattails. This person is represented by Pluto in your chart, and when under difficult aspects, Pluto can be arrogant, domineering, underhanded, or pushy. If you are not attached to anyone in love or business, you may have to fend off a jealous, even ruthless competitor. Don't let this person distract you or try to stop you. This month, you'll be unstoppable, so stay strong.
If you are out of work, not only will you be able to uncover new job opportunities, you will find ones that are a step up from the position you used to do. I can't tell if you will change companies or work in the same company and get a promotion, but either way, you will be happy because you can move up. The new position you would eventually get (if you start to interview in early to mid-April) would not be a lateral move! Do not lower your sights or become intimidated by the interview process. If you are self-employed, use this month to start pitching new business - a prestigious one.
With so many planets in Aries, you may now venture into very new territory, where few have experience with the field, and that will attract you, too. With Venus, Mars, Uranus, the Sun, and new moon (April 10) and soon Mercury to head to Aries too, April 13 to April 30, the cosmos is speaking clearly. This is a highly adventuresome, experimental, entrepreneurial month. If you have an idea for goods or services that you've thoroughly researched and hope to launch soon, do so just after April 10.
On April 19, Mercury will link up with Uranus, and you may get very surprising career news. This will happen in your house of fame, but it is hard to know which way news will go. Pluto will be in very hard "square" 90-degree angle to both Mercury and Uranus, so you may feel pressure to conform to someone's ideas. Most likely, this would be a client's ideas and dictates, and despite your misgivings you will likely have to give in, simply for practical purposes. Let's think good thoughts, and work to make it a positive day.
A purely wonderful day will be April 23, when Mercury will work beautifully with Jupiter, giver of gifts and luck, an ideal day to sign a contract, accept a new position, or call on a new client.
The emphasis on your career will wind down by the third week of April, the reason why you must give professional matters all you've got to give at the start of April.
By April 19, a new breezy, social influence will start up. The Sun, Venus, and Mars will visit Taurus, a very compatible sign for you, and light your house of friends, fun, and events. If you want to continue the progress you were making in your career, you will need to change tactics and work in a softer, more social way, by networking more and being out and about socializing in person. Presenting ideas the formal way will be less effective than doing so over drinks or lunch, for example.
On April 25, the full moon, lunar eclipse in Scorpio 7 degrees, will light your house of true love and put the spotlight on the person you've been dating, or a pregnancy or child you have now. These matters come under your fifth house.
This is a fairly new series of eclipses, first seen on November 13, 2012 last year, and it was also in Scorpio. Eclipses in Taurus-Scorpio will continue to come by every six months until October 23, 2014. After that, there will be no more eclipses in this series until November 2024. This series are nearly identical in degree and date as eclipses that came by in 1994.
Think back to that first eclipse on November 13 last year - this one, April 7, may advance the discussions you had back then to a new level this month, near April 25.
Some sort of situation will arise at eclipse time (April 25) that will force you to make a very long-term decision. Lunar eclipses bring endings, so something is apparently about to come to fullness. You may a break up from a relationship, or begin one, say, if you should meet someone new. Conversely, it is also possible you will decide to bring a relationship closer, in a very serious way, say, with an engagement, for example. With Saturn orbiting very close to this full moon eclipse of April 25, you will be making a commitment or a final decision that will last a very long time, possibly a lifetime, and one you won't be able to reverse. Your decision may involve your relationship or one of your children (or a pregnancy).
Eclipses mark momentous moments of our lives, and also bring a floodlight of truth to the situation that you had not seen previously. Eclipses make us grow up, no matter what age we happen to be at the time, and force us to move forward, one way or another. Eclipses cannot tolerate status quo. The universe wants to see that you are progressing, so if you've been stuck, it will push you forward in any way that will get you out of that rut and moving again. If the relationship has no future, the events of the eclipse will show you this truth in a very black and white way, so that you will leave and give yourself greater possibilities with someone new.
A creative project of yours may finish up during this week too, for the fifth house will be so lit up now, and if so, this project appears to be vitally important to you. The fact that you would be wrapping up a project at eclipse time suggests it may become a stepping stone to other important projects in the future.
If your birthday falls on June 27, plus or minus five days, you will feel this eclipse the more than other Cancers you know, as the mathematical degrees are reaching out to your Sun. This eclipse will also be important to you, and beneficial to you, especially if you have a natal planet at 6 degrees (plus or minus five degrees) of Cancer, Pisces, or Scorpio.
Over the weekend of April 27-28, Saturn will oppose the Sun, a very harsh aspect that would make you sensitive to criticism and that may exhaust you. Your second house of earned income is governed by the Sun, so you may find that money is very tight, perhaps because of a check you find out you need to write within five days of the eclipse April 25. Some things cannot be helped, so just go with the flow, dear Cancer. Very bright days are due you in May!
---
Summary
You have a sensational career month coming up, and it will be unlike any you've seen in recent years. Planets lining up in Aries suggest you will get at least one offer that you will want to take seriously. Uranus (genius, and all things new), Mars (courage and determination), Venus (pure enjoyment), Sun (prestige and authority), plus the important new moon in Aries, April 10, package all this energy and send it to you in a way that will be instantly available and useful to you. You will have nearly two weeks after April 10 in which to act - do so! All that you do in that time will have the power to shape your professional life for a year or for forever!
Mars will play a leading role, an upbeat indication for success, because Mars will act as a booster rocket and magnifier to your efforts, giving your actions more power and push. With Venus also orbiting close to that new moon, you are likely to engender lots of popularity and support for your visions. If you do land a promotion or new position, it will bring you into a very new, pioneering area or industry, and also likely allow you to work in an autonomous way rather than be overly directed by a supervisor. With Mars in your house of prestige, you won't find it hard to get the attention of top level VIPs, but you must provide the energy - work hard now and see results.
With such emphasis on Aries, you might be opening your own business, and if so, the time after the new moon, April 10, would be the time to do so. Oddly, you and a business partner, agent, broker, or other collaborator may not see eye-to-eye about a plan or strategic approach you will offer. If so, if you are convinced you are right, you may have to "go rough" and do it anyway. It is also possible that you will be dealing with a pushy, domineering client, romantic or business partner jealous of your success, or a ruthless competitor who will stop at nothing to get a piece of your pie.
An important lunar full moon eclipse in Scorpio is due April 25 and from this point on, will direct your attention to your romantic and social life. If you are dating, you may hear news that is upsetting, but that will illuminate information that you need. If someone you have been dating has been duplicitous, you will find out now. Saturn will be orbiting very close to the moon and will emphasize the need to be realistic and practical. Whatever comes up will require instant action or decision, and will also influence the weekend of April 27-28. That weekend would not be the time to be away on a trip or to have anything of vital importance on your agenda.
This same eclipse may instead put emphasis a child you have now, or a pregnancy. See what comes up, and keep your schedule light. If you were born at the end of June, you will felt this eclipse the most, but you will be the most likely Cancer to find a solid, quick solution to the matter that comes up.
---
Dates to note Cancer:
Most romantic dates: April 6-7, 11, 12, 16, 17, and 20-21.
Venus goes into Taurus on April 15 until May 31, marking a great time for you to socialize.
Mars will join Venus in Taurus on April 20 to stay until May 30, another sign that life is about to get easier and more fun.
Pluto will retrograde starting April 12 until September - you may rethink a romantic or business alliance during that time.
On April 19 and 20 set aside time to generate ideas for a work project. Thanks to the meeting of Mercury and Uranus, you could be surprised at how special those ideas turn out to be.
A confidential interview or meeting for your career may turn out to be spectacular on April 23. Mercury will contact Jupiter, so it appears someone from behind the scenes will look out for you.
April 25 brings the full moon lunar eclipse in Scorpio, to light your house of love. Events will be dramatic. The outcome of this full moon will depend on how things have been going all along. You may break-up or promise your love forever.
P.S. for April 2013
My New iPhone App is FREE for you!
At long last, I can tell you my secret! I have designed a free iPhone app that you can download today.
If you have an iPhone, just go to iTunes and search for "Susan Miller" and find my new app that I did with mobile app company Phunware of Austin, TX, called:
"Susan Miller's Astrology Zone Daily Horoscope FREE!"
Each day you will get a small, concise forecast on your iPhone for free every day. Think of it as your daily bite of chocolate to keep you informed, motivate you, and keep you progressing toward your goals. You will always know the aspects, for they will be at your fingertips. I have included Astrology Zone in the app, so you can read it (or re-read it) wherever you happen to be.
I worked on the design of this app for over a year, and I am so excited to debut it today! It is Apple-approved to work with all iPhones, including the iPhone 5, so no matter which version phone you have, you can start using it immediately.
If you search "Susan Miller" on iTunes you will see my new app, Susan Miller's Astrology Zone Daily Horoscope Free! as well as my other app, Astrology Zone Premier, that costs $3.99 and that I have had since 2005.
My older app, Astrology Zone Premier, will eventually be retired, as I can no longer afford to give so many words - approximately 1,100 words a day and 430,000 words a year - in daily horoscopes plus evergreen (personality) content in the app, for a one-time cost. That app will be folded into the new app, and if you choose to subscribe at a low subscriber cost, you will have the same daily forecasts, chock full of information, that you've come to know and love since 2005.
We built my Twitter feed into the new app, so that you can easily write to me to ask questions, converse with other followers, or share news quickly and easily from your mobile phone. My name on Twitter is @AstrologyZone. You will also find a link to Facebook, to my page, if you search "SusanMillerAstrologyZone"
If you already own my other app, Astrology Zone Premier, you will have plenty of time to make the switch to my new free app (with the option of getting the subscription). On Astrology Zone Premier, you will get alerts from time to time to let you know when the app will end - but we do not plan to end anytime soon and we will continue to support the app with daily updated content. You can buy my premium Astrology Zone Premier app now for $3.99, and enjoy it for now with no worries that it will disappear suddenly.
Don't have an iPhone?
My Astrology Zone Premier app is available on Android.
Also, no matter what phone you have, you can get the same daily horoscopes that I write for the iPhone, sent directly to your email address. This way you can see your forecast in any cell phone or email box in your computer, every day. This is a perfect solution for readers overseas or for readers who have cell phones other than the iPhone. You will receive all 12 signs every day, for a low cost of $4.95 for one month or $49.95 for a full year at http://www.dailyastrologyzone.com
---
Order Astrology Zone Products For Yourself or a Friend for 2013!
Here are lots of ideas for gifts! We ship to all nations of the world. Hurry! International, please add 7-10 days.
1. The Year Ahead Astrological Calendar $11.99
Now discounted!
To order, call Arthur for more information: 914.271.3640, ext. 11
Never be caught unaware of the upcoming aspects eclipses and retrogrades.
All lovingly described by Susan Miller in her annual calendar. A must-have!
http://www.americadirectbook.com/The_Year_Ahead_2013_Calendar
2. Daily Astrology Zone Horoscopes
Delivered to your email box every day, written by Susan Miller.
All different costs depending on whether you order $4.95 for one month or $49.95 for a year.
Each horoscope is at least 75 words (often longer), and you will get all 12 signs each day to your email box. If you don't have an iPhone, these are the same forecasts. Perfect for readers with feature phones or BlackBerrys, or for readers overseas.
Copyright Susan Miller Omni Media Inc.
http://www.dailyastrologyzone.com
3. MY PERSONAL CUSTOM HOROSCOPE BOOKS
WRITTEN BY SUSAN MILLER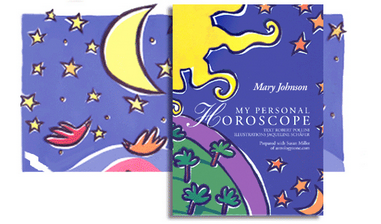 Chose among three editions:
My Personal Horoscope Custom Natal Chart Book, Adult Edition $49.99 plus shipping / tax
Have an entire book written by Susan Miller about your natal horoscope. Get to know your rising sign (also called the ascendant) as well as the placement of each of your planets, and what gifts those planets were to give you. For more information call Arthur 914.271.3640 ext 14 or click here:
https://www.americadirectbook.com/My_Personal_Horoscope_Adult_Edition
My Personal Horoscope - Baby Book - Custom Chart of the Child's Talents $49.99 plus shipping / tax
Learn about your little baby's talents and sweet proclivities with a custom book by Susan Miller. This makes a wonderful book for the parents of a newborn or small child. For more information call Arthur 914.271.3640 ext 14 or click here:
https://www.americadirectbook.com/My_Personal_Horoscope_Baby_Edition
My Personal Horoscope ? The Two of Us Relationship Book $49.99 plus shipping/ tax
Order this custom book to find out about your compatibility with the one you love.
Give us the birth information of both parties in the relationship; your keepsake book will have both charts. For more information call Arthur 914.271.3640 ext 14 or click here:
We have a version of this relationship book for straight couples and another for gay couples. For more information click here:
https://www.americadirectbook.com/My_Personal_Horoscope_Relationship_Edition
4. "Planets and Possibilities" by Susan Miller
Warner Books, 430 pages, $18.32 plus shipping / tax
Digital versions $9.99
The definitive classic astrology book that tells you about you!
Susan Miller's classic book that describes the signs in an original way, with Susan Miller's comprehensive, in-depth, and easy-to-understand style. Learn little known things about your sign that you never knew. The front part of the book includes information to help you understand the structure of astrology and how you can use astrology to help you progress. Mythological stories for each of the signs add spice and fascinating detail. This book is available as a quality paperback or digitally, on the Kindle, iPad, or Nook.
For quality paperback, $18.32 plus any applicable tax and shipping
http://www.amazon.com/gp/product/0446678066?ie=UTF8&tag=astrzone-20&linkCode=as2&camp=1789&creative=9325&creativeASIN=0446678066
For Kindle Edition (digital, Amazon), $9.99
http://www.amazon.com/Planets-Possibilities-Explore-Zodiac-ebook/dp/B000Q9INI6/ref=sr_1_1?s=digital-text&ie=UTF8&qid=1354499713&sr=1-1&keywords=planets+and+possibilities
IPad Edition (digital, Apple), $9.99
Go to iTunes digital bookstore and search for "Planets and Possibilities"
Nook edition (digital, Barnes & Noble), $9.99
http://www.barnesandnoble.com/w/planets-and-possibilities-susan-miller/1018228670?ean=9780759521322&itm=1&usri=planets+and+possiblities
5. Silk Zodiac Scarves by Susan Miller
$155.00 plus tax and shipping
A sumptuous, elegant 100-percent pure silk Jacquard scarf with hand-finished hem. You must see these beautiful scarves, with sophisticated artwork. There are 12 designs, one for each of the 12 signs, all in vibrant colors. You do not have to wear your sign's design - I wear all 12 depending on my outfit!
If you don't know your recipient's astrological sign, choose from three celestial scarves in classic design that will remind you of what chic French women wear in Paris.
See www.AhaLife.com, my distributor for the scarves, and for delivery and return information.
http://www.ahalife.com/store/?sort=relevance&q=silk+zodiac+by+Susan+Miller
---
My Facebook name URL is:
https://www.facebook.com/SusanMillerAstrologyzone
If you enjoy Twitter too, you can find me at @AstrologyZone.
To view a forecast, select a sign from the menu below and click on Go.