See Susan Miller's new Astrology Zone 30-minute streaming TV Show! For now, it will be seen once a month and will not duplicate any information you get on Susan's site - the broadcast will provide fresh, new material. For more info, see Susan's note to you found here, in the PS (post script) directly below your sign's summary and the dates to note. Express your ideas about Susan's new show in social media - we will be reading your comments. The show will not be seen yet on Susan's smart phone apps (stay tuned) but instead here on your computer or tablet. Please tell your friends to have a look!


Astrology Zone the Show from Television Four on Vimeo.



---

Last month I showed you the surprise I had for you, special animated videos called Glamourscopes that I had done with Conde Nast Entertainment (CNE). Each sign's video runs a little under three minutes. The animators illustrated my words with visuals in a very original and imaginative way, so most people think the videos are especially cute. You told us you loved the videos, but said in a loud and clear way, "We want them longer!"

We listened! Here is the short version of Glamourscopes:

http://bit.ly/1yPzZEF

and the NEW Extended Cut version of Glamourscopes (not duplicating the short forecasts of Glamourscopes above):

http://bit.ly/15nk8m5

Each sign's video has new material, there is no duplication of information that you will get. Don't miss these! Listen for your Sun sign and your rising sign as both are equal in importance.

---
Cancer Horoscope for October 2015
By Susan Miller
As a Cancer you have a very high emotional intelligence. You are highly sensitive to the feelings of others and to events that happen around you. You can tell instantly when someone is sad, but won't say a word about it, and you gently move in to see if you can help. These qualities are what we find so lovable about you, but these qualities - you are acutely sensitivity to the world - are also those that make sudden change so difficult to absorb. You appear to have been in the process of enormous change for years now, and last month, you may have heard about more shifts happening in your career.
Last month you had a lunar eclipse at the very pinnacle part of your chart, September 27, which may have brought about news of changes in your career. Your tenth house was activated, which is the house of honors, awards, achievement, and fame house. The ancient astrologers referred to this house as the house of dignity, for it was the place in the chart that reflected how you would be perceived by your industry and community, and how the world at large views your contributions. If your birthday falls early in the sign, on or within four days of June 27, you felt the effects of that eclipse directly. (The same was true if you have Cancer rising or a natal planet in Cancer at the same degree.) This eclipse was mild compared to others in the Libra-Aries family that have come by every six months since April 2014, but even a mild eclipse will often require some adjustment to surprise changes and shifts. The job of an eclipse is to push us forward. If we tell the universe it is not a convenient time to progress, the universe lets out a deep, baritone belly laugh. If you did not feel the September 27 eclipse, and your birthday falls near June 27, then you may hear career news one month to the day later, October 27, plus or minus four days.
Mercury will still be retrograde as you enter October, and won't go direct until October 9. On October 10 it would not be wise to start acting, for it's always good to leave a space of at least a few days from the start and end date of a Mercury retrograde. The front and back "bookend dates" are often the hardest, when Mercury exerts the most confusing energy to frustrate us - yes, he can be a little trickster. Your home area is where Mercury will spend most of the time, in Libra, so it is in regard to home that you will see the most delays, sudden problems arise, a possible need for repairs, or else it will give you a strong proclivity to look back to the past. If you want to explore your ancestral tree, that would be an ideal activity to do while Mercury is retrograde - you'd accomplish a lot. You may want to rearrange furniture for better flow or sell home-related items you don't need on an auction site. Or, you may have been dealing with an estate - a family member's property - and going through the process of going through that person's things and deciding what to keep and what to sell or give to charity.
Your home will be your biggest focus in October. You seem to have recently gone through a change within your family, moved house, or changed it in some significant way. Those series of changes seem to still be ongoing. You may be meditating about where to live, and in what style. You will have two days that will be very germane to your thinking process, so let's look at those first.
On October 11, we have a strange little day. It holds a very difficult aspect and also one of the best aspects of 2015. This only means that one part of life will bring unexpected, jarring news, and another part of life will bring superb news that will make you very happy.
On the tough side of the ledger is the Sun opposed to Uranus, an aspect that may bring news out of the blue that won't please you - it will concern your career and also your income. Speaking of salary, it appears to be a little unstable, so one aim you need to do is to give it a firmer foundation. A client may leave or cancel a job, or a project you hoped to launch won't be funded after all. A top male may leave - it may be a boss who always protected you, but is now leaving. No matter what the news, you never saw it coming. Or you may be subject to enforced changes in your company - wage cutbacks or a change in commission rate (not in the way you like) could come up, or it may be something else that management has come up with this month. You get the idea.
The positive, five-star aspect is fantastic - Pluto in perfect angle to Jupiter could bring you an opportunity involving the communications industry (publishing, broadcasting, or telecommunications) that would pay very well. You might get a job writing, editing, proofing, or translating. Or, you may get a voiceover gig or launch a cell phone app. When it comes to communication, that is where your golden nuggets lie, for you have Jupiter in your third house from now until September 6, 2016. If you didn't read September's forecast, do, as I explain this trend in great detail - you can find the link to my previous month's at the bottom of every forecast This month you will have Mars zooming though this communications area of your chart, giving it a blast of energy, and Venus is due to remain there from October 8 until November 8. Jupiter (luck, opportunity, money), Mars (action and energy), and Venus (grace, beauty, and fun) are quite a loving trio to have together.
Your third house, where all the commotion is going to be this month, emphasizing communication, is also the house of travel, so if you are in sales, it will pay to see clients face-to-face, especially the client is not too far from your base, that is, within a day's drive.
When Jupiter and Pluto are working in harmony together, as they will be now, a generous amount of money almost always follows. It is worth looking for opportunities this month, for something is likely to show up near October 11.
We do have a very troublesome new moon, October 12. It will fall in Libra, 19 degrees, in your house of home, which is why I think more changes and adjustments are coming concerning your physical home or a family member, or will have to do with one of the persons you rely on for your comfort and security at home (roommate, landlord, home designer, contractor, etc.) The shift may cost you money (yesterday's opposition of the Uranus to the Sun, and the Sun rules your income / salary house), so perhaps your home will need a repair or new appliance you had not anticipated. Or, a family member may need to move in with you for a (long) while, at least six months. Don't have too busy a schedule - something is bound to come up regarding your physical home or concerning a family member. No matter what comes up, you will have to address things immediately.
The reason this new moon will bring news that may shock you (temporarily) is that Uranus, the planet that strikes like lightning bolts, will be in direct opposition to the new moon, in tight degree. We all will feel this - not just you dear Cancer. Pluto will also be in a difficult position (even though in great angle to Jupiter), so watch for flooding or difficulties in the basement, or with a wall that may be taken out, or one to go up. This would NOT be the best time to do renovations in your basement - take a break for two weeks. However, it may be an emergency, where your landlord sends workmen up to find a pipe in your wall. Your partner may not be very cooperative, so you will have to cajole him or her to help you get through what comes up.
This new moon will not affect you for a day or a few weeks, however, but for as long as six months, until the full moon in Aries comes by to end the trend. That will happen on March 23, a full moon in Libra, which actually is also a lunar eclipse. That will end your current meditation about all that is going on now in regard to your home.
On the heels of this nerve-wracking new moon, you have a very lucky day coming up, Saturday, October 17, when Mars, the ruler of your tenth house of career, will conjoin Jupiter, giver of gifts and luck. This day may give you a big, happy break, and you will feel the energy building as soon as on Friday, October 16 too. Again, how well you communicate will make or break your luck, and all the phases of communication are included in this trend (such as editing, etc. - see the list I made earlier.)
You will have a double dip of luck, for on October 25, you have more exciting news coming your way. Venus will conjoin Jupiter, and that will give a fortunate break in regard to home and family matters, as Venus is the natural ruler of your fourth house of home. However, on the very same day, Mercury will oppose Uranus, so you will feel a sudden push-pull between the demands of career and home, and you may not know which to attend to first. Do not sign any papers when Mercury is in such bad shape - Uranus will be mounting quite an assault on Mercury, and Mercury rules contracts, agreements, and also travel.
At the full moon, October 27, plus or minus four days, you will likely be invited to a beautiful, lyrical event that is quite enchanting and that would have lots of interesting people in attendance. It appears to be a dress-up event, like a wedding, charity benefit, birthday party, engagement party, or other celebration. This full moon will be in Taurus, a sign that blends so well with yours. Neptune will be very prominent, the reason for the dream setting you will find yourself in. If you get invited, you must go. It appears that the invitation will not come from family but rather a friend.
If your birthday falls on June 24, you will enjoy this full moon the most. If you have Cancer rising, or a natal planet at 3 degrees Cancer, Scorpio, or Pisces (all within five degrees), this event should be special for you too.
You've worked hard, and you have had so much stress, dear Cancer. You need a night out. You are a cardinal sign, which means your sign begins each season - cardinal means "first." As such, you are anxious to lead and to see progress, but Uranus and Pluto have stood in your path for several years, since 2011. While you didn't feel Uranus and Pluto the whole time, as the mathematical degrees of their orbit was a factor as they moved through deep space, this month the early-born Cancers and those born near July 10 will feel the effects of the new moon. For that reason, let the elegant aspects of the full moon envelop you and bring you an evening of sheer joy.
---
Summary
You now find yourself in a critical point of the year, where work and home conditions are changing rapidly. Your career was the focus of the lunar eclipse at the end of September, and it appears an important VIP in the organization resigned, a female client left, or that you left. Your steady income appears to have become unstable, and so you'll have to find ways to regain financial balance.
Before you can fully address those important recent career shifts, a surprising development is likely to surface at home or regarding a member of your family. That would happen in the days that follow the new moon, October 12. Uranus will be at a jarring angle to the Sun and your ruler, the moon, so you'll have to attend to things instantly. It appears to be a complex situation, so allow for time to sort things out. It's very possible you'll decide to move house or make another other dramatic change to your living environment or family life. By October 16, you may be able to focus back at work, when a positive conjunction of Mars and Jupiter may provide you the lucky break you need to score an exciting professional victory.
Travel will be possible for rest, relaxation, and for the enjoyment of being in a new setting. A trio of planets, Mars, Venus, and Jupiter - all acting like benefic, comforting little friends - will give you options to pack and go. You may decide to visit a sibling and possibly be planning do something big together, such as to buy property or to start a business. If so, this would be the time to draw up blueprints with the idea of putting your plan into action soon.
If you have a romantic partner, Pluto and Jupiter are about to make a decisive alignment on October 11, and could bring a rare and special episode that will strengthen your emotional bonding. It would be the perfect weekend for an enchanting trip to beautiful, wooded mountainous range not far from your base.
Your social life will reach a high noticeably at the full moon, October 27. You may be going to a beautiful event over the coming days, October 30, 31, or November 1-2. That full moon will be in sensual Taurus, a sign that teaches us to appreciate the finer things of life. The full moon will light your house of groups. If you are not going to a party or other celebration, you may be spending a weekend at a spa or very high-end convention, another great way to use this lovely weekend.
---
For Dates to Note: Please watch my October TV show broadcast. You can get your special dates, with explanation.
Here is the link to use: http://bit.ly/1eTnXol
Also, see Mercury Retrograde and What it Means for You
P.S. for October 2015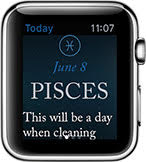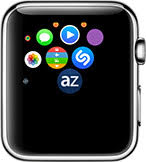 Astrology Zone is now on the Apple Watch!
It's FREE to add, and loading is invisible and seamless through Bluetooth!
On July 7 my Susan Miller's Astrology Zone Daily Horoscope app for IOS that appears on the iPhone was approved by Apple to appear on their new watch! Apple had approached us with this option earlier this year, and we were all so excited to do it! My app developer, Phunware, immediately set to work on the extra coding to make my app work perfectly on the Apple watch, and it's been tested and approved by Apple for you!
If you have my app on your iPhone, the way this works is that your new Apple watch will "talk" to your iPhone and automatically load the Apple watch app from your iPhone, through Bluetooth. You need not use any wires or be concerned about downloading instructions - it all happens seamlessly and invisibly. There are no extra fees for you to pay either - it's free! If you already have the Apple watch, you know how much fun this is to use! From now on, I can be as close to you as your wrist, and it's remarkable how crystal clear my words can be read on the beautiful Apple Retina watch screen.
The Apple store helpers will assist you by loading my app on your watch, and it only takes a few minutes. It works best if you have the premium version of my app, so you might want to order a subscription to my longer, more detailed daily horoscopes. Try the premium version of my daily horoscopes for one month for $4.99 or for three months for $12.99. See how you like a longer daily forecast - most people do. We find 87 percent of readers opt for the upgrade. Or, you can always stick to the free, short version of my app for your iPhone. Tell me what you think on Twitter, @AstrologyZone.
I am so excited!
---
I Did a Cameo in Peter Bagdanovich's New Movie,
"She's Funny That Way" Debuting August 19!
Last summer, the executive producer of Mr. Bagdanovich's new movie wrote to me to ask me if I would like to do a cameo in the great director's newest movie, a romantic comedy called "She's Funny That Way." Of course I said yes! Mr. Bagdanovich is right up there with great American directors like Woody Allen. It was during the last week of July 2014 that I was invited to come to the movie set to do my part. I am not SAG, so I do not speak lines. The movie was shot in my hometown, New York City, so the set was only a taxi ride away. I have told no one about this exciting development, not even close friends, until now!
To give you a hint of how to recognize me, I am in an audience scene wearing a white dress with black lace (by Nanette Lapore) and clapping my hands. Not to spoil the fun for you, Astrology Zone is mentioned early in the script, delivered by Miss Poots! I could not have imagined a more exciting opportunity! I am still breathless!
Last July, after the movie was shot, and to celebrate Mr. Bagdanovich's birthday (he is a Leo), I was invited to a small cast dinner party at the Waverly Inn in New York City's West Village. It was there that I met the young, lovely English actress Imogen Poots, who is the main character and star of the ROM-COM, and Jennifer Aniston, who plays a therapist. Ms. Aniston arrived with her partner, Justin Theroux, and both immediately made me feel at ease. Owen Wilson stars in the movie too but was not able to come to the party due to a conflict.
I have now been invited to the movie premier in Los Angeles on August 19. I am having such an exciting month!
By coincidence, I wrote about August 19 in almost all of my reports this month - it's a great day for you too!
Here is a peek at the movie trailer. I am not in the trailer, but I thought you might enjoy seeing what the movie is all about. I hope you will go to the movie!
https://www.youtube.com/watch?v=h7kLUOjKAqE
---
Fresh Zodiac Oval Soap Collection Collaboration
Announcing my Partnership with Lifestyle Beauty Brand, Fresh
Check it out here: http://bit.ly/166wPSX
I joined forces with Fresh on their limited-edition Zodiac Oval Soap Collection, a collection of their iconic Oval Soaps reimagined for each astrological sign. The soaps are of the highest quality, and their scents are simply divine. When you purchase a soap at a Fresh retail store, you will get a little booklet I wrote for Fresh about the qualities of your sign and a look at the Year Ahead for 2015. These beautiful soaps make an elegant birthday gift for a friend or relative, or a treat for yourself.
In addition to my exclusive content live on Fresh.com and Fresh's social channels, the beauty brand featured me on a section of their site called Fresh Moments, which is their editorial platform. Click here http://bit.ly/1EHAh4P to see childhood photographs of me (please scroll down to bottom of page), my Fresh Forecast video series (12, one for each sign on top of page), and my inspirations.
---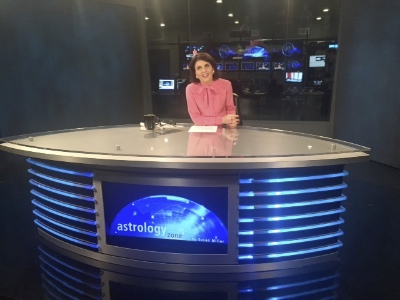 Proudly Announcing the Debut of my NEW TV Show!
For many years, I have had the dream of having my own TV show - that dream came true in February, when my show debuted. The show will stream internationally on Vimeo.com, our host provider, and it will run 30 minutes.
Each month, I will explain points about astrology in an easy to understand way. All the material on the broadcast will be fresh and new, and I will not duplicate any information that already appears in my monthly Astrology Zone report. My aim is to help you understand how astrology works, and how you can harness this ancient art to make your dreams come true.
The show will now be available on the first day of each month - or even a few days before the end of the month.
Astrology Zone and my normal long monthly horoscopes will always remain free for you as they have every month for the past 19 years on the Internet. Please always look at my PS on my website each month as I list appearances and other free events that do not appear on my app. You can only view my TV show from clicking on the link from my site, as it is not possible to do straight from my app.
Viewing my TV show will give you special insight and detail on the coming month and also help you get more from the information you already get from me on Astrology Zone. I hope to teach you a few handy skills that will allow you to understand how astrology works and how you can harness that information for your own purposes to achieve enjoy a brighter future.
Tell us how you feel on my social media accounts, on Twitter @AstrologyZone, and on Facebook "Susan Miller." Also, Vimeo.com, our server host for the show, provides a place for comments too, and so do post a note there too - all of us will be reading your comments
---
Announcing the NEW, Extended Cut Glamourscopes Videos!
Last month I showed you the surprise I had for you, special animated videos called Glamourscopes that I had done with Conde Nast Entertainment (CNE) on a forecast for The Year Ahead 2015. Each sign's video runs a little under three minutes. The animators illustrated my words with visuals in a very original and imaginative way, so most people think the videos are especially cute. You told us you loved the videos, but said in a loud and clear way, "We want them longer!"
To CNE's credit, they immediately went back into the film I had already done for the original videos to see if they could create longer ones. I had originally taped for three hours per sign in various ways to help the animators do their work, so there was plenty of material for CNE to sort through. CNE designed new, longer, seven-minute videos that did not duplicate any of the material I had given you on the first, shorter, three-minute versions.
Called the NEW Extended Cut Glamourscopes, you are telling us that you love these even more. Don't miss them! In these Glamourscopes, I give you plenty of dates, so you will want to click on the links below to hear all the advice I have for you, dear reader! Remember to listen to your Sun sign and rising sign - both!
Shorter Glamourscopes: http://bit.ly/1yPzZEF
Extended Cut Glamourscope (not duplicating the short forecasts of Glamourscopes above): http://bit.ly/15nk8m5
---
Mercury Retrograde and What It Means for You
Keeping track of Mercury retrograde periods can allow you to increase your productivity and avoid at least some of the frustration they can bring about. Let's look closely at Mercury retrograde and what it means to you.
---
Fashion Trends in 2015 to Consider By Sign
If you didn't catch the very long article I wrote for The Coveteur, a dazzling Canadian fashion website, you may want to read it today. I take all the runway looks and match them by sign. Be sure to read for your rising sign too, if you know it. Over 150,000 women clicked on this article according to my bitly link, so it seems popular!
Click here: http://bit.ly/1zaxu1j
---
Happy Birthday, Libra
Each month I write a Happy Birthday forecast for Neiman Marcus' Blog, and then post the URL on Twitter and Facebook for my readers to see. If you are not on social media, you are not seeing it. Here is Happy Birthday, Libra! Click here: http://bit.ly/1Fuba8q
Neiman Marcus archives some of the past ones, so if you go to this fine retailer's website, scroll to the bottom of their homepage, find The Blog, and go in to Lifestyle, Horoscopes. (I am a bit buried there.) You can still get some of the past signs that you may enjoy reading.
If you want to read my Twitter feed, I am on @AstrologyZone
And on Facebook I am simply "Susan Miller".
---
See Childhood Photos of Me on Fresh.com
I am proud to be the new brand ambassador of Fresh, the LVMH brand that specializes in beautiful natural skin care. Last year, I collaborated with Fresh to come up with oval soaps by sign sold on their website and in their stores. The scent of these soaps is simply divine, and the soaps are of the highest quality. When you purchase one or more soaps, you get a little booklet I wrote for Fresh about the qualities of your sign and peek ahead for 2015.The oval Zodiac soap Collection makes an elegant birthday gift for a friend or relative, or a treat for yourself.
Have a look at these links to see what we've been up to!
SOAP COLLECTION
Link to Collection: http://bit.ly/166wPSX
- Drawing inspiration from the field of astrology and the four elements, Fresh's Oval Soap have been reimagined to represent each of the 12 Zodiac signs.
- As a special bonus with purchase at any Fresh Retail Store, each Zodiac Oval Soap comes with an exclusive booklet featuring a look at the year ahead by Susan Miller
FRESH MOMENTS:
Link to Fresh Moments: http://bit.ly/18EBbBJ
- Featured on Fresh.com as part of Fresh's Ambassador Program Fresh Moments
- Personal photos from Susan's childhood, her inspirations and her favorite Fresh products included in the feature
FRESH FORECAST VIDEOS
Link to Videos: http://bit.ly/1Fqy7pJ
- 13 part video series featured on Fresh's YouTube channel and Fresh.com.
- One video per astrological sign featuring Susan giving a synopsis about the sign, predictions for the year ahead, and curated product pick by sign
EVENTS
- Stay tuned for special events in the spring at Fresh Retail Stores with Susan Miller
Events to be highlighted on Fresh Facebook (www.facebook.com/fresh)
---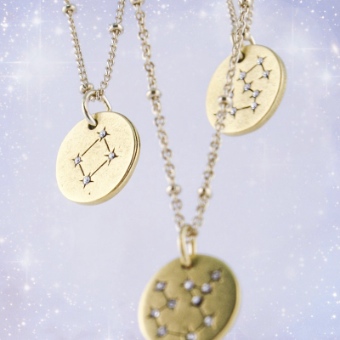 You Love The Zodiac Jewelry Collaboration I Did With Sequin!
Thank you for your Overwhelming Response!
Now A NEW, IMPROVED WEBSITE!
http://www.sequin-nyc.com/star-maps
Last March, when I was still well, I was invited by Sequin executive women to look at an idea their talented New York City Sequin Design Studio had for a collection of pendants with an astrological theme. I immediately fell in love with the various astrological pendants, and they asked me to check to make sure all the designs and keyword descriptions of the signs to be used on their site were astrologically correct. (Everyone, it seems, at Sequin reads Astrology Zone!) I love the quality of these beautiful pieces. Many girls layer several of these necklaces, using various lengths, and that's a great look too.
The pendants are all made in America and handcrafted by artisans using material components from around the world, and are so well priced that I feel they will fly out of their inventory. These necklaces are gorgeous. They are made of 22K gold-plated brass with antique finish and crystal details. I was impressed with the lovely chain that the pendants come with too, as it is tangle-proof and delicately made to look beautiful when worn. Whenever I wear my necklaces, I get so many compliments.
These necklaces make great gifts or a treat for yourself. I quickly chose those necklaces as part of my favorite things to give for a friend's birthdays. Imagine how surprised I was that Oprah had chosen this Sequin Collection as a part of her "favorite things" in her December issue! I was so happy for my new friends at Sequin and the incredible success of this new line of jewelry. It seems Oprah and I think alike!
Click through to see the entire range of jewelry, using this link:
http://www.sequin-nyc.com/star-maps
---
My New Apps for Android, Samsung Galaxy, and iPhone are Ready to Download!
Last January, Phunware met with me and we set out to design a completely new app for AstrologyZone readers. We have a free version and an optional paid subscription version for Google's Android and Samsung Galaxy, just like the iPhone readers experienced approximately a year ago.
My new app has a completely new, sleeker design and many new features. You will still have a free daily horoscope, or if you prefer to subscribe, a much longer daily horoscope. The long version is the one most readers prefer. The new applications work with iOS 7.0+ and Android OS 4.0+. If you are already a subscriber to my app on your iPhone, the new design will just slide in to replace the old design when you updated your app. If you have a Samsung Galaxy smart phone, you use the Android operating system, so you will get the new design too. The bugs in the iPhone are all fixed, no more signing in each time you check your forecast, and the tools section for subscribers, the prettiest section, is working flawlessly now. Android/ Samsung Galaxy were bug-free from day one, so go get my app in either one of our retailers, Google Play or Apple App Store, depending on your smart phone type. Search: "Susan Miller."
A feature of my new apps is that each app will automatically expand or shrink to fit your other devices, whether iPad or tablet, or any size smart phone you choose, large screen or small. These newly designed applications have kept screen real estate in mind, allowing users with phones or tablets to get a fully optimized experience for their device screen size. The iPhone 6 is now out, and my app will beautifully translate to that new screen size as well. Keep in mind that you are purchasing a subscription to my app from Apple or Google as retailers, not from us at Astrology Zone. I get a commission on the purchase price of the subscription you buy.
Whether you choose the free version of my app or choose to subscribe to the premium version, either way you will still always have your monthly Astrology Zone report on your phone, and my previous month's report as well. You can check all twelve signs of the daily or monthly horoscopes too by simply going to the home screen and choosing a different sign. The new apps will list my appearances too, but so far, I have no appearances on my schedule, but that might change in time, and if it does, you will be able to see where I will be immediately. Until now, only readers who went to their computers online would know in what city I would have new events. You can also see my Twitter feed on your mobile device too. The designs for Android and iOS are consistent; you get the same visual design and features for either application.
I would appreciate you taking the time to review my app, for I will read all your comments. I am grateful that sales of the premium subscription are so strong, for this allows me to keep Astrology Zone free. Thank you for your support and understanding while I recover from my illness.
---
Live Overseas? Or, don't have an iPhone, Android, or Samsung Galaxy?
Get all 12 of my daily horoscopes each day by email or pick yours up each day on special password-protected site.
To plan ahead, receive several daily horoscopes in advance!
By subscribing to DailyAstrologyZone you will receive a week of horoscopes inside your cell phone and / or computer. This means if you have a BlackBerry or feature flip phone, you can still get my daily horoscopes as long as your device accepts email. You will also have the option of accessing your daily horoscopes from a website online, from anywhere, any time, through a password-protected site for members only, or receiving all 12 signs my email each day.
For more information: http://www.dailyastrologyzone.com
---
MY PERSONAL CUSTOM HOROSCOPE BOOKS
WRITTEN BY SUSAN MILLER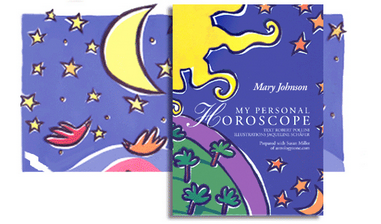 Choose from 'My Personal Horoscope' for Adult, for Babies, or for a Relationship, the Two of Us either in Print or in PDF format.
For the Print version count on two weeks on average from Order receipt to Delivery for any US destinations. One week longer elsewhere.
For the digital PDF version count on one-week turnaround to receive the emailed download-link of the file with the same full-color illustrations by Jacqueline Schafer.
Adult Edition

Baby Edition

Relationship Edition

Annual Birthday Solar Return
My Personal Horoscope Custom Natal Chart Book $54.99 plus shipping / tax
For more information call Susan's publisher, Arthur Heydendael 914.271.3640 ext 14 or click here:
http://www.americadirectbook.com/Customized_Books
---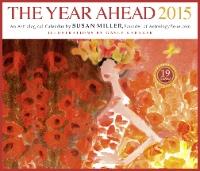 The Year Ahead 2015 Astrological Calendar
By Susan Miller
The calendar is reduced 85 percent! Don't miss this opportunity to plan ahead for the rest of the year.
PRICE: $3.00 plus shipping and handling (85% discount from the original price of $19.99) via Priority Mail to any US destination. Depending on your shipping address outside the US, we offer First Class Mail or Express Mail. More options for shipping with tracking are also available.
To order: http://bit.ly/17dpW2k
More calendar news: The artwork of the esteemed fine art painter Gayle Kabaker, used in the Astrology Zone calendar, are available as prints in three sizes. If you'd like to see them, check Gayle's Etsy site at this link:
https://www.etsy.com/shop/gaylekabaker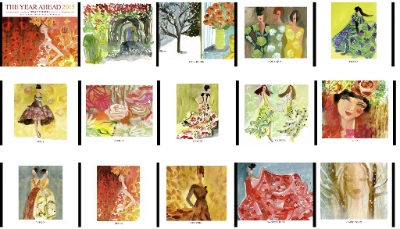 To view a forecast, select a sign from the menu below and click on Go.