See Susan Miller's new Astrology Zone 30-minute streaming TV Show! For now, it will be seen once a month and will not duplicate any information you get on Susan's site - the broadcast will provide fresh, new material. For more info, see Susan's note to you found here, in the PS (post script) directly below your sign's summary and the dates to note. Express your ideas about Susan's new show in social media - we will be reading your comments. The show will not be seen yet on Susan's smart phone apps (stay tuned) but instead here on your computer or tablet. Please tell your friends to have a look!


Astrology Zone the Show from Television Four on Vimeo.



---
Cancer Horoscope for May 2016
By Susan Miller
You have a happy month in store. Four joyful little heavenly bodies will be stacking up in your solar eleventh house of friendship, fun, new acquaintances, and events sector, so it seems clear that you will be socializing up a storm. Temporarily let go of the many career obligations you've been dealing with lately and shake things up. It's time to enlarge your circle of friends and acquaintances, for by doing so, your friends will inspire you and expose you to new ideas. With so much going on in your career lately (especially last month), you've not had the time to give much thought to shaping a warm and rich personal life. Now you will, without losing any of the good momentum you've built up this year.
Nothing of enormous importance will happen in May because five out of eight planets will be in retrograde. You won't lose out on any opportunities. Included in the retrograde group are Mercury, Mars, Jupiter, Saturn, and Pluto, all out of phase, urging us all (of every sign) to look closer at our past, and for now, to put the future on hold. We cannot do well in the future until we are sure the foundations we have built are steady and secure.
We don't feel the effects of outer planets that spin on the outer regions of the solar system when they are retrograde quite as much as when the three planets that spin closest to earth are out of phase. Those nearby planets include Mercury, Mars, and Venus. Venus is in good strong position now and will not retrograde anytime soon, but both Mercury and Mars are already out of phase, and that will slow down all parts of life.
Both planets started to retrograde last month: Mars will be retrograde from April 17 to June 29, and Mercury started to retrograde April 28 and will finish up on May 22. If you like, on the bottom of this report you will see a link to last month's forecast - in it I spoke in detail about how Mars retrograde would affect you, so have a look. The link is at the bottom of this forecast below the Summary.
There is always value in looking ahead to pioneer into new territory that we want to explore, but often when the world has been racing forward too quickly for some time, the universe, in its wisdom, slows the pace and almost forces us all to look back and take stock. Cultivate new friendships, but more importantly be in touch with friends from your past. In terms of a love relationship, dare to dive to a deeper level. Projects can always benefit from you having a second look to see if any one of them can be polished and groomed to a higher level of excellence. It is human to always look forward, but this month, looking back, getting closure, and reconnecting will have greater value.
Travel may form part of the picture this month, for short trips appear to bring you happy, lucky social experiences. A case in point will be May 3, when the mighty Sun in your solar eleventh house of social activity will reach out to Jupiter, the giver of gifts and luck. Indeed, May 3 will be a remarkable day, so try to plan something special. Travel as defined by the solar third house also includes your daily rounds around the neighborhood in addition to normal short trips that are within 500 miles from home. As you see, you have options. Be sure to look your best at all times, no matter where you go.
If you can NOT travel, this part of your chart also rules communication, including texts and phone calls, emails, letters, manuscripts, greeting cards, advertising, and publicity. May 3 should make you happy, even if you don't receive a love letter or travel - it's sure to be a magical day.
Next, the new moon of May 6 will work to expand your friendships in a big way, and like a stone cast into a quiet pool of water that creates ever widening rings that reverberate outward, your circle of friends are likely grow outward too, with each friend making introductions to others. Again, travel will have a part to play, along with interesting and creative communication. Lighting your solar eleventh house of friendships and events, this new moon will ratchet up your social life yet another notch - more than what will occur May 3. If you are inclined to do community work or volunteer to work on a charity, you will be very busy and make a big difference to those you are trying to help this month.
At the time of the new moon May 6, not only will you have the full support of benefic Jupiter, making for a luxurious, happy time in the days that follow, you will also have Neptune friendly to this new moon. This suggests you may be going to a friend's celebration soon, say over the weekend of May 7-8, and if so, the event will be quite poetic and lyrical. The energy of this new moon is sensuous and the air may be perfumed with a haunting scent, such as honeysuckle growing nearby to complete the setting. There will be music and beautiful foods - surely this will be a heavenly event that you will always remember.
If your birthday falls on July 8, plus or minus four days, you will benefit the most form this lovely new moon. The same is true if you have Cancer rising at 17 degrees or a natal planet at 17 degrees in Cancer, Scorpio, or Pisces, Taurus, Virgo, or Capricorn, and in all cases within plus or minus five degrees. Having just one natal planet within five degrees of 17 degrees of those signs could make this new moon as special as can be.
Jupiter, which has been retrograde since January 8, will turn direct on May 9, so after that date, you will get significantly more support from Jupiter in matters of writing, speaking, editing, translating, and other communication arts. Jupiter will be moving in direct speed until February 6, 2017, so your ability to use words and to move others with those words will grow stronger from now on. If you were an actor, or work in publishing, broadcasting, or the movies, this change of Jupiter will affect you in an extra strong way. I suppose I am splitting hairs - every Cancer will benefit and that includes you.
On May 10, a Tuesday, Venus will conjoin Jupiter, an annual event. Again, both planets will meet in your friendship sector, making this day ideal for doing something special for a friend who has always stood by you, or for benefitting from a friend's kindness. A home, property, or family matter, or a relationship with one family member, should also bring exceptionally good news to you.
Now let's turn to your work life. Against this lovely background will be plenty of work at the office. Mars is still in Sagittarius and will be lighting your solar sixth house of assignments and workaday experiences. This is the place in your chart that Mars entered on March 5 and will continue to light until May 27. With Mars and Mercury retrograde, you will almost certainly have to take a second look at one or more project to make changes, as per the client's dictate. (If you are the client, you will have reasons to ask the team to do this.) Everyone will be backtracking - it's the way things are in May.
The full moon May 21 in Sagittarius at 1 degree will bring a work project to fullness, and it will be one you apparently have been working on quite a bit lately. This will be the first of two full moons in Sagittarius in a row, a rare event, and both new moons will open a path in your workaday sector, with new projects coming up. Apparently you will have plenty to do these months, and your services will be in high demand. Of the two full moons, the one this month will be the easier one to navigate. Mars will conjunct this new moon, so you will be eager to get plans in place and lift them off, but with so many retrograde planets, you will need to wait. Delays will benefit you. Mars is the planet that helps you win in competition, but without Mars' help, it will be very hard to stand out.
Not only will Mars in Sagittarius (and the full moon in that sign) give you many things to do at the office - and at home too - this house also focuses you on health. You may be going to the gym and working out - Mars is known to bring a lot of energy - but this planet can also inflame conditions. If you have a chronic illness, go the extra mile to be careful and take good care of yourself. If you notice a dormant condition suddenly flare up, seek medical help, the sooner the better. (I am not saying you WILL have a flare-up, but IF you do have one. Let's hope you don't, dear Cancer.)
Romantically, as you saw at the beginning of this report, you have many dazzling moments coming in the first half of May and those days should scintillate with luxurious social opportunities. May 3, May 6 (plus ten days, the area of influence of all new moons), May 9, and May 10 are all superb times to for you to circulate and be open to meeting new people.
You have other conditions working in your favor. Venus in Taurus is a fine place for Venus to be for you, dear Cancer, for Taurus' earth sign element blends beautifully with your water sign Sun. Venus will remain in Taurus from the very start of the month until May 24. In Taurus, Venus will augment the friendship / social events theme that will be so evident in the first half of May.
On top of that, Mars will retrograde into Scorpio from May 27 to August 2 and light your solar fifth house of true love. Whether you are single and hoping to find your one true love, or attached and hoping to have more carefree fun together with your partner, this tour of Mars will bring on a golden time for love.
There is one more event in the heavens that will set this month apart from others for superb romance. At the end of last month - April - two extremely powerful and slow moving planets - good fortune Jupiter and transformational, powerhouse Pluto - were in perfect harmony. This is a rare condition that will not happen again in similar form until April 2020. Pluto is still in your marriage house, and Jupiter is sending beams to Pluto from your third house of communication and travel. Separately, and additionally, Pluto is in sync with Neptune, the planet of inspiration, and is based in the long-distance travel house (This house includes honeymoons.) Here you have travel, commitment, and clear, warm communication all working together to make this month a month to remember for you.
Dear Cancer, this is your month to kick back and have fun. You won't lose any competitive advantages by swinging your hips to the music of steel drums while you sip a drink that comes with a tiny umbrella in it. You WILL enjoy May.
---
Summary
The month of May holds so many pleasures. It's a sentimental month, where you will be looking back to former times that made you happy and perhaps finding ways to recreate those times - a good idea. On May 3, you may see an old friend in your town or a nearby one, and reminisce over the fun times you had "back when." Five out of eight planets will be retrograde in May - Mars, Mercury, Jupiter, Saturn, and Pluto - the reason the past will have such a strong hold on you now, in the best sense.
Friends will begin to play a bigger, more pronounced role in your life once you get to the glorious new moon, May 6. Jupiter is the planet of good fortune and Pluto is tied to transformations and success, and both will support this new moon. This suggests you will go to a beautiful setting to attend a celebration that you will get to by car, bus, or rail. The event will be dressy and memorable, with every detail overseen by the host with great care. It certainly is an event you will want to attend. If it turns out that you will be giving a party in early May, it will go exceptionally well. You seem to have a partner with you who will want to support all your efforts. Venus will be in Taurus, an earth sign that blends beautifully with your water element, dear Cancer, and this will continue until May 24. During that time, friends will call, and you will have reason to feel that your free time has taken on a new breezy, light feeling.
Meanwhile, at work, projects will pile up. Ever since Mars entered your sixth house of work projects in early March, your boss or clients have become somewhat demanding. You appear to be taking your assignments seriously and are determined to be thorough and careful with them. You have Saturn in your projects house, and Saturn is known to require concentration to all tasks at hand. Your hard work - which seems to have international application - will keep up until the end of September, with a breather in June and July. Even so, schedule regular breaks for rest, and perhaps book a massage occasionally. Near the full moon, May 21, you will finish up one project or get a large project to a key plateau or phase. You may hear very good news about your income on May 3, thanks to collaboration between the Sun and Jupiter.
Alternatively, the sixth house, where all your activity is based, also rules your health, so if you have been going through a course of treatment, it may now end on or near May 21. With Mars remaining in this part of your chart in May and then from the start of August until end of September, it appears you will have to continue to follow your doctor's orders to the letter to avoid flare-up. Assuming you give your condition attention, your chart suggests you will feel noticeably better by October.
It's a busy, active month, and admittedly, it will require patience and a willingness to go back into finished projects and make them even better. We are all in the same boat - there is value in taking a second look at those assignments and former relationships. If you long for reconciliation with a former love, this is the time to make your move.
In love and friendship, you will have a banner month, for happy little planets are lining up to bring you bushels of fun, especially in the first half of May, and in the last days, when Mars enters Scorpio. Mars is getting ready to bring you amazing experiences in love in June and July (starting May 27), so get your outfits ready. You'll be stepping out!
For Dates to Note: Please watch my May TV show broadcast. You can get your special dates, with explanation.
Here is the link to use: http://bit.ly/1eTnXol
P.S. for May 2016
MOTHERS AND DAUGHTERS
Paul Duddridge is executive producer and director of my monthly TV show for Astrology Zone. Paul has just come out with a warm and funny movie called MOTHERS AND DAUGHTERS with Sharon Stone, Selma Blair, Susan Sarandon, Christina Ricci, Courtney Cox, and Paul Wesley. Be sure to see it! -Susan
Here is the link to see the trailer:
MOTHERS AND DAUGHTERS features interwoven stories about what it means to be a mom, which are tied together via single gal Rigby Gray, a rock photographer who's riding a career high when an unlikely and unexpected pregnancy forces her to turn her lens inward. As Rigby slowly comes to terms with what it might mean to change her life forever, she discovers with fresh eyes her own relationship with her estranged mother. Through a series of photographs documenting motherhood in all its varieties, she considers what it means to be maternal at all. Director Paul Duddridge's film is a celebration of the unparalleled love between mothers and their children and the myriad ways they connect in today's modern world.
Here is the list of theaters so far.
---
My Upgraded Design for iPhone, Android, Samsung Galaxy, Are All Ready for You to Download!
Apple and Google approved the upgrade to my app two weeks ago, on March 16. I loved my present app (it is under two years old), but I made changes to make it even better for you. You now have video on your app, so while you are on the go, you can view my 30-minute free TV show or my Year Ahead 2016 films that I did with Deepak Chopra.
I improved the app's navigation, upgraded the NASA photography, added more essays and articles, and made it easy for you to see appearances - the works! I also have push notification now, so when Mars or Mercury is about to retrograde, I can remind you to wrap up activities. I can also alert you to my occasional appearances. Another new feature of my new apps is that it will automatically expand or shrink to fit your other devices, whether iPad or tablet, or any size smart phone you choose, large screen or small. These newly designed applications have kept screen size in mind, allowing users with phones or tablets to get a fully optimized experience for their device screen size.
I strive to give you the best astrology app experience on the market
You will still have a free daily horoscope, or if you prefer to subscribe, you will get a significantly longer, more detailed daily horoscope. On Sundays, I write a look ahead to the week, giving you your best days to act. The long premium daily version of my app is the one most readers prefer. I write those dallies three months in advance, and you get, automatically, your 12 daily horoscopes for today and tomorrow, with yesterday's still visible. You can try out this long text premium version by subscription for $4.99 for one month (on either Google or iPhone) or $12.99 for three months (iPhone only - these companies tell us what we are allowed to offer you.)
The new applications work with iOS 7.0+ and Android OS 4.0+.
If you are already a subscriber to my app on your iPhone, the new design will just slide in to replace the old design when you update your app. If you have a Samsung Galaxy smart phone, you use the Android operating system, so you will get the new design free too. iPhone users, if you have the Apple Watch, you can read your daily forecasts on your watch, too, and Apple helpers will show you how to use Bluetooth to make that happen. There is no charge for the Watch app.
The bugs in the iPhone are all fixed. Get my app from either one of our retailers, Google Play or Apple App Store, depending on your smart phone type. Search: "Susan Miller" or "Astrologyzone" as one word. It is free, and you can decide any time if you want to try the premium subscription version.
Keep in mind that if you buy a subscription, you are purchasing a subscription to my app from Apple or Google as retailers, not from us at Astrology Zone®. I get a commission on the purchase price of the subscription you buy.
Whether you choose the free version of my app or choose to subscribe to the premium version, either way you will still always have your monthly Astrology Zone report on your phone, and my previous month's forecast as well. You can check all twelve signs of the daily or monthly horoscopes too by simply going to the home screen and choosing a different sign.
Until now, only readers who went to their computers online would know in which city I would have new events. Also, you can see my Twitter feed on your mobile device too. In the same section as "Susan's Tweets" is my special note to you. Please always look for it. By the way, to read my Tweets, you don't have to join Twitter or tweet - you can, if you like, simply read my feed.
The designs for Android and iOS are consistent; you get the same visual design and features for either application.
I would appreciate you taking the time to review my app, for I will read all your comments. The place to do that is on the app's home menu of the app - you will see a VERY tiny round gear in the upper left hand side under the small photo of the galaxy. Press the tiny round gear and bingo - there will be lots of things revealed to you. You will want to play with the app and be surprised with how much is on there!
Thank you so much for reading Astrology Zone each month and for supporting me so enthusiastically.
---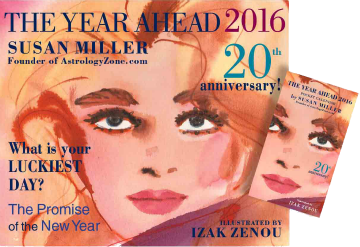 Susan Miller's Year Ahead 2016 Astrological Wall and 2016 Pocket Calendar
My New 2016 Illustrated Astrological Calendar is shipping!
I am thrilled to show you my newest Year Ahead 2016 Astrological Wall Calendar that has come off the presses. This year we're using artwork by visionary artist Izak Zenou.
NEW Price: $9.99 plus shipping.
BONUS: You had requested that we print a small version of my annual wall calendar to carry with you, so we listened and chose to make one now - a pocket calendar!
Your wall calendar's features include:
All the important days with their corresponding aspects on the day they occur.
Every full and new moon is listed, with its sign and degree.
All Mercury retrograde periods
Your calendar has 13 months; January 2017 is included.
All American, British, and Canadian holidays are listed as well as many religious holidays.
Your Wall Calendar measures 14"x24" when fully opened, the same size and great quality as in previous years. The Pocket Calendar measures 3-½" x 6-¼". This time the paper we used for the large and small calendar is matte, to showcase Izak Zenou's art.
Availability
Susan Miller's YEAR AHEAD 2016 Astrological Calendar and the 2016 Pocket Calendar are ONLY available on Astrology Zone®. It is NOT available in retail stores or on bookseller's sites online. When you buy a calendar for yourself or as gift, you support Astrology Zone®
Shipping information
The Wall and Pocket Calendar are combined with shipping to all destinations. Place your order now before supplies run out.
Shipping for one or two copies will be the same. Shipping charge for every second copy will be waived.
Price
NEW
$9.99, a 60% reduction effective May 1
The cost for the calendar is $9.99 as of May 1, plus shipping and any applicable sales tax (in New York State only). International First Class ships the Calendar with Pocket companion via Priority Mail to addresses in the USA and to foreign countries in a sturdy, flat mailer to protect the beauty of the calendar.
Volume Discounts
A discount of 10 percent is available for corporate or group orders of 10 copies. If you would like to order 25 copies, a discount of 20 percent will be available. You need not be an organization. If you want to order 10 calendars as holiday gifts for friends, you will still get the discount.
Call publisher Arthur Heydendael for more information. 914-271-3640, ext 14. Or go online to www.americadirectbook.com or write to Arthur at info@americadirectbook.com
---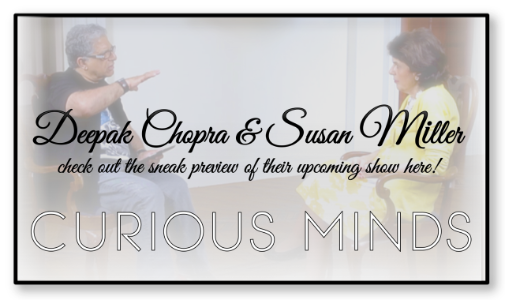 Get Your Overview of 2016 by Zodiac Sign on Film, Written by Me!
Order your Sign and Rising Sign, and Be Set for 2016!
Done in Collaboration with Deepak Chopra
Instantly receive your 22-minute outlook for 2016 that I prepared for you by each individual sign in collaboration with Deepak Chopra. Just go to Healthwire.FM, and pay one dollar ($1.00) per film. This TV show with a digital-platform has beautiful visual production values. Once you pay the one dollar US, you will own the show, and will be able to view me speaking to you as many times as you like all year. I suggest you get one for your Sun sign, and one for your rising sign too. You can buy the entire bundle of 12 signs for $9.99 to share with family. Go to http://healthwire.fm/healthwire.php
Or, go to www.Healthwire.FM and look at the menu that says "Choose Your Shows" - mine comes up first. It was an honor to work with Deepak Chopra's team on this project, and until now this show that I did in early December has been a total secret!
Don't know your rising sign? Find out your time of birth and order the natal horoscope chart custom book I will write specifically for you with 65+ pages, made possible by print-on-demand technology. Cost is $55 and you will receive your bound book in two weeks. Go to my other website, SusanMillerMyPersonalHoroscope.com.
---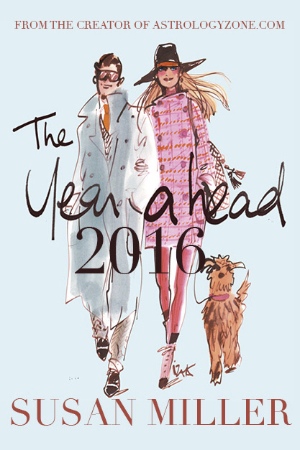 One Last Note!
Preorder your copy of my Year Ahead 2016 Book.
It's almost done!
I decided on a whim to write an entire book for you addressing your outlook for 2016. It is 85 percent done, and it would have been finished now if I didn't have to stop to write January's Astrology Zone®. Cost will be $9.99 per book, and we will eventually have a digital version for your tablet - that will take time. You can preorder my book now by calling Arthur Heydendael at 914.271.3640, ext 11.
---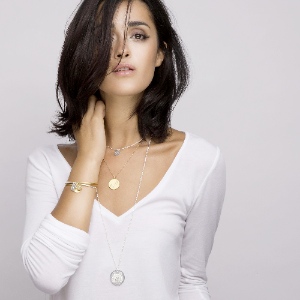 You Love the Zodiac Jewelry Collaboration I Created With Sequin Called the Star Maps Collection
Thank you for your Overwhelming Response!
Now A NEW, IMPROVED WEBSITE
Last year, I was invited by Sequin executives to look at an idea their talented New York City Sequin Design Studio had for a collection of pendants with an astrological theme. Sequin's Star Maps Collection is based on original, hand-cast illustrations of constellations and zodiac symbols, and was designed & handcrafted in the USA with components from around the world. They are simply beautiful. I wear my Sequin necklaces all the time, as they work with almost anything. This month, Sequin is launching a new, related collection called Celestial.
The all-women executives at Sequin asked me to check to make sure all the designs and keyword descriptions of the signs on their site were astrologically correct. I was happy to see that they were all well researched. (Everyone, it seems, at Sequin reads Astrology Zone!) I love the quality of the pieces, and some are of silver, and others are gold. Many girls layer several of these necklaces over each other, using various lengths, and that's a great look too.
The styles are available in 22K gold-dipped or silver-dipped at a range of price points. Gold toned bracelets have been available, and shortly you will see a line of silver bracelets too.
The pendants are all made in America and handcrafted by artisans using material components from around the world. These designs are so well priced that I feel they will soon sell out their inventory during the holiday gift-giving season. I was impressed with the lovely chain that the pendants come with too, as it is tangle-proof and delicately made to look as beautiful when worn as the pendants. Whenever I wear my Sequin necklaces, I get many compliments.
These Star Map and Celestial necklaces make great gifts or a treat for yourself. I quickly chose those necklaces as part of my favorite things to give for friends' birthdays.
Imagine how surprised I was that Oprah had chosen this Sequin Collection as a part of her "favorite things" in her December 2014 magazine issue. I was happy for my new friends at Sequin and the incredible success of this new line of jewelry.
The new Sequin website now offers a Wish List feature - perfect!
Click through to see the entire range of jewelry:
http://www.sequin-nyc.com/pages/star-maps
---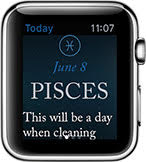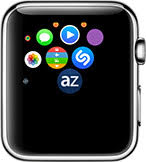 Astrology Zone is now on the Apple Watch!
It's FREE to add, and loading is invisible and seamless through Bluetooth!
On July 7 my Susan Miller's Astrology Zone Daily Horoscope app for IOS that appears on the iPhone was approved by Apple to appear on their new watch! Apple had approached us with this option earlier this year, and we were all so excited to do it! My app developer, Phunware, immediately set to work on the extra coding to make my app work perfectly on the Apple watch, and it's been tested and approved by Apple for you!
If you have my app on your iPhone, the way this works is that your new Apple watch will "talk" to your iPhone and automatically load the Apple watch app from your iPhone, through Bluetooth. You need not use any wires or be concerned about downloading instructions - it all happens seamlessly and invisibly. There are no extra fees for you to pay either - it's free! If you already have the Apple watch, you know how much fun this is to use! From now on, I can be as close to you as your wrist, and it's remarkable how crystal clear my words can be read on the beautiful Apple Retina watch screen.
The Apple store helpers will assist you by loading my app on your watch, and it only takes a few minutes. It works best if you have the premium version of my app, so you might want to order a subscription to my longer, more detailed daily horoscopes. Try the premium version of my daily horoscopes for one month for $4.99 or for three months for $12.99. See how you like a longer daily forecast - most people do. We find 87 percent of readers opt for the upgrade. Or, you can always stick to the free, short version of my app for your iPhone. Tell me what you think on Twitter, @AstrologyZone.
I am so excited!
---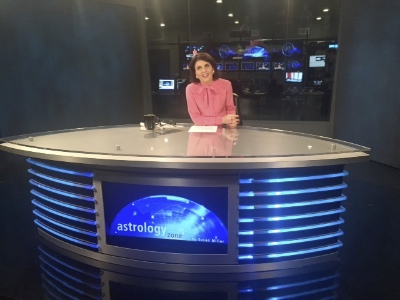 Proudly Announcing the Debut of my NEW TV Show!
For many years, I have had the dream of having my own TV show - that dream came true in February, when my show debuted. The show will stream internationally on Vimeo.com, our host provider, and it will run 30 minutes.
Each month, I will explain points about astrology in an easy to understand way. All the material on the broadcast will be fresh and new, and I will not duplicate any information that already appears in my monthly Astrology Zone report. My aim is to help you understand how astrology works, and how you can harness this ancient art to make your dreams come true.
The show will now be available on the first day of each month - or even a few days before the end of the month.
Astrology Zone and my normal long monthly horoscopes will always remain free for you as they have every month for the past 19 years on the Internet. Please always look at my PS on my website each month as I list appearances and other free events that do not appear on my app. You can only view my TV show from clicking on the link from my site, as it is not possible to do straight from my app.
Viewing my TV show will give you special insight and detail on the coming month and also help you get more from the information you already get from me on Astrology Zone. I hope to teach you a few handy skills that will allow you to understand how astrology works and how you can harness that information for your own purposes to achieve enjoy a brighter future.
Tell us how you feel on my social media accounts, on Twitter @AstrologyZone, and on Facebook "Susan Miller." Also, Vimeo.com, our server host for the show, provides a place for comments too, and so do post a note there too - all of us will be reading your comments
---
Live Overseas? Or, don't have an iPhone, Android, or Samsung Galaxy?
Get all 12 of my daily horoscopes each day by email or pick yours up each day on special password-protected site.
To plan ahead, receive several daily horoscopes in advance!
By subscribing to DailyAstrologyZone you will receive a week of horoscopes inside your cell phone and / or computer. This means if you have a BlackBerry or feature flip phone, you can still get my daily horoscopes as long as your device accepts email. You will also have the option of accessing your daily horoscopes from a website online, from anywhere, any time, through a password-protected site for members only, or receiving all 12 signs my email each day.
For more information: http://www.dailyastrologyzone.com
---
MY PERSONAL CUSTOM HOROSCOPE BOOKS
WRITTEN BY SUSAN MILLER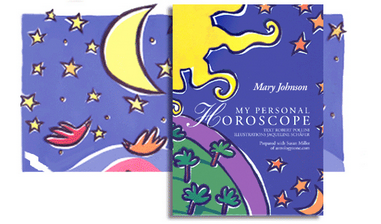 Choose from 'My Personal Horoscope' for Adult, for Babies, or for a Relationship, the Two of Us either in Print or in PDF format.
For the Print version count on two weeks on average from Order receipt to Delivery for any US destinations. One week longer elsewhere.
For the digital PDF version count on one-week turnaround to receive the emailed download-link of the file with the same full-color illustrations by Jacqueline Schafer.
Adult Edition

Baby Edition

Relationship Edition

Annual Birthday Solar Return
My Personal Horoscope Custom Natal Chart Book $54.99 plus shipping / tax
For more information call Susan's publisher, Arthur Heydendael 914.271.3640 ext 14 or click here:
To view a forecast, select a sign from the menu below and click on Go.