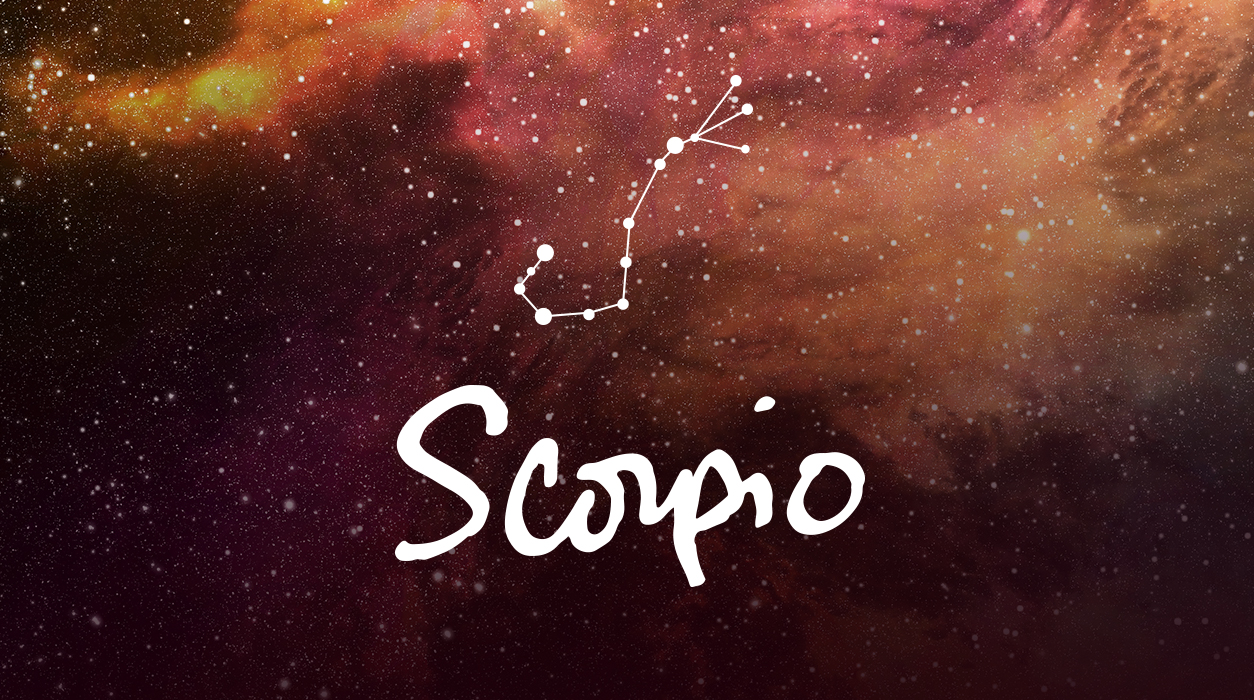 Monthly News from Susan Miller
MAY 2022
Dear Reader,
This is a big month! Two eclipses are due, the one April 30 was a new moon solar eclipse in Taurus, and it will affect you for six months or more. The second eclipse will be a total eclipse of the moon (lunar full moon eclipse) in Scorpio, and it will affect you near the time it will occur because full moons tend to deliver news quickly and bring conclusions or endings—something ends and something else begins. Two weeks later, a sweet new moon (not an eclipse) in Gemini will appear on May 30. That is not half of what's happening in May!
Your May Horoscope for Scorpio
The lyrical, joyous aspects you've had in your fifth house of love will continue during the first part of May. Your fifth house, ruling romantic love, as well as love for a baby, and children of any age, also rules your artistic expressions and creativity. That emphasis continues, being boosted by the presence of Neptune, Venus, Mars, and Jupiter, all in Pisces and beautifully compatible to your Sun.
Pisces is considered one of the most creative signs, and as a Scorpio, you always have Pisces on the cusp of your fifth house of love, children, and creativity, which is like having a double gift. Furthermore, Neptune rules Pisces, and so does Jupiter, so both planets always exert an especially strong and favorable beam to you. (Ancient astrologers named Jupiter the ruler of Pisces before Neptune was discovered in 1846, and now astrologers look at both planets as rulers of Pisces.)
Not only are Jupiter and Neptune strong, but Venus is in the very best sign possible by traveling in Pisces, too. Astrologers know that Venus in Pisces is exalted, able to express her most loving and compassionate qualities when touring Pisces. Along with Jupiter, Neptune, and Venus, Mars is also in your fifth house. Action-oriented Mars is the energy and fuel. In other words, Mars is the gas in the stove to get the ingredients in your soup cooking. Without the gas, nothing happens, so Mars is an important element here, and you are lucky to have him in your fifth house of love, children, and creativity. This is a remarkable confluence of supportive, compatible planets in water-sign Pisces (like your water-sign Scorpio) .
Since the start of March, you have had a magical alignment of planets working to boost emotional richness in your private life. The planets are starting to move on to other signs, with Venus moving into Aries on May 2. Venus will move into your work-a-day project sector. It looks like you will enjoy the work you will start doing. Mars, the energy planet, will keep the music playing in your most romantic sector of the chart (a holdover from April 14), and that will continue until May 24. If you are single, by all means circulate.
The biggest planet to leave this grouping of happy planets in Pisces, your love sector, will be good-fortune Jupiter, set to leave on May 10 when he moves into Aries, where he'll stay until October 27.
Jupiter will give you one last visit in Pisces, your truelove sector, later in the year, from October 27 to December 20. The first part of that period, Jupiter will be retrograde, but by November 23, Jupiter will move direct and stay strong until December 20, just in time to ensure you will have an enchanting holiday period. Then Jupiter will move back to Aries until May 16, 2023, and will keep boosting your chances of get interesting, exciting work projects.
The move of Jupiter to Aries will be very good for you if you anticipate changing jobs. If you are self-employed, Jupiter will allow you to develop lucrative new business. Jupiter in the sixth house can give you fascinating, well-paying assignments from new clients. It seems you will be working on something very new and innovative, perhaps part of an emerging industry.
You may have to hire people to help you get the project out the door, and most companies have been having problems finding qualified workers they can afford (partly due to the Great Resignation, as they call the occurrence of the number of people who quit their jobs after having time to think during the pandemic). You will be the exception to that rule. You will find people who will want to work for you, learn from you, and grow with you—in short, they will be gems, and you will be grateful to have such a supportive team.
A VIP, personified by Pluto in perfect angle to the Sun, will want to take you under his wing and help you get that top job.
You will also enjoy using possibly gleaming new computers, software, and other equipment you will work on. The company space you work in seems to be modern, sunny, and spacious—Jupiter would have it no other way. If you are allowed to work from home, you may want to design an official home office, decked out with all you need to get your work done in one place that is both comfortable and efficient. Doing that would be a good idea, for so much of your income will emanate from the projects you will be doing.
Your sixth house, where benefic Jupiter will be based, also rules your health, and you will see you are feeling better than ever. You'll be stronger and more able to build immunity to colds, flu, and viruses. It would be a good time to get a checkup at the doctor's to see if she has any advice for you, such as vitamins she might want you to take or specific types of exercise she suggests you do. If you have any health concerns, Jupiter in Aries (your sixth house) can help you find the right preventative measures to feel better.
Now let's move to the eclipses, for they are back, and they always come in pairs. Typically, we get four eclipses a year, and two are due now.
The first eclipse technically fell one day prior to the start of May, on April 30, as a new moon solar eclipse. Scientists are calling it a rare black moon, for the moon will cover much of the Sun. This will be a supermoon too, which mean it will be orbiting close to earth, and it will appear a good deal larger than usual in the sky.
This eclipse on April 30 appeared in Taurus, 10 degrees, and will put the emphasis on your spouse, steady sweetheart, business partnerships, and one-on-one collaborations. Often on an eclipse, something ends, and something else begins.
This new moon brings surprise because Uranus, the planet of unexpected news, will arrive tightly close to the Sun and new moon eclipse, so there could be change or a sudden surprise within your marriage or business partnership/collaboration. Your seventh house, where this eclipse will appear, is basically a contractual house, so there is usually a mutual benefit between you and your partner, and both of you work toward a common goal. That is the ideal situation, but sometimes one partner does not live up to his or her promise, and then the other partner has to do all the work.
If you are seriously dating, you may get (or give) a proposal for marriage. I say that because Venus was conjunct Jupiter in Pisces— your house of true love, which makes this aspect glow brilliantly like liquid gold. Wow. This is an extraordinarily sparkling aspect. This eclipse will help you form or assess a close relationship, and things should work to your benefit.
With Uranus so active—he arrived conjunct the Sun and moon, which is a volatile energy—I am not sure which way things will go. Uranus can be clumsy, like a bull in a china shop, and Uranus is orbiting in Taurus right now, so that's an apt description (Taurus is the bull). Uranus makes things happen instantly, in the blink of an eye. Once Uranus decides something or someone is no longer relevant to your life, it's gone. Uranus is called the Great Awakener because he acts so swiftly and suddenly, sweeping out a situation or relationship he deems outworn and of no further value. He stays to help you replace and rebuild what you lost too, and in the end, you find yourself in a far better place.
This month might sound stressful, but the chances of something good happening are just as possible because Mars in Pisces will be speaking directly to the Sun and new moon solar eclipse in a highly supportive way. New moons open a new path, so I feel that you might like this eclipse—fresh opportunities are on the way.
Although the eclipse arrived on April 30, it will affect you for six-months or longer. Uranus is at 15 degrees Taurus, so it is causing a lot of changes in the lives of Scorpios born within five days of November 7. If you have Scorpio rising 15 degrees, plus or minus five degrees, you, too, are feeling the same upheaval. Those with October Scorpio birthdays have already dealt with Uranus.
The eclipse of April 30 falls at 10 degrees, so Scorpios born on November 2 will feel it, too. That also holds if you have Scorpio rising 10 degrees, plus or minus five degrees.
Uranus takes 84 years to go around the Sun and through all 12 signs. Everyone, of every sign, will go through these kinds of changes at some point in their lives. In this case, with Uranus conjunct the transiting Taurus Sun this month, you may hear about major changes to your career, too. Eclipses bring an enormous amount of light to a situation and expose the full truth of what was previously hidden, so you will gradually get every bit of information you need as the days go by. All eclipses have a second act, so don't be too quick to pronounce an eclipse good or bad until you have all the background information that had been hidden from view until now. It is coming. Something that looks like a bad turn of events might turn out to your benefit. Have patience.
The next eclipse will arrive on May 15/16 as a total eclipse of the full moon in Scorpio at 25 degrees. The first eclipse, April 30, presented information to you, but the full moon eclipse will clear the way to allow you to voice your thoughts. Something is ending or being concluded within five days of May 15. All eclipses make us cognizant of the passage of time, so you may feel temporarily nostalgic or sentimental at this point. It looks like you will be busy closing a chapter.
In this eclipse, Uranus, the wild child of the planetary lineups, might be active. Here is what I see: Uranus will be 10 degrees away from a perfect opposition to the full moon lunar eclipse. That would be considered wide, not tight, but still within of significance. I usually only allow 8 degrees to a planet that is in aspect to a full a new or full moon. For eclipses—more powerful than normal full or new moons—experience has taught me to allow 10 degrees. I am not sure you will feel the surprising effect of Uranus because it is on the borderline, but you might.
This May 15 eclipse is at 25 degrees Scorpio, so if your birthday falls on November 17, plus or minus five days, you will directly feel the effects of this eclipse. If you are in the process of a divorce or having difficulties with a marriage or business partner, this may be the last scene in the story. If you have Scorpio rising at 25 degrees, you would feel this eclipse more directly than the April 30 eclipse, and you would likely see changes regarding a partner, job, or home.
This eclipse puts Mars and Pluto in the lead, and again, these two planets are miraculously well aspected. Mars is still in Pisces at this point of the month, your house of true love, and will reach out in heavenly trine to the moon in Scorpio and in sextile (opportunity) to the Sun in Taurus—in both cases to almost the exact degree. Mars will link love to marriage, so you may be getting married if you are in love and very happy. If you have been unhappy, you may break up. Eclipses tend to be very clear and speak in black and white terms in their messaging. There may be a reason you want to speed up your nuptials if you get engaged—eclipses speed life forward.
Pluto, from his position in your third house at the bottom of your chart, will reach out to the Sun and full moon too with helpful greetings. You may find your sister or brother to be of great assistance at this time. If your job is changing, it seems to be going in a better, more profitable direction.
A VIP, personified by Pluto in perfect angle to the Sun, will want to take you under his wing and help you get that top job. This person might be based in a foreign country, live in your country but was born overseas, or live in your city and speak with an accent. This person will be good for you. Mars will be conjunct Neptune, so it is your creativity, imagination, and possibly your sophisticated taste and understanding of the arts that will be prized most by those you speak to in career interviews and planning sessions.
Your home may be in flux too, and I say that because Uranus is in wide opposition to the moon. The moon in a chart is always tied to the domestic situation, so you might voluntarily be moving at some point, or involuntarily because of forced events, such as your landlord having sold the building to a developer, or, in another instance, telling tenants they must buy their apartment if they want to stay because the building is going condo. You may move to be closer to your job or closer to your parents—you can add reasons here. I am not sure why you might be moving, but it seems the home situation (or one involving your parents) is not static or stable. You may already know this, although the eclipse may move up your timetable dramatically. Your home sector also rules your parents, so keep an eye on them, as one may need you.
Mercury will be retrograde from May 10 to June 3, so proceed slowly. In a situation like this, you need a full set of facts, but they are arriving in pieces. Do your best to make no decisions this month. You began to feel the slowdown of Mercury as early as the end of April.
If you absolutely must make a decision or sign a binding contract this month, do so on May 3, a special day when Jupiter and Pluto will be in ideal sync. Both planets are financial planets, known for big deals and even bigger profits. Jupiter and Pluto rarely meet because they have such different orbits—Jupiter takes 12 years to revolve around the Sun, and Pluto takes 248 years to make the same journey.
On this day, May 3, Jupiter will be in your work project sector (sixth house) and Pluto will be in your contractual/communication/negotiation sector (third house). This is great for signing papers, and by May 3, Mercury will not be retrograde yet. Pluto will be in such late degrees of Capricorn that it is almost in your fourth house of home. This makes me wonder if the major deal you will be considering is getting approved for a mortgage and purchase of a house or condo. It's possible.
I say that because this month also has another lunation (can you believe it?). It will arrive as a new moon on May 30 in Gemini, your eighth house of other people's money. This is not an eclipse, so it will generate a more peaceful pace. This new moon will coax you to do financial planning. You may talk with your accountant about tax planning too, or call your broker to check on your retirement investment portfolio to see how it is performing.
That new moon will be interesting. It will appear in your solar eighth house that is naturally ruled by Scorpio, so you will feel some comfort with conversations that come up. Mercury will be the dominant planet here and will receive beautiful, affirming, supportive vibrations from your ruler, Pluto.
Here is the fascinating part: On August 20, Mars will enter the same sign as this new moon, Gemini, and not stay the normal six weeks in the sign but a whopping seven months. Mars will not leave Gemini until March 25, 2023. I would like you to watch what comes up at this new moon, for it may offer a reliable clue to what may be coming in the second part of the year. If you are in the process of a divorce, the paperwork to get to a settlement could take quite a long time. If you're dealing with an inheritance, have patience, as the same outlook holds—it will take time and could take you to the end of March 2023.
In case you are assuming that nothing else could possibly be happening in May there is one more aspect, and it is a spectacular one. One day prior to the new moon, on May 29, Mars will be conjunct Jupiter, the giver of gifts and luck. These two planets meet every year and always in a different zodiac sign. This time they will meet in Aries, your house of work projects.
The last two times they met in Aries was May 1, 2011, and before that, June 16, 1975. The next time Mars and Jupiter will meet in Aries after this month will be on April 12, 2058. As you can see, this is a rare event, and this is also very positive for you.
When Mars conjoins Jupiter, action leads to profits and growth. Mars is one of your rulers, and Jupiter is all about the cornucopia of good fortune, growth, and luck. These two planets will conjoin in entrepreneurial Aries, so you may be involved in high tech or an innovative invention, and it may be ready to go on the market in early 2023. You seem to be playing a leading role in the planning. Furthermore, these planets are moving slowly, so they will absolutely form part of the beneficial, financially oriented new moon on May 30 in Gemini. This new moon could turn out to be very helpful to you.
This month is ending on a very happy note.
SUMMARY
As the month opens, you may be focused on your partner, in love or business, and wondering why this person is acting unpredictably, out of character. You may or may not enjoy being surprised by your partner—you have to see how things go. The cause of this is an eclipse that appeared April 30, the day before May began, that you will be dealing with for the coming weeks in May.
Eclipses are known to speed up timetables, so if you had assumed, for example, you might get (or give) a proposal for marriage a year from now, instead that plan will not wait—it may happen now. Alternatively, changes in your partner's life may have a direct bearing on your life too, so be all ears when your spouse speaks up. If you are not married and not coming close to a commitment, you might be working toward creating a serious, binding business alliance with a contract at its foundation.
If you are presented with papers, don't hurry that paperwork along, for Mercury will retrograde from May 10 to June 3. That is not a good time to create any long-lasting agreement, so if possible, sign in the first few days of May. I love May 3, but don't go much later than that. May 3 holds a feature of 2022, the interplay of two major financial planets—Jupiter and your ruler Pluto. This will be a rare day that holds much potential for profit for anything you are working on now.
Don't skip the step of showing the contract you are drawing up to your lawyer—if the deal is meant to be, taking the time to do things right will be worth the extra time. Scorpios born within five days of November 2 are most likely to feel the energy of the April 30 new moon solar eclipse.
Your career is ruled by the Sun and may also bring a note of unexpected news. Thinking about the changes that are coming up and then sorting out what you'd like to do in response to those changes might take time. Shifts are due to the solar eclipse that came by April 30, but because this eclipse will be ultimately friendly, you will have a number of solid opportunities come your way. You tend to like things to stay stable—"as is"—but even so, you will come to see that ultimately change can be a positive force.
Eclipses always come in two's, coinciding with a new moon and full moon, so the second eclipse will arrive May 15/16 as a full moon lunar eclipse in Scorpio. This one will affect Scorpios born November 17, plus or minus five days. While the first eclipse, April 30, would affect your partnerships, the May 15 eclipse will allow you to voice your thoughts and have the universe favor your position.
Good-fortune Jupiter, compassionate, loving Neptune, and active Mars are all in support of this full moon. Again, a partnership matter will still be your focus, and you will decide your role in the relationship—you may get engaged or married or, if unhappy, break up. If you feel there's hope, you might decide to go into couple's therapy.
As a Scorpio, you have two ruling planets, Mars and Pluto. As said, Mars is friendly, and Pluto will be, too. Pluto is currently in your communication and contractual sector (third house) and in fine angle to this eclipse, an indication that if you try, you can easily reach accord with the other party. A powerful, influential person may go out of his or her way to help you as well.
Since the end of 2021, you've hosted benefic Jupiter in your fifth house of love and children. This has likely been the area of your life that yielded the greatest pleasure—your private life. You may have met someone special if you are single and hoped to find genuine love in a relationship. If you are attached, you were able to get more attention from your spouse and have had more time to have fun together. You may be setting up new goals to work on together. Additionally, or alternatively, you may have had a baby.
Your creativity was boosted by Jupiter in Pisces too, so if you were not interested in romance or children (or even if you were), you may have seen you were able to express yourself artistically in a new and compelling way.
Jupiter is now getting ready to move to Aries on May 10 but will reenter your love sector, Pisces, from October 27 to December 20, 2022. After December 20, Jupiter will leave Pisces for good, not to return until April 2033, 11 years from now. (If you count from the time Jupiter entered Pisces, it would be 12 years.)
Jupiter always brings gifts, so from that point on, you will receive rewards in other areas of life. In Aries, Jupiter will brighten your assignment sector and bring you some of the most promising and engaging projects that you've seen in a long time. If you are self-employed, the projects will pay well, too.
No matter if you work for yourself or others, it appears the work will be new to you in some respect, the project(s) may be cutting-edge high tech or bring you into innovative territory in fields outside your main specialty but that you are qualified to work on. The point is, you will learn and grow from the work you concentrate on, and it appears you will be paid well. Although these projects may not give you an instantly prestigious title along with greater responsibility and power, those new projects you will help you to get the rewards, admiration, and recognition later.
The new moon of May 30 will find you studying your financial picture in the weeks to come. You might assess your insurance needs, investigate how your retirement portfolio is doing, apply for university financial aid or, if you plan to buy a house, put in an application for a mortgage. Mercury is retrograde most of the month (beginning May 10), so don't send in any applications quite yet, wait until after June 3 to act.
Eclipses can bring completely unexpected news, and you are a fixed sign and like things to stay stable. That can't always be possible, but upon a close look at both eclipses, they are moving you to a new and better place. Have faith and be optimistic.
Jupiter in the sixth house, which you will have when Jupiter tours Aries (May 10 to October 27), can likely give you new software and computers to do your work.
If you need to hire new team members to get all the work done (and that's possible because business will be brisk), Jupiter will see to it that you have no problem finding qualified workers to hire, and they will be people you can afford. As a rule, hiring workers is usually the hardest problem that company owners face, especially with the recent arrival of the Great Resignation—where workers are quitting their jobs at record numbers during the pandemic—so the difficulty in locating good workers has become magnified. This won't apply to you—the workers you find will be sent from heaven.
If you are out of work, Jupiter, which expands all it touches, will allow you to attract many interesting offers. If you hope to open the doors of your new business, you will have the motivation and willingness to do the necessary preparation. When Jupiter reenters Aries on December 20, 2022, the good news is that he will remain in that sign until May 16, 2023.
What a whirlwind of a month you have before you.