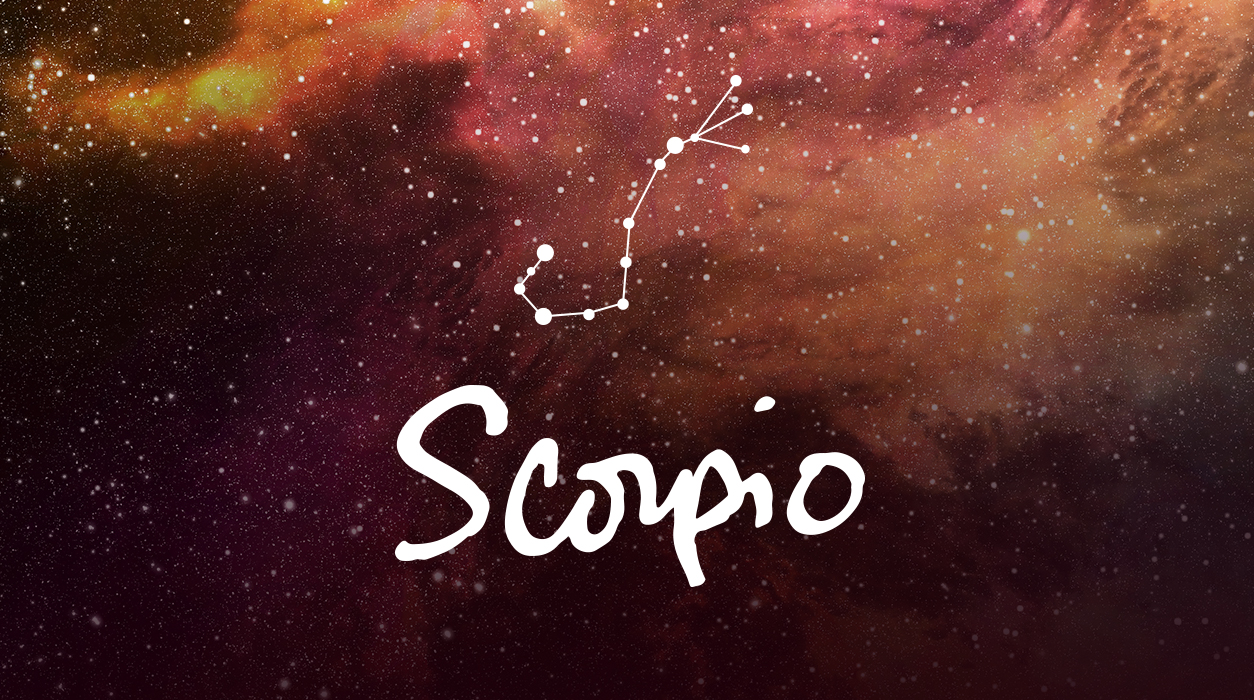 Your Horoscope for Scorpio
As you begin June, you have finances on your mind. The new moon that occurred on May 30 in Gemini, 9 degrees, lit your eighth house of other people's money, so as you enter June, you have several ways to use this new moon to your advantage. It can help you see more money flow into your bank account or cover costs through insurance, sponsorship, or financial aid.
If you were interviewing for a new job, you seem to have reached the point when salary and benefits come up for discussion. While salary is a second house matter, this new moon deals with your health insurance, flex time, more vacation days, or how many weeks of maternity leave you can be given after you give birth. Ask, and do so in the first week if possible. If you are not changing jobs, you can still inquire whether you qualify for better health insurance.
If you are getting ready to buy real estate and need a mortgage, or if you are self-employed and need a line of credit or infusion of venture capital, the first 10 days of June is the time to apply, the closer to the start of June the better. A new moon doesn't just affect you for a day or two but for weeks and months, although the strongest energy from that new moon appears immediately, in first the 10 days after that new moon appears.
There are other possibilities too, to use this new moon in your eighth house. If you were named in a will and are waiting for your inheritance, as the lawyers go through probate, you can inquire about how much longer it will be until funds designated to you will be released. If you are beginning to enter into a divorce or want to end a partnership in a business, dividing property in a fair way is always the goal—open talks at this new moon May 30 and the days and weeks that follow. The earlier in June that you open discussions, the better.
If you need financial aid to go to college or a grant to do research, fill out the forms in early June, or if you need to check the royalty or commission statement with a partner, this would be the time to start. If you were named to be the executer of an estate of a family member who has passed, you will be concentrating on this matter for several months.
On a more general level that most Scorpio readers will be able to relate to, you may want to meet with your broker or financial advisor to see how your retirement investments are doing and make changes or tweaks if necessary. You might review your recurring charges on your credit card statement to see if you'd like to delete any subscriptions you no longer need or sign up for new ones. You may want to review your credit score, and if you feel you'd like to raise it a bit, there are apps that can help you with that. There are apps to help you locate the gas stations in your area that charge the best prices for gas. Review your insurance needs too when you are doing a review of your entire financial situation.
A new moon opens the conversation, and matters are usually finalized by the full moon of the same sign, six months later. If you have a complex matter, one in the courts, it is likely to be resolved through arbitration or court order at the full moon in Gemini December 8, or at the latest, March 16, 2023 (this date doesn't relate to a Gemini moon but other more complex aspects that will be beneficial to you).
On June 18, Neptune in Pisces, your house of true love, will send a beam to Venus in Taurus, your committed partnership/marriage house. This evening will be made in heaven.
Occasionally, when you have a strong emphasis in the eighth house—the house of transformation and finance—you might go into the hospital to have surgery you need. The transformation happens when the surgeon removes the part of you that is hurting you or repairs the part of you that needs intervention and then allows your body to recover.
I remember once, before I had started my website, I was looking forward to a new moon in my eighth house. Actually, it was a solar eclipse, June 30, 1992. I was still an agent for commercial photographers (my love of astrology was still a secret to the world), and I worked on all commission. I had two small children, and I felt I could do well financially with that new moon and thereby take good care of them. As things turned out, money came in—but not in the way I had expected.
My leg, which was damaged from birth, broke by me simply walking across the room in my apartment. My doctor discovered that leg had a chicken-bone-thin femur, and it had no marrow—no wonder I had broken my femur four times, requiring 18 months recovery each time because they could never operate as I would bleed too much.
That day, I went into the hospital by ambulance and had a very serious operation, requiring 18 blood transfusions. To recover, I had to remain home a full year, promising not to go outside so the leg could heal and allow new bone to grow around the titanium rod my doctor inserted.
The money I expected didn't come from commission at my job, it came from my Blue Cross health insurance, and of course, the payment went directly to the hospital. I stayed in intensive care for a week and in my hospital room almost a month, so the medical costs ran into the high six figures. However, the insurance covered the costs nearly completely, and as I healed, I saw my leg transform into a new, strong condition. I had to go through an ordeal, but in the end, it as a big success.
If this new moon in your eighth house is associated with surgery, you would not likely have anything as complex as my surgery—mine fell on an eclipse, yours does not—so yours is likely to go easily and quickly. Additionally, you are lucky, for at this new moon, you have Jupiter and Mars supporting you. Jupiter covers many things, and he is called the Great Healer, Mars rules the sharp instruments the surgeon needs to use, and both are supporting this new moon.
My point was to say the insurance paid the very large hospital bill, and I was grateful.
If you are to have surgery, call your insurance company in advance (or in my case, I asked my family to call once I arrived at the hospital). Do so before any procedure is done, as insurance companies always like to know and approve in advance all that is about to happen.
There's something else to say about this new moon. It will be supported by both Jupiter and Mars—that's support on a level I have rarely seen!
Let's now look at that very special aspect that happened on May 29—the meeting of Mars and Jupiter—that will still be influential in the first week of June. Mars is one of your two ruling planets (Pluto is the other), so Mars carries extra weight in your outlook. On May 29, these two planets were conjunct in the entrepreneurial sign of Aries. This is a gorgeous, powerful aspect, for Jupiter is about expansion, financial gain, luxury, and happiness. Mars is about action and competing to win.
I look forward to this conjunction whenever I see it coming, and you should, too. We only get a conjunction of Mars and Jupiter once every two years, and they always meet in a different sign. This time Jupiter and Mars met in Aries on May 29, and next time these two planets will meet in Gemini on August 14, 2024.
As you enter June, there will still be energy and light in the embers of the conjunction of Jupiter and Mars. You can benefit from it during the first week of June. With this aspect, action (Mars) leads to considerable profits (Jupiter). Take advantage of it!
Watch what topic comes up as you enter June, for that topic will become a bigger focus as you get to the end of August when Mars will enter Gemini, to stay for seven months. The new moon of May 30 will give you clues of what is to come.
Now let's zoom forward to the full moon of June 14 in Sagittarius, 23 degrees. This full moon could allow you to finish up certain financial talks or tasks, such as to pay a large credit card bill or send a tuition check to university. At this time, if you had asked for a raise earlier, you'll hear the answer. Be careful not to ask for so much that you distance the person whose support you need. You might now buy something expensive, such as a house, a car, a piece of art, designer handbag or luggage, or an airline ticket for an exciting trip.
If you decide to put money away to save at this full moon, Saturn will be in agreement with the Sun, so if you do your research, you will pick a tried-and-true company to invest in. (Saturn is conservative in nature in all things, including financial investments.) If you keep the money invested in the blue-chip company that you choose, Saturn's long-term, encouraging outlook for you at the full moon suggests you will make a tidy profit in time.
There is one sticky aspect, and it has to do with Neptune in hard angle to the Sun and moon. If you have to sign a contract, you may not have all the facts you need to make an informed decision. With Neptune cranking out fog at the time of the full moon June 14, you need the counsel of your lawyer—don't try to save pennies by not calling her or him. I would like you to get away from the full moon when you sign—see if you can wait until June 28, the new moon in Cancer.
Mercury was retrograde last month in Gemini, your money house, so you may have been frustrated with checks held up or found inaccuracies in your credit report or bank statement. If anyone owed you money, you are likely to have received excuses, but no check. Sometimes when we have Mercury retrograde in a financial house, we lose something costly, like a cell phone or an expensive piece of jewelry. Thank goodness Mercury will turn direct June 3. You will feel a push of enormous energy when it does. Wait a day or two after June 3 to make any big initiation.
Now let's turn to a new moon you will love, coming by on June 28 in Cancer, 7 degrees. This new moon will open opportunities in your ninth house—your distant travel house. This new moon will allow you to go near or far, and you may decide to bring a family member along. You can have more time to have fun with children, your siblings, parents—you decide. You certainly will be in the mood to be in a new setting, most likely near the ocean, a lake, or a stream, as Cancer is a water sign just like yours.
All Scorpios of every birthday will love the days and weeks to come after that new moon arrives. You will get a double dip of pleasure if your birthday falls on October 30, plus or minus five days. The same is true if you have your natal moon in Scorpio or you have Scorpio rising at 7 degrees. If you have your natal chart, look to see if you have any natal planets within five degrees of 7 degrees Scorpio, Cancer, Pisces, Taurus, Virgo, or Capricorn. If you do find a planet that fits those qualifiers, that planet will help you enormously.
After all the financial calculating you will be doing most of the month, you will crave a little fun travel after June 28 into July.
SUMMARY
Money management will consume much of your time as you start June. The new moon that appeared on May 30 in Gemini lit your solar eighth house of other people's money. This new moon is a friendly one and will reach out to active Mars and good-fortune Jupiter in your work-a-day sector, suggesting that your employment history will factor strongly into your ability to get a new job, a raise, or if starting your own business, an infusion of venture capital or a bank loan with favorable terms.
Mercury has been retrograde since May 10, so if you do apply for a loan or grant, make your application just after Mercury goes direct on June 3 for your best likelihood of a quick, successful answer.
By June 14, the full moon, your examination of your financial status and any tweak you need to make to your financial picture will be complete. (Add five days to June 14 as the area of influence of this full moon.) You might now send out a large check to cover a previously made obligation. Saturn, the planet of stability, will be beautifully oriented to this full moon, so you are likely to feel more financially secure after this full moon has fully waned. Many Scorpios are thinking of moving, and if that includes you, you may be ready to invest in a condo or house. Saturn's position will have lenders looking favorably at your paperwork, so by mid-June, you may get news that you are pre-approved for a mortgage.
A little over a month ago, on April 30, you had an eclipse that affected a close, committed partnership. That eclipse could have focused on your marriage partner, steady sweetheart, or on a close, committed business associate or collaborator. If your birthday falls within five days of October 23, you may be dealing with changes affecting your finances related to the news you heard as a result of that April 30 eclipse. (The news may have been delivered at that time, in the first week of May, or later in the last days of May).
At your office, business will be brisk with a steady stream of new projects being discussed, approved, and sent your way to begin. The rapid pace will continue until Mars, one of your two rulers, moves to a new sign on July 5. Be sure to take breaks during the day as your productivity will remain high if you do.
When it comes to romance, the twinkling stars overhead will favor Scorpios who are attached (married or seriously dating in an exclusive relationship). On June 18, Neptune in Pisces will send a beam to Venus in Taurus. Both Venus and Neptune will be in their "home" signs—the signs they rule—making this aspect strong. Neptune is in your house of true love and is considered the "higher octave" of Venus. Venus is the planet that sets off the initial spark of love, and then Neptune takes over, to bring it to a higher level. Venus in Taurus is in your committed partnership/marriage house. Pisces and Taurus both get along well with your sign—this evening will be made in heaven.
With financial talks swirling around you most of June, you may crave a trip in the days or weeks after the new moon appears, June 28. You will need to clear your mind of all the details of financial talks and have fun. Even if you have to travel for your work, which is possible, you will enjoy your time away. This new moon is in Cancer, so choose a beautiful, inspirational location near a body of water. If you have a family, invite them to come along for an unforgettable time together that you will always treasure.