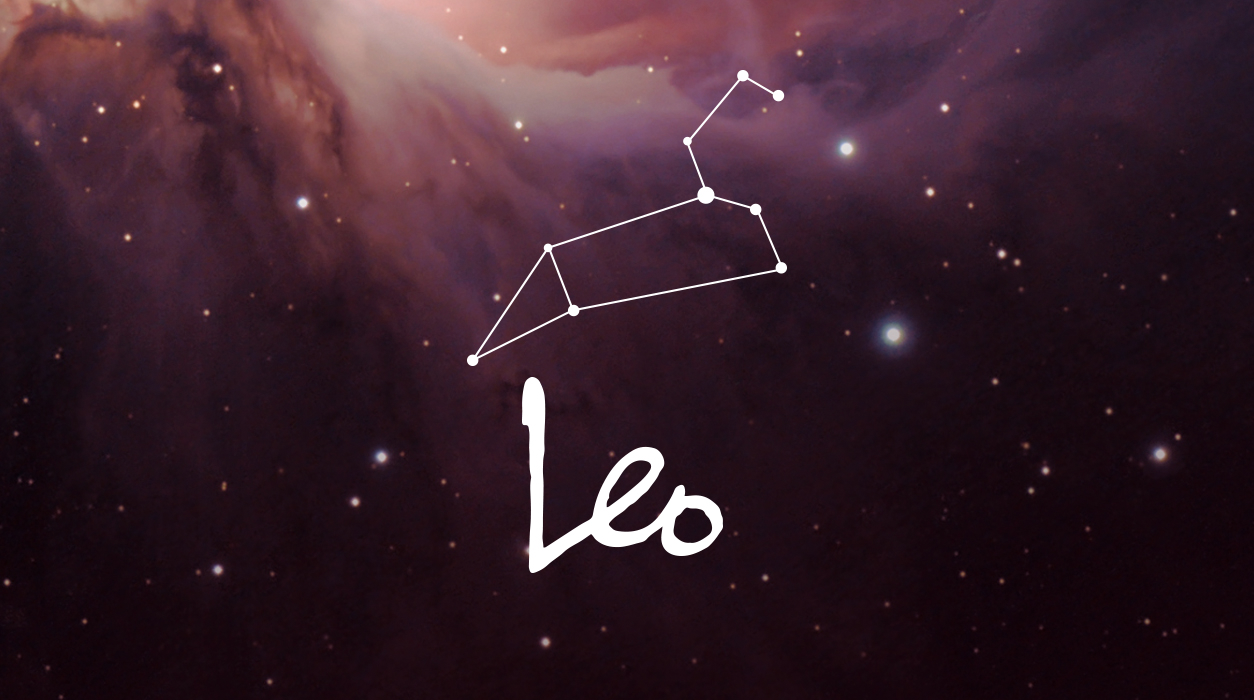 Your Horoscope for Leo
Every once in a while, the universe starts to lose patience and takes a strong hand in all of our lives. It does that by sending a set of eclipses, almost always, like now, two at a time. The first eclipse already came last month as a new moon solar eclipse on October 25 in Scorpio, 2 degrees. The second eclipse will arrive as a total eclipse of the moon in Taurus, 16 degrees, on November 8. This will be a total lunar eclipse which will bring some sort of ending.
Last month's eclipse might have brought opportunity to move or to find ways to spruce up your home. You might have, alternatively, put a deposit down on a vacation home or scheduled repairs or a paint job. If you needed furniture, you might have begun to browse furniture shops. Or you may have visited a parent and, while at their house, found ways to be helpful to your father or mother. Solar eclipses are generally friendly for they align with new moons and mark a start of some kind. If you want to open a new chapter in regard to home and family, last month's eclipse would have allowed you to do that. I wrote a lot about that eclipse last month, and you can access last month's report on my app ("Astrology Zone Horoscopes, Susan Miller" on the Apple App Store and Google Play) by swiping on the top of the screen to last month's forecast. On the Internet, on Astrologyzone.com, you can easily find where to go at the bottom of every page of your forecast—look for the blue box that says View Previous Month.
The second eclipse, due this month on November 8 in Taurus, 16 degrees, won't be as smooth as last month's eclipse. It will light your tenth house of career, reputation, and professional progress, and directly oppose the Sun in Scorpio, 17 degrees, your fourth house of home. This full moon will be a total eclipse of the moon, so a woman client or boss might leave (be "eclipsed out of") your everyday life.
Uranus, the planet of disruption, chaos, unpredictable events, and idiosyncratic, even weird behavior, will conjunct the tender full moon in your house of fame and honors and directly oppose the Sun in your house of home and family. It seems both areas will be busy, and you may wonder which area to give your attention at times—everyone, it seems, will need you in both arenas. The Sun is your ruler, but because of Uranus, news will come out of the blue. Something is ending—it could be a business or other relationship, or represent a tipping point in your career, and you'll decide to take your work in a new direction.
As if you needed any other planets stirring the pot, you have one—Saturn will be in the middle of a tug-of-war between the Sun in Scorpio, 17 degrees (home sector), and the full moon in Taurus 17 degrees (career sector). Saturn, the planet that teaches us lessons in life and also brings wisdom and maturity, is right in between in your partnership sector Aquarius, 18 degrees, forming what's known as a T-square of tough energy.
It could be that changes at home and at work could be rattling your marriage partner or causing conflict with your business collaborator/partner/expert you hired. In early November nothing is easy. It seems that things going on at home, with other property you rent, own, or will sell, a renovation, or the welfare of a family member will require your attention, too. Try not to overbook your schedule because when this full moon strikes, you will likely be pulled into a different scenario.
As you enter the holiday season, you will be in a far happier, more optimistic mood than you were when you started the month.
What makes this aspect so difficult is that it involves Taurus, Scorpio, and Aquarius—all fixed signs like yours (Leo is the fourth and final fixed sign in the group). Fixed signs are not known to compromise or change their opinion easily, so you have a tough situation with all parts of this situation stuck, and no one willing to move an inch to make it better. In other words, it is a brittle situation. If you have a mutable rising sign (Virgo, Pisces, Gemini, or Sagittarius), you can probably come up with many alternative solutions, but if you do not, then hopefully you have a flexible, experienced lawyer or agent who can help by mediating.
When it comes to unlocking this situation, clarify in your mind what would make you happy. Saturn's starring role in this eclipse will urge you to be realistic and unemotional when sorting out the situation. (I realize this is easier said than done.) If you can be practical, you will get to a better place and see what "is"—all that would be possible—not how you wish things could be. Sometimes we badly want a certain outcome, but it is simply not realistic or in the cards, so strive to see things clearly. It will be the best way to open talks so that you can resolve the deadlock.
You may have already felt the news of this eclipse last month at the October 9 full moon. I say that because 10 percent of my readers will feel an eclipse one month to the day early, plus or minus four days. This is true with any eclipse. Another segment of readers, 15 percent, will feel an eclipse one month to the day later, so that would mean you might hear news at the full moon next month, on December 7, plus or minus four days. A full 75 percent of readers will notice news right on the date of the eclipse (November 8), plus or minus four days. Astrologers view time differently from others in the world—we use bell curves, and the difference in timing has to do with the degrees of the eclipse.
You are likely to notice the effects of this eclipse if your birthday falls on August 9, plus or minus four days. The same is true if you have Leo rising at 16 degrees, plus or minus four degrees. Also look to see if you have a natal planet in Taurus, Leo, Scorpio, or Aquarius at or within four degrees of 16 degrees. If you do, that planet will be touched by this eclipse, so keep an eye on what happens.
Jupiter is in a very good position and will protect your income. Jupiter, in his long retrograde motion that started July 28, arrived back in Pisces on October 27 last month. Jupiter is now in your eighth house of other people's money—commissions, royalties, bonuses, cash advances, bank and student loans, mortgages, home improvement loans, and so forth. Those type of funds will be beautifully protected. There's more good news. Even though Jupiter has been weak in retrograde orbit, he will turn his power back on when he goes direct on November 23. This will be great for your income! If you've been working hard and not seeing the fruits of your labor, you have a good chance of doing so in late November and the first three weeks of next month, for Jupiter is set to stay in the financially lucrative spot for you, Pisces, until December 20.
November 23 is important for another reason. It's the date of the new moon (not an eclipse) in Sagittarius, a very enchanting new moon that will appear in your truelove sector. This new moon will arrive with her entourage—her partner the Sun, along with Venus and Mercury, all in Sagittarius—all filling your fifth house of true love. The Sun and new moon will receive golden beams from Jupiter too, in an out-of-sign trine (a divine aspect), so this tells me as you enter the holiday season, you will be in a far happier, more optimistic mood than you were when you started the month. A new moon opens a trend, one that can last for six months, so this is wonderful news. You will be stepping out and enjoying every minute of the festivities now and in the weeks to come.
Venus will be in Sagittarius, a perfect place for you, which she entered on November 16 and will remain until December 9. Use that time to stock up on things to wear to all the parties and events you will be invited to. You've been under a lot of pressure, so adding a few items to your wardrobe will boost your morale and give you the little spark you need to leave the house with confidence. Love is in the air, dear Leo.
SUMMARY
You have just experienced a positive new moon solar eclipse in Scorpio on October 25 that is about to open a new chapter in your home life. All solar eclipses are new moons, and they tend to open up paths to fresh opportunities. Solar eclipses are important to you, for as a Leo, you are ruled by the Sun, so solar eclipses have a way to affect you more directly than most.
Alternatively, you may have had a happy development within your family that would have likely come up late last month, just after the new moon solar eclipse October 25. (If not, think back to the time near September 25—10 percent of Leos received their message at that time.) Your sister may have given birth to a baby, or you may have heard your mother is recovering well after treatment or surgery. If a family member has been ill, that eclipse may have added responsibilities to your shoulders, but you would have taken them on willingly.
Alternatively, that eclipse may have set off an opportunity to find and bid on a new house or apartment you may be excited about moving into soon, as an example. If you need money to take advantage of the opportunity that came up, the money will appear from a bank or other source just when you need it most. In other words, a lack of money won't hold you back.
Just when you feel you've had enough changes in your life, a full moon lunar eclipse will come your way in Taurus, your tenth house of career reputation on November 8. This eclipse will set off volatile, chaotic, and unpredictable news because Uranus, the planet of unpredictable events, will be active. Uranus will be conjunct the moon and in opposition to the Sun, and at the same time, Saturn, watching all this from your partnership/marriage house, will add pressure on both the Sun and moon, too. It seems your manager, agent, or even your spouse won't be helpful and could actually make matters a bit worse by pouring salt in your wound.
If something has to change regarding your career, it will happen now, in November, especially if your Leo birthday falls within four days of August 8. Sometimes a situation has run its course and is of little future value. No matter what you think will come up, something different will, for when Uranus is active, there's no way to guess. All you can do is to keep schedules clear and open, and when news strikes on or near November 8, be practical—Saturn will insist that you remain realistic. You won't be able to bring things back to the way they used to be—you can't go back in time—so the only path is forward.
You will have strong help from good-fortune Jupiter and powerhouse Pluto, so you may find a way to actually come out ahead financially by all the changes you experience and solutions you institute now. Often in the midst of change, positive, fresh opportunities emerge that you would otherwise never have come to know or take advantage of. This seems to be one of those times.
Although the first part of the month may bring some sort of unexpected and unwelcome surprise, just the opposite is due later. By the time you get to the new moon on November 23, you will be ready for over-the-top romance, fun, and possible distant travel. You will also have time and fun with children, if you have them, all adding up to a powerful, joyful focus that this new moon will put on your private life. Money seems to find its way to your door too, thanks to Jupiter's strong involvement with this new moon November 23. Meanwhile, Mars is stirring up a whirlwind of holiday festivities that will have friends calling and finding ways to pull you out of the house. All Leos will benefit from this new moon, and those born on July 25 (minus two days and plus five days) will get a double dip of pleasure.
Adding to the social elements of this lovely new moon, Mars, still in highly compatible Gemini where this energetic planet entered on August 20, is working to increase your interaction with friends and to enjoy romance, too. Mars is retrograde, so you may see friends from your past during this holiday season, and that will be fun. Mars is set to stay in Gemini until March 25. Wow, this is great.
As you see, November will divide the month in two—while the hard part comes first, as you see, when it comes to you, dear Leo, the universe has saved the best for last, at month's end.