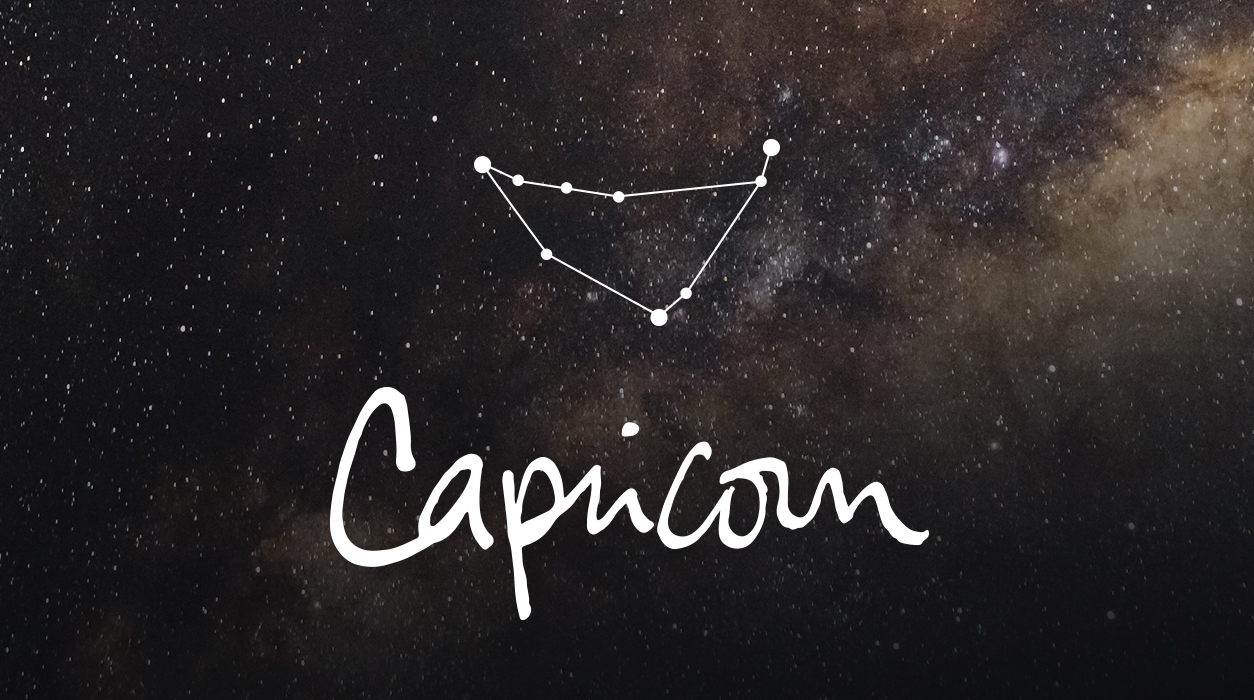 Monthly News from Susan Miller
MAY 2022
Dear Reader,
This is a big month! Two eclipses are due, the one April 30 was a new moon solar eclipse in Taurus, and it will affect you for six months or more. The second eclipse will be a total eclipse of the moon (lunar full moon eclipse) in Scorpio, and it will affect you near the time it will occur because full moons tend to deliver news quickly and bring conclusions or endings—something ends and something else begins. Two weeks later, a sweet new moon (not an eclipse) in Gemini will appear on May 30. That is not half of what's happening in May!
Your May Horoscope for Capricorn
Your chart is buzzing with activity, and you will see progress on several fronts, many of them in your personal life, but your career (always a focal point for a Capricorn) will bring a sterling opportunity. There is plenty of unpack, so let's get started.
An eclipse actually appeared one day before May began, on April 30, in Taurus, 10 degrees. It lit your fifth house of romantic love, an area of your chart that also rules pregnancy, birth, and the care for children of all ages, including your grown children if you have them. This house of your solar horoscope also rules your creative efforts. One or more of these areas will capture your attention. Eclipses can affect you for weeks, and with a new moon solar eclipse, like this one, it can affect you for up to six months or more. The message of the eclipse, however, would arrive now.
Eclipses tend to bring a floodlight of truth to the part of life it trains its powerful spotlight upon. Afterwards, you may say that you had no idea that a partner or child who is close felt the way they do. Uranus, the planet of surprise, entered shoulder to shoulder with the Sun and new moon solar eclipse, so it is hard to say how you will feel when you discover this truth—you may be horrified or completely thrilled. Uranus, called the Great Awakener, tends to speak in the extremes, suddenly pushing truth toward you. Eclipses work to your benefit, to open your eyes to something you need to see, to protect you.
You could meet someone new to love (great!). A pregnancy could come up which could make you happy (or not)—if this is a scary prospect, be careful, for this could easily happen with your fifth house of baby packed with encouraging planets. If you already have children, you could see one of them celebrate a victory or milestone.
Alternatively, you may get a creative project, which will become a jewel in your crown. I can't see everything in your chart, but from what I can see, I feel you will like the effect of this eclipse very much, and I will explain why.
This eclipse arrived in Taurus, a sign that blends beautifully with your Capricorn Sun. That alone could create harmony and happiness. Secondly, Mars, now in compatible Pisces, your communication sector, will send a powerful, supportive beam to the Sun, new moon eclipse, and Uranus—all three—in your house of true love, so you may be making a commitment at this time, in early May. You may accept a marriage proposal, decide about something you want to do for a child, or commit to a creative project for a client, or for yourself, to show later when its finished.
If you have been dating but are unsure about how serious you are about that person, this eclipse will help you decide when you are sent more information. Again, that information may make you love that person more, or less, depending on what comes to the surface. I am optimistic.
It appears a VIP will support your aims and help you get to where you want to be. Don't be afraid to ask an influential person for help or a favor.
If your birthday falls on January 1, plus or minus five days, you will directly feel the effect of this eclipse. The same is true if you have Capricorn rising or your natal moon is at 10 degrees Capricorn, plus or minus five degrees—you would also feel this eclipse quite noticeably. If you have your natal chart, look to see if you have a natal planet within five degrees of 10 degrees in Taurus, Virgo, Capricorn, Cancer, Scorpio, or Pisces, for that planet will be the beneficial planet in your chart and could help you see a happy result.
Something else happened on the April 30 eclipse that will affect you for several days afterward. It involves Jupiter and Venus in rare conjunction and brings a blessing to your career. Graceful Venus rules your tenth house of fame and honors, and Venus conjoined Jupiter, the giver of gifts and luck, right on the eclipse. Venus was in Pisces, the sign astrologers know brings Venus to exaltation, for Pisces allows Venus to express her best qualities. You may have heard very good news about your career near May 1, or soon will.
Remarkably, Venus not only rules your career but also your love life (fifth house), as well as matters related to children and your creative projects. Love planet Venus was spotted having dinner in a swanky restaurant with her friend, good-fortune Jupiter, and patrons there reported overhearing Venus and Jupiter discussing ways they can help your love life and all the other matters ruled by the fifth house—that is precisely where the eclipse fell, so this is incredibly good news for you.
The second eclipse will be a total eclipse of the moon on May 15/16 in Scorpio, lighting your eleventh house of friendship. Again, Scorpio blends beautifully with your Capricorn Sun, so that fact works strongly in your favor. There is symmetry in astrology, so with the first eclipse, April 30, you focused on romantic love (fifth house). With this eclipse, you will think about your platonic relationships (friends) for the house precisely opposite on the horoscope wheel will be accented.
Uranus will be active, but his opposition to the full moon is 10 degrees away from a direct opposition. That's still within the area of significance, but exactly on the borderline. (I allow 8 degrees for an aspect from another planet to a normal full or new moon, but I allow 10 degrees of space between two planets in conjunction or opposition or other aspect for an eclipse.)
I am not sure if you will feel the jarring, surprising, sudden news of Uranus regarding a friend, but you might. If a friend gives you information at this eclipse—most likely in an offhand way—you may find it too much to bear and leave that friendship. However, there are some sweet aspects going on simultaneously to help the situation. Mars will be in perfect angle to the full moon eclipse, offering a comforting sense of security, and Neptune, traveling with Mars and also beautifully angled to the full moon, can offer inspiration and unconditional love.
It is possible you will experience a major social event, such as an invitation to your best friend's wedding. Or you may be going to a convention that will prove pivotal to your career progress after you learn more about what is happening in your industry. My point is that anything that happens on an eclipse is usually important, for eclipses often bring news with lasting impact for weeks, months, and possibly forever. Their impact cannot be underestimated, so watch what comes up at this time.
Your eleventh house, where the May 15 eclipse is located, rules not only friendship but also groups, so you may be elected to chair an important committee of a club, or even be elected to be president. You might be a controversial candidate for the position, so some swirling opinions among those in the organization may arise, but you can win those doubters over by presenting an organized, well thought-out plan. You may put on a charity function at this time and raise more money for the cause you support than anyone in the history of that charity. Do you think that's impossible? I did that once for a fundraiser I headed up—it makes you feel incredibly happy.
Powerhouse Pluto in Capricorn will be in perfect angle to the Sun on May 15 too, and that's in your favor helping you achieve anything you set out to do. It appears a VIP will support your aims and help you get to where you want to be. Don't be afraid to ask an influential person for help or a favor.
Saturn will square the Sun at this lunar eclipse, however, presenting an obstacle—money may concern you, and you may not be able to spend as freely as you hoped, but this seems temporary. Saturn is your ruler, so this aspect shows you will work hard, but you've never been one to shy away from hard work.
If your birthday falls on January 15, plus or minus five days, you will feel this eclipse directly, and the same is true if you have your natal moon in Capricorn or Capricorn rising at or within five degrees of 25 degrees. The same is true if you have a natal planet within five degrees of 25 degrees of Taurus, Virgo, Capricorn, Cancer, Scorpio, or Pisces. If you can find one, that planet will help you as well.
Over many months, you have had a lot of emphasis on communication in your chart. I imagine you have been honing your skills in writing, editing, speaking, translating, coding, or in doing factual or library research. You may have been working with a team to produce a book, screenplay, new website design, series of podcasts, an app, or other such project for introduction to the marketplace. Good!
Whatever project you've worked on, it appears to have given you a great sense of joy. Jupiter was helping you see impressive growth on that project. Now at the eclipse, Mars in Pisces will reach out to the Sun, lunar full moon eclipse, and Uranus, so it may now be coming to a critical mass, to the point where you may be ready to show influential people who can help you get to the next level with that project. On the other hand, you may be ready to show to the public who can enthusiastically support your ideas. Clearly, Mars is setting up a link between your communication sector (third house) and your creative sector (fifth house).
It could be that you are working on a contract, but if so, you need to be careful. Never skip the step of calling your lawyer when signing any legal paperwork. This time it is even more critical to follow that advice. Here is why:
Mercury will be retrograde from May 10 until June 3. You already started to feel the slowdown and cross currents that Mercury brings at the end of April. I would prefer that you not sign any contract during that time. If you need to, though, I have two days in early May that would be perfect for signing a contact, and I will discuss those days in a minute. I have friends who rush to sign the day prior to the retrograde and the day it turns direct. I keep shaking my head no. Don't be like my friends. Mercury always exerts his worst behavior at the front- and backend dates of the period. Leave a space of days before May 10—as much you can muster.
Here is a fantastic set of subsequent dates that would be perfect for making any kind of agreement: May 2 or May 3.
On these days, Pluto in Capricorn will reach out to Jupiter in Pisces—this configuration is considered a signature of success. Moreover, Pluto will be in your first house of personality and identity, and Jupiter will be in your third house of communication, which rules all the various disciplines of communication that I have been discussing, from writing to editing, speaking to negotiation—and including, among other things, contracts.
Your home and family life are beginning to become a center of activity, starting when Jupiter, the giver of gifts and luck, enters this part of your chart for the first time in over a decade on May 10. Jupiter will help materialize your dreams for home, property, and family life until October 27. Jupiter will come back to this area of your chart, Aries, on December 20, 2022, and remain until May 16, 2023. This has to be exciting news! To make sure you notice the glowing presence of Jupiter right away, Mars will move into Aries too, from May 24 to July 4. You may have started to think about moving or making changes in your present home right at the start of last month at the new moon on April 1.
Now, with the help of Jupiter and action-hero Mars, you can make a lot of progress, especially after Mercury goes direct on June 3. You only get a visit from Mars in your home sector (or any sector) every two years for six weeks, so the coming trend will be highly energized—you will feel motivated and ready to make plans. You can get a lot done. Mars will remain in your home sector until July 4. Your aspects glitter for home-related matters, so start thinking of what you'd like to do.
Capricorns are usually very close to family and make it a priority to celebrate birthdays and anniversaries, go to recitals, and gather everyone together when someone reaches a high point, like a graduation or major job promotion. That's why I know you will always be available to a parent if they need you. The house of home also rules the people who cared for you since birth (which would include your adoptive parents if you were adopted).
If you have no plans to work on your home or other property, helping a parent may be on the agenda now. Jupiter and Mars will help you find solutions for your parent for an entire year, and Mars will be on hand from May 24 to July 4. Remember, wait until after Mercury goes direct on June 3. You might have initially felt a little overwhelmed about how to best help a parent, but as you began to do research, you got the lay of the land, and suddenly ideas will occur to you.
As the month starts to draw down to a close, there is even more news. On Sunday, May 29, Mars will conjunct Jupiter in Aries, your solar home sector. This is great news, for while Mars and Jupiter meet every two years, they always meet in a new sign, and they rarely meet in Aries. The last time Mars and Jupiter met in Aries was May 1, 2011, and before that was back on June 16, 1975. After their meeting in Aries this month on May 29, Mars and Jupiter will not meet again in Aries—your home sector—until April 12, 2058. If you have any plans to upgrade your living style, start looking at your options.
What a glorious day this will be for any home-related matter! May 29 falls on a Sunday, and you can give a plus or minus three days of influence circling the date. This would be an ideal day to move into a new home or, if you have not found your dream space yet, to browse various listings. Mercury will still be retrograde but only for a few more days. You can plan to do something for home and family and then enact your choice after June 3. You might discover the perfect vacation home rental or new residence to move into during Mercury retrograde, but I would not close on a house at that time. It's too important—this year you might be making one of the biggest purchases of your life for real estate, so I want you to have the best date possible.
One day later, May 30, believe it or not, we have another new moon, but this is not an eclipse. It will be a warm and friendly new moon in Gemini, 9 degrees, and will stimulate your assignment sector. You may get two important projects to do, as Gemini is the sign of twins. If you are self-employed or in sales, you may bring in two new clients soon after in June.
Gemini is strongly associated with the communication arts. You may be writing, editing, doing public speaking, working on publicity, marketing, designing advertising strategy, writing the copy, or overseeing social media. There are many possibilities. You may need to travel, but only a short distance at this time, and it would most likely be for your work.
This new moon puts Mercury in the lead, and happily, Mercury will be getting support from Pluto in Capricorn, so this is a good sign that the opportunities that come up will be ones you will like and that will pay well. Pluto, after all, is one of the big financial signs. Jupiter, newly in Aries, will send greetings to the Sun and new moon on May 30, another sign you will like the offers. Jupiter is in your home sector, so I am wondering if you can do the work from home rather than go into the office, saving time and money for transportation—a win-win.
No matter what happens on that score, I advise you to make a comfortable home office because from now on, the best money will be generated out of your home.
If you are out of work, you will have a good chance of finding a job similar to the level you had before but, hopefully, be more enjoyable.
You have a lovely forecast, and so much is going on. You can achieve a lot this month.
SUMMARY
You have the potential for a very exciting month! First, Jupiter, the giver of gifts and luck, will be on the move, leaving Pisces and orbiting into Aries, your fourth house of home and family. You can move, renovate, buy new furniture, or order the painters or the contactor. Jupiter will enter this part of your chart on May 10 and stay until October 27 and then return to Aries from December 20, 2022, until May 16, 2023. That will offer you plenty of time to make a massive improvement to your home and family life. You should take full advantage because once Jupiter leaves, you won't have the element of luck that Jupiter so famously gives you in the area of the chart he visits. Don't settle for anything less than your dream situation.
If you have been concerned about a parent and hoping to help your mother or father in a substantial way, that will now be possible with an answer that both relieves and thrills you. Alternatively, you will simply be able to spend more time with your parents, perhaps by taking a fun trip of a lifetime together. (Jupiter is tied to long-distance travel.)
Meanwhile, this month, two eclipses will be affecting you at some level, for both will fall in social areas of your chart.
The eclipse that appeared April 30/May 1 lit your house of true love. As it was a solar eclipse—a new moon—if you are single, it opened a door to meeting new people. Eclipses are the most powerful tool the universe uses to effect change. Your chances of meeting someone interesting is better now than ever before, and this eclipse will play out in the days and weeks to come. This new moon eclipse of April 30 was conjunct Uranus, the planet of surprise. If you are hoping to find the love of your life, your best chance will be at a resort, but one not too far from home. Your third house, where Mars is, rules travel that is within a day's drive from your home, and Mars is beautifully linked to this eclipse in your fifth house of true love.
Travel to a luxurious resort will also help fan the fires of love if you're already in a romantic relationship, even if it's perfect as is! One or two nights away at a nearby resort would be all you would need to recharge your relationship and have fun doing it.
The eclipse April 30 could alternatively bring news of an unexpected pregnancy in the days ahead—perhaps this is news you've always hoped for after a long period of inability to conceive. If you are not ready for a baby, be careful.
This eclipse will also serve to encourage your creativity in a big way, so you may feel the eclipse that way. You may get an assignment that thrills you. Nothing ordinary tends to happen at eclipse time.
The month's second eclipse will arrive May 15/16 as a full moon lunar eclipse in Scorpio and bring a major social event for you to attend. It may arrive over the previous weekend, May 14-15 or, more likely, in the days that follow May 16. This event may have one or more of your family members present, along with friends. Pluto in Capricorn will be beautifully oriented toward the planets in your truelove sector, indicating you could enjoy a transformative, revitalizing experience from the event you attend.
As one of many possibilities, you can begin to cultivate an important new friendship at this event. Alternatively, to get you thinking, this gathering could be a humanitarian, charitable, or community event where you will volunteer to help a group or sector of society that desperately needs compassion, assistance, and possibly increased awareness of their plight. You can raise funds to increase help. You may meet a like-minded person who is as committed as you are to providing the assistance this group needs, and a close friendship may result. When it comes to charitable work, you could be very effective now.
Uranus will be present at this eclipse May 15, and I hope you don't feel this planet's jarring effect. If you are single, a close romantic relationship may give you pause, and if so, you will decide if you can repair the alliance or if you would rather leave altogether. Eclipses tend to push forward information forcefully, in black and white, so I hope you don't feel the suddenness of Uranus at this time.
Sometimes a person is "eclipsed out" of your life, say, when a friend marries and moves away, or if you became friends when you were both single, one of you has a baby and suddenly you have less in common. Sometimes we discover a friend was not the friend we thought she was, and it's devastating and disillusioning when that happens. I bring this up because Uranus is involved with this eclipse but in wide degree—I am not sure if you will feel this. Let's stay optimistic.
The new moon of May 30 could bring fascinating work—two assignments seem possible, tapping your abilities in communication in some way. This is not an eclipse, so the effect is sweet with no need to adjust. Just roll up your sleeves and get started. I think you will enjoy your work and do very well. If you can work from home, that would be ideal, for in the coming year, your best income will emanate from your home. Make a comfy home office, and you will be all set.