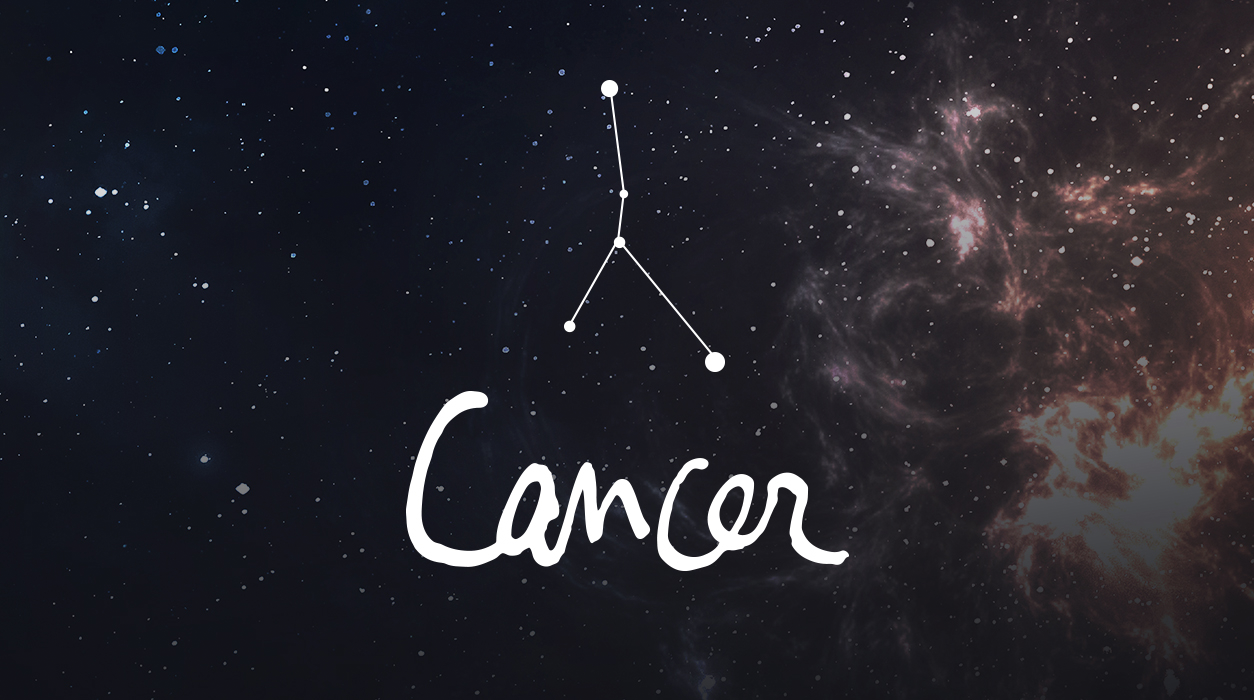 Your Horoscope for Cancer
You find yourself between two eclipses as you enter November, so you have a lot going on. This year the eclipses are focused on the Taurus and Scorpio family of signs—six months apart on the horoscope wheel and both highly financial signs—so aside from other messages the eclipse may bring, money is likely to become a consideration. Earlier this year you came through two other eclipses—a new moon solar eclipse in Taurus on April 30 and a lunar full moon eclipse in Scorpio on May 15. Think back to those dates, particularly May 15. Did something important happen in your life at that time? If so, the topic you were talking about in mid-May will now advance to a new level.
Eclipses come in a family of signs, always in pairs, as a new moon and full moon two weeks apart. They remain in one set of signs (like the current Taurus-Scorpio series) for 18 to 24 months—this family started November 19, 2021. They are the most dramatic method the universe uses to create rapid change. In many ways eclipses are a cleansing tool, for they seek out weak links along with things going on behind the scenes that are unbeknownst to you but that could hurt you if you didn't know about those discussions and plans.
Last month brought the first half of the twin eclipses—the one in Scorpio as a solar new moon eclipse on October 25. That one was fairly favorable for most Cancers (I cannot see your entire unique chart, but it looked good) and highlighted your love life. If you are single, you may have met someone interesting romantically and may want to get to know him or her better. Alternatively, the fifth house, where the eclipse appeared, might have drawn you to this person who holds special possibilities for you.
Otherwise, the eclipse last month may have caused you to pay special attention to one of your children, brought up discussions about having a baby, or provided news of a pregnancy. The other area that this part of your chart rules, the fifth house, is creative expressions. You may have been given the green light to begin an exciting new project. Solar eclipses like the one on October 25 often allow a heavy creaky door to open wide, and it is usually one that previously has been stubbornly locked shut.
As mentioned, that eclipse was generally positive (especially to Cancers born on June 23, plus or minus five days, or those with Cancer rising, 2 degrees, plus five or minus two degrees). Often an eclipse will force you to do what you could not bring yourself to accomplish. The eclipse is your friend, always, even if you feel tension in the air—eclipses get results, quickly. In hindsight, you will see it gave you an opportunity to discover something new in yourself—talent, strength, determination, or courage—and those are for starters.
The second eclipse, due this month on November 8 in Taurus, 16 degrees, will be harder to experience, for it will be more emotional, and you won't see its message coming. For one thing, it is a total lunar eclipse (a normal full moon that comes with three times the strength). With lunar eclipses, something ends, and something else begins.
It will light your eleventh house of friendship, community, or constituency as a long-held wish. What makes this eclipse hard to take is that Uranus, the planet of all things completely unexpected, will bring information to you and it will come out of left field. This news will not be anything you are expecting, and it could be jarring. Often the eclipse brings something unconnected to you—from the outside world—information that you are not aware of and did not have any involvement in, but the eclipse brings it squarely to your doorstep.
Once you get to November 23, Jupiter, still in Pisces, will turn direct with greater strength and will remain in Pisces until December 20. This practically guarantees an enchanting holiday season.
Mars is now retrograde in Gemini as of October 30 until January 12, 2023, so something from the past may come up that has to be addressed now.
It seems you may get the information from the eclipse accidentally, casually, or in a weird, odd way. When you receive the news, even if you don't want to hear it or believe it, you will recognize it as true in your heart.
This is a separating eclipse. It will most likely mean parting ways with a friend or associate from your community, and it may leave a scar. Betrayal, insensitivity, or a dismissive attitude (or a belittling one) is hard to bear, especially from a friend (soon to become a former friend). As a Cancer, you are ruled by the moon, so a total eclipse of the moon would always be more important to you than a solar eclipse. Uranus, which is playing a starring role, brings a rebellious, independent, and unpredictable atmosphere, and it rules electricity. Uranus will be conjunct the tender full moon. That is the reason just about everybody, of every sign, will be feeling like they've been zapped with Uranus' AC/DC electric beams.
This eclipse will also make your money unstable, and it could mean you would have to spend to ensure your son or daughter will be well-protected, perhaps with special lessons or a tutor, as two examples among other possibilities.
Saturn, the planet ruling the lessons we learn in life, will be in the center of this tug-of-war between the Sun (joined by Mercury and Venus) and the full moon (conjunct Uranus). That means Saturn in Aquarius, 18 degrees, will be square (90 degrees) the Sun in Scorpio, 17 degrees, and the full moon in Taurus, 16 degrees, an aspect associated with blockages and obstacles. Saturn is based in your eighth house of other people's money, including loans, credit cards, refinancing plans on a mortgage, and so forth. It's money outside of salary, although bonuses, commissions, royalties, and licensing fees would come under this house. It appears what is going on at the November 8 eclipse might affect your income or spending as an unwelcome but necessary expense. If you are in divorce talks or discussions about the end of a business where assets are being divided, do not settle near this eclipse.
At the same time, keep in mind that Mercury will go retrograde again December 29, 2022 until January 18, 2023.
Admittedly, this eclipse on November 8 at 16 degrees Scorpio is a sign that blends well with yours. This tells me that this can have a favorable outcome for you, even if you are rattled by what comes up at first. If your birthday falls on July 9, plus or minus four days, you will be protected by this eclipse, as impossible as this might initially sound. Give things time—you will see. The same is true if you have Cancer rising at 16 degrees, plus or minus four degrees.
Take a look at your chart. If you have a natal planet that is at critical 16 degrees, plus or minus four degrees, in Cancer, Scorpio, Pisces, Virgo, or Capricorn, you will benefit. If you have a natal plant within four degrees of 16 degrees in Taurus, Leo, Scorpio, or Aquarius, you need to simply wait, and at the same time, keep your calendar clear should you need to turn your attention to something urgent. See what comes up near November 8.
You may have already received the message of the eclipse, as 10 percent of readers would have received an unexpected event on or within four days of last month's full moon on October 9. On the other side of the bell curve (which is a bit lopsided), we will have 15 percent of readers feeling the eclipse on the full moon on December 7, one month later, plus or minus four days. Finally, 75 percent of readers will feel the November 8 eclipse within four days of this date—most right on the date.
Now let's turn to another topic—Mars. Ever since Mars entered Gemini on August 20, you have been taking a low-key role at the office, working diligently on strategy in a behind-the-scenes mode, endeavoring to prepare for 2023. You won't be taking a more commanding, high-profile leadership role until Mars leaves Gemini and enters Cancer on March 25, 2023, until May 20, 2023. Everything you are doing now will add up to something big, for you are laying all the groundwork for future success. This month, at both the total (full moon) lunar eclipse on November 8 and the new moon (not an eclipse) on November 23, Mars will be in an ideal angle to Saturn, the planet of stability and longevity. This shows you are on the right track.
Saturn and Uranus are still in lingering range of a harsh square (within 3 degrees), but they are separating (moving apart), so the aspect is gradually getting weaker. These are very slow-moving planets—they move like little turtles. Last year, Saturn and Uranus were battling it out with three exact squares, something they have not done since the years 1999 and 2000. This all means that you may still be able to rethink how you generate income and how your saving or investing program is working. You might want to make a few adjustments to maximize your profits. Additionally, you might want to talk with a financial advisor who has fiduciary responsibilities (meaning your advisor has pledged to legally work in your interest). Cancer is very wise about money, so listen to advice from several financial advisors, and see whose advice aligns with yours intuitively and through the presentation of facts.
You now have Jupiter exactly where you want him to be. Jupiter is the giver of happiness, gifts, and luck, and last month on October 27, Jupiter slipped backward into Pisces, a water sign like yours, giving you an extra bonus from Jupiter's visit. Once you get to November 23, Jupiter, still in Pisces, will turn direct with greater strength and will remain in Pisces until December 20. This practically guarantees an enchanting holiday season for you. You might decide to travel for the holidays this year—a good time to do so.
Jupiter will spend his time through November and December in Pisces, your ninth house of global travel, international relationships, higher education, religious, philosophical and spiritual investigation and research, legal matters, and the media (publishing, broadcasting, and digital). All these areas will shine brilliantly for you, and when it comes to the media, you may either have the role of reporter or producer of a major story or be the subject of favorable publicity. If you work for a foreign company, you are in luck, for you are likely to get plenty of praise, and your professional stars will rise even higher. The critical period for your best good fortune will be November 23 until December 20.
When Jupiter moves into Aries, it will again light your tenth house of honors, awards, and achievement, from December 20, 2022, to May 16, 2023, nearly five full months. That's when you will make your biggest career mark this decade—especially after the new moon of March 21, 2023, but even more so on the solar eclipse in Aries on April 19, a peach of a solar eclipse. (You assumed that there was no such thing as a really good eclipse that can bear gifts, but there is!)
Speaking of your impending and continued meteoric rise in your career, you may get a new international project on the new moon in Sagittarius, 2 degrees, on November 23 (the same day that Jupiter goes direct). You will have four celestial bodies in your work-a-day sector—the Sun, new moon, Venus, and Mercury—all receiving golden rays from Jupiter in Pisces in an out-of-sign trine. (In astrology, the word "trine" comes from the word triangle, 120 degrees, and it is as heavenly an aspect as you could ever get.) You should like the world you see, and it seems to have international application.
This would also be the time to recommit to fitness goals, for a new moon in the sixth house is perfect for getting excited about becoming more active, sleek, and toned.
This month has many moving parts, but by the time you get to December, I promise you'll enjoy a glittering holiday—one of the best you've seen in years.
SUMMARY
No one said the course of truelove and friendship would always be easy. This month appears to be a case in point. A fierce full moon lunar eclipse on November 8 is barreling your way, so think of it as a tropical storm. It will cut across your private, close relationship sectors, but this eclipse will put most of its emphasis on your eleventh house of friendship, so your focus will be on a friend. This person is about to show their true colors, and it could turn out to be a disillusioning experience. Uranus will be conjunct the full moon, making it a volatile situation because this planet's job is to expose news that you would never expect to hear, but the eclipse gives you this information so that you can protect yourself. News seems to come up suddenly, out of thin air.
There is an alternate way this could work out. It could be that your friend is about to undergo a difficult and unfair life setback that will move you to want to help her (the friend will be female because the moon is involved). Your friend's challenge seems to come at no fault of her own. You may help her with her children or accompany her to meetings with medical or legal experts, as two examples—you will do what you can if this is how the November 8 eclipse asserts itself.
Uranus tends to work at the extreme ends of the spectrum—the reason there are two different ways you may experience this full moon lunar eclipse on November 8. In one case you would be horrified by a friend's behavior, and in another case, you'll want to rush to a friend's side who is hurting emotionally.
As if you needed any other planet to contribute its two cents into the equation, Saturn in Aquarius, 18 degrees, will be in a tough position, sending a harsh 90-degree square (indicating roadblocks) to both the Sun in Scorpio, 17 degrees, and full moon in Taurus, 16 degrees, putting pressure on you concerning money, for transiting Saturn is in your financial eighth house. The eclipse will also affect your second house of earnings. It seems you may have to come up with a large sum to take care of news that arises. Nobody, of any sign, will like this eclipse, so when dealing with others, know the people you meet will be walking on eggs, trying to do the best they can to face what the universe has dealt them.
Your best day of the month will be November 20 when Jupiter and the Sun will be in ideal sync, and you may reach agreement on a deal that results in fattening your bank account. It's a special day.
The new moon on November 23 will be a relief. Jupiter will signal the new moon and Sun in Sagittarius, your work-a-day sector, and stir up a brisk pace for business at the office. Assignments will flow in, and international clients appear to be among the throng who will clamor for your services. You may have to hire assistants to help to manage it all. This same new moon may be the moment when you feel most motivated to work on your fitness again so that come the New Year, you will have a head start over everyone else in looking lean, fit, and healthy.
You might want to start your Christmas shopping on November 28 when Mercury starts his move toward a great aspect with thrifty Saturn on November 29. You may find some terrific bargains on Cyber Monday (November 28) that may get even better by the following day, November 29.