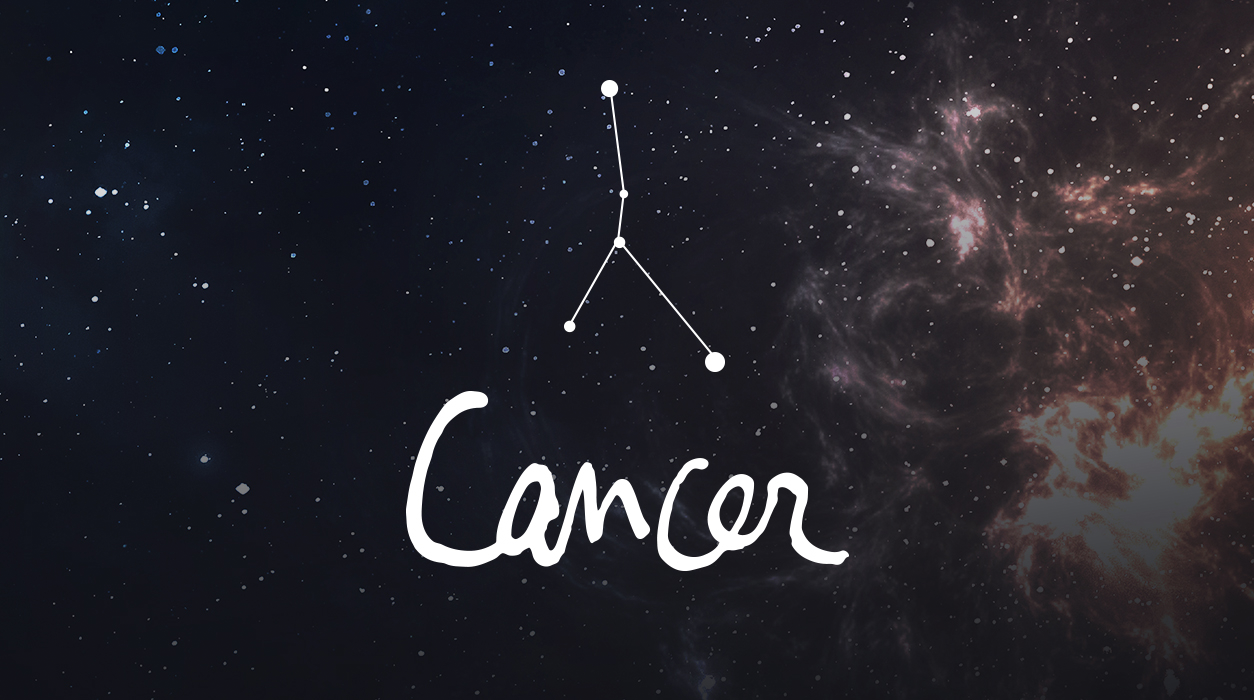 Your Horoscope for Cancer
Last month may have been hard for you to move forward with vigor because Mercury was retrograde starting on May 10. You likely found those projects to take forever to complete, too—much longer than they should have taken. In the background, you may have also had mechanical problems with your car, computer, software, an appliance, or other machines on the fritz, forcing you to call the repair department. Now life returns to normal when Mercury goes direct on June 3.
June will be an enormously important month for you to make a bigger name for yourself in your career. I would go further to say this is the most vital time for you to advance to a higher level within your specialty in over a decade. The reason for my sweeping statement is that Jupiter, the giver of gifts and luck, arrived in your tenth house of career honors, awards, achievement for the first time in 12 years on May 10, has settled in, and is now ready to beam opportunities to you in June. Jupiter will remain in this area of your chart until May 16, 2023.
Now Mars, the warrior planet, teaches us how to compete and win, how to be brave and determined, and how to be ready to beat rivals, and he will be right there with Jupiter. You could not wish for a better planet than Mars to be in your tenth house of professional advancement. Mars will give you an edge when you present your ideas. (Remember not to start your actions to elevate your career until after Mercury goes direct on June 3.) A beneficial planet like Jupiter usually needs another planet to signal that planet to unlock its goodies for you. Jupiter has come laden with opportunities but needs a second, friendly planet to help him unlock your treasure chest.
As it turns out, that second planet is the perfect one to unlock those goodies—Mars will be orbiting in the right position and perfect house in June. Mars rules your solar tenth house of prestigious professional progress and reward and has just entered that tenth house—the same one currently occupied by Jupiter. Mars moved into Aries, this critical house, on May 24 and is set to stay until July 5.
This will be the most vital time in 2022 to make a name for yourself and elevate your reputation. After July 5, Mars will not be back to this professional part of your chart for two more years—in April 2024—and Jupiter will not be back to Aries until 10 years later—April 2034. Alas, in 2034 Mars will be too far into Gemini to be helpful to you then—it won't be as special as you have it right now. If you have not been thinking of changing jobs, ask your boss how you can get the experience you need to qualify for a promotion to the next level. If you are unemployed, this is the month you can find the right opportunity for a new job and begin to interview.
Jupiter and Mars made an important conjunction on May 29, but you will still feel the energy of that conjunction in the first days of June. Make an appointment on June 3 (a Friday) or the following Monday (June 6). When you get this rare aspect, action leads to profit.
Your career will do especially well on another day too, Wednesday, June 20, when Mercury and Jupiter will be in sync and provide you an exceptional opportunity to do well financially. You can meet a client to pitch an idea, travel to do business, or attend a convention. You might sign a contract, especially for a project that you would need to develop during the initial phase, and at that time, keep all that you are focused on under wraps. It's a five-star day, and Mercury will no longer be retrograde, so make it a point to use June 20.
June will be an enormously important month for your career. This is the most vital time for you to advance to a higher level within your specialty in over a decade.
Now let's turn to other topics, and to do that, I need to go back to the top of the month. The new moon that occurred days prior to the start of June, on May 30, was in Gemini and lit your twelfth house, which is the last house of the horoscope. It was a positive new moon, one that will allow you to have productive planning and strategizing sessions. You may also have a confidential meeting in very early June that might hint at exciting things to come, especially allowing your earning power to rise to great heights.
At this May 30 new moon, Jupiter contacted the Sun, ruler of your second house of income, so whatever happens in early June behind closed doors concerning your career is likely to make you very happy. Additionally, Jupiter will contact the new moon too, and you are ruled by the moon. Suffice to say, things should get better and better for you as you move through June. It is a month that truly glows for you.
The full moon June 14 in Sagittarius, 23 degrees, should bring a project to conclusion. Allow five days beyond this date to see the message of the moon. You may also see one employee leave and a new one show up as a replacement. This full moon brings help from Saturn, increasing your sense of financial security. This would not be a case of just getting a raise or more business if self-employed and not much else—no. Instead, it will be clear that your growing reputation and experience warrants more compensation—no one wants to lose you to another firm.
One more thing: A full moon in Sagittarius would point to a connection with international markets or communication (or meetings) with one or more foreign people, possibly requiring a trip to a city that requires you to bring your passport. That meeting will go well.
There is one glitch, however, with the full moon June 14. Neptune will be in hard angle to both the Sun and full moon, so there appears to be ambiguous or unclear data that is not being transmitted to you—in other words, there is missing or distorted information. It is possible that you and the people you are dealing with have different assumptions and expectations, but you probably won't be aware of this until much later. If you can get a legal contract to spell out obligations, duties, and rewards for all those involved, that would be helpful in creating a clear and accurate working environment. One way to combat this would be to list all the assumptions you've made and discuss them with whomever you're dealing with—make sure everyone is on the same page.
Your sixth house, where this full moon is appearing on June 14, also rules your health. If you have been concerned about a health matter, this full moon will bring test results back. However, with a strong involvement with Neptune orbiting in hard angle, the test results given to you may be incorrect, inconclusive, or cause a misdiagnosis. If you feel the results are "off" and don't sound right, you can ask to have the tests repeated. You can get a second opinion from another doctor if you are unsure about the diagnosis.
Conversely, with Neptune fogging the waters, you may not fully understand things—that's easy to fix, though, for you can bring someone you trust along with you when you go to the doctor to hear results, such as your best friend or a family member. Later you can compare notes. Saturn will be helpful in your financial house on June 14, so it appears that your medical costs for the second opinion, necessary tests, or a procedure (if needed) would be covered. Call your insurance provider to be sure.
Romantically, Venus, the love-me planet, will be in Taurus, a lovely place to ensure fun, luxury, and happiness. Venus will remain in Taurus until June 22. This is good news—your social life will pick up noticeably and give you a solid window to have fun. If you like, since Mercury is no longer retrograde (after June 3), you can choose new clothes or get a great haircut, and women might want to get a style consultation at your favorite makeup counter. Give yourself attention, dear Cancer.
One of your best days of the month for fun and love will occur on June 11, when Venus will conjoin Uranus, in the compatible sign of Taurus. These two planets will be meeting in your eleventh house of joy, friendships, fun, events, and parties. June 11 falls on a Saturday, so if you get invited to a gathering, or if you want to give a party yourself, it should be a five-star event—the hit of the season. Uranus adds surprise, and Venus is all about love and magnetism. If you are single, this would be the best day to meet someone new. If you are attached, you can have an enchanting evening with the one you love and flirt together like you just met.
Your big moment of the month will occur at the lovely new moon June 28 in Cancer, 7 degrees. This is your special birthday new moon to use as you wish. There are approximately 12 new moons a year, each one in a different sign, and each one is meant to help you improve a specific area of life. The exception is when you get a new moon in your own sign—then you can decide which way to best direct this precious energy.
As part of this new moon June 28 (and adding an additional bonus), you will be able to incorporate more time with your family, whether that means taking time to see your parents or spending more time with your children or the children of a sibling. Family is important to you, and you've been busy—sometimes we simply have to unplug and give those we love our first attention.
At the same time as the new moon in Cancer on June 28, Mars in Aries and Saturn in Aquarius will be in ideal sync, bringing you opportunity in your career. Something you will be doing—an action you do on June 27, June 28, and the three days that follow, will have importance and longevity. Mars is all about action, and Saturn is about setting up structure and a stable foundation—here you have the best of both worlds, so be sure to take action as you get to the end of June.
SUMMARY
You've been concentrating on work, and now the fruits of your labors are starting to come up in your garden. Mars, the action planet that makes things happen, is now circulating in your tenth house of honors, awards, and achievement. Mars has recently been joined by Jupiter, the good fortune planet and known to expand everything it touches, and in your case brings accolades for superb work well done. A new job title may be in the cards for you, and if you feel you deserve a promotion, ask your boss for it in the first part of June. You are in one of the best periods in over a decade for career advancement. If you are turned down, seek opportunity elsewhere. An appropriate increase in salary or income (if self-employed) will arrive later in the year, after the new moon of July 28.
Not only will you get praise from within your company but also publicity and industry attention. If self-employed, this would be a superb time to do focused advertising and to launch a social media campaign. Although you'll have opportunities to see friends and have fun, keep stepping out to see your friends to a minimum for the time being.
An important project will come to fullness within five days of June 14 when the full moon will appear in your work-a-day sector. You might also decide to hire a candidate you earlier interviewed several times, or you might settle a deal with a client about a new project. By this point, you may be feeling worn around the edges, so take a break to catch your breath, and take care of your health. If at any point in June you feel overwhelmed with work and with life in general and wish you could deflect the pressure on you to consistently perform at a high level, consider reaching out to a professional therapist to learn new tools for coping. If you would like to contact a therapist for the first time, perhaps through tele-conference, ask for recommendations from friends and vow to start in early in June.
Your big moment will come at the end of the month on June 28 at the new moon in Cancer when you will be able to voice your desires and set a plan in motion. You will crave travel, perhaps to visit relatives or to travel with your family, and if so, this will turn out to be quite a satisfying, happy trip. Venus and Jupiter will be in conversation, boosting your relationship with members of your clan, so spend quality time together. By July, you'll have more time for friends, too. You should have no fear that you will lose momentum at work if you take your eyes off projects for a while. Apparently, you will have already put a lot of projects and relationships with clients in motion, and at times like these, it may feel as though your career almost has a life of its own. It does, dear Cancer—it's called momentum. Yours appears to be proceeding beautifully thanks to all you've done previously, so don't let any worries enter your mind.
When it comes to having fun with friends and romance, two days will stand out: June 11 and 18. The first brings joyous surprises—Venus conjunct Uranus in exact alignment should bring a spontaneous, impulsive invitation, and by all means, take it. What is life without surprises?
The other sweet day will be when Venus and Neptune are in supreme harmony, making June 18 a divine and quite glamorous day for romance, travel, shopping, parties, and all out fun. Venus will be in sensuous Taurus, and Neptune, planet of endless, unconditional love, will be in lyrical Pisces. This day will fall on a Saturday, so quickly make plans to step out and enjoy yourself to the fullest.