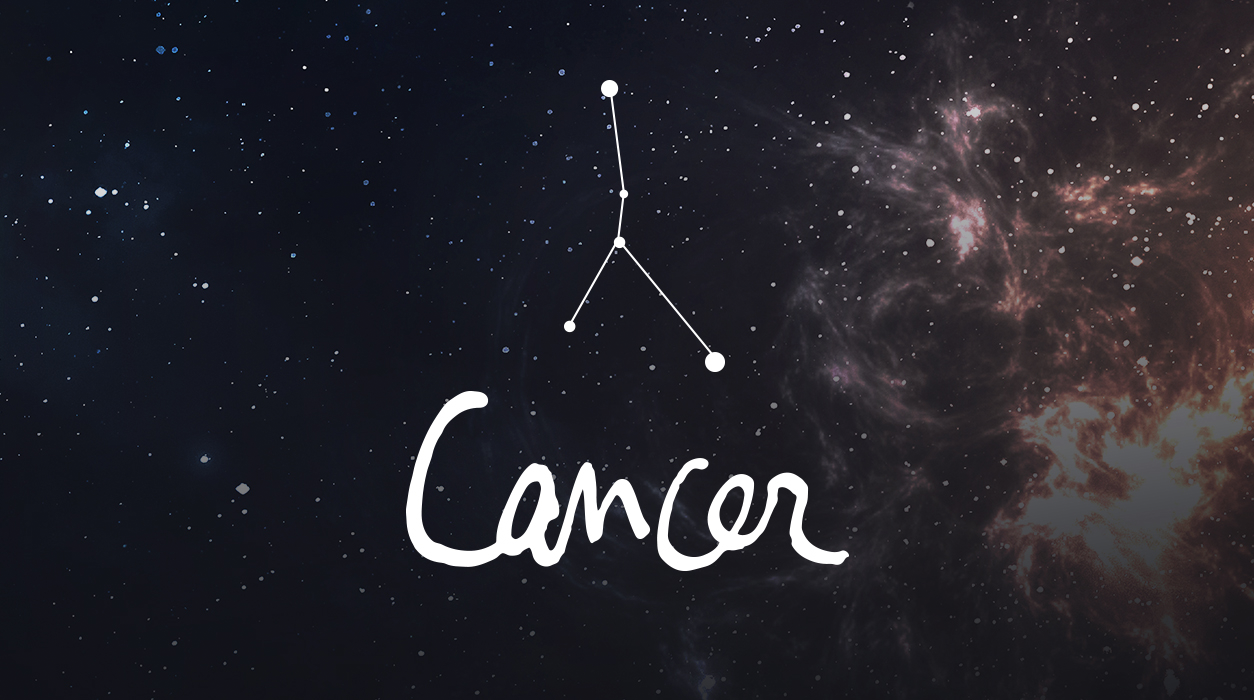 Your Horoscope by Susan Miller
You are entering quite a year of exceptional financial bounty, and you will likely see the truth of this statement this month as the hard work you've been doing over the past 18 to 24 months is now coming to fruition. You just came through three difficult years, so this news has to be met by you with both shock and skepticism—have faith, dear Cancer, for you will soon see the evidence.
Let's first discuss the recent full moon of last month, January 28, which appeared in Leo, 9 degrees. This full moon fell in your second house of earned income, so you may have received a large check, bonus, or raise. The reason I feel this had to be a good time for you is that coincidentally, the Sun (which happens to rule this same house of earned income) was perfectly aligned with Jupiter, the giver of gifts and luck. This suggests you may have received a large sum or signed a major deal with a client. The Sun conjunct good-fortune Jupiter, as we had here, is what I call the Luckiest Day of the Year. You may have crystalized a major deal or been the recipient of a generous sum. We didn't have a Luckiest Day in 2020. The last time this occurred was December 27, 2019, so Jupiter and the Sun skipped 2020 and finally met again at this full moon. If you didn't have good news on January 28, you would have felt the energy of that full moon within four days of its appearance, which could lead you into the very first days of February.
Was the January 28 full moon perfect? Not exactly—there were crosscurrents. Uranus, the planet of completely unexpected events, was at odds with Saturn, and Mars, the warrior planet, was glaring at the Sun and full moon. This suggests you may have had to go through red tape or use legal means to get your deal done or to be paid. Still, even with the annoying background music caused by these planets, I feel you have brilliant aspects, powerful enough to stand up to these crosscurrents.
Do what you have to do—you can get paid or make the deal. When some planets are being difficult as Mars and Uranus will be, you have to stay on your toes and outsmart the situation—this is when you need to be resourceful, ingenious, and inventive.
Mercury started to retrograde on January 30, and I can hear you groan. Mercury will remain out of phase until February 20, and that could mean missing paperwork or more questions—annoying things, but nothing serious. If a client was due to sign a purchase order, for example, this person might have had a change of mind at the last minute. That could happen, and although frustrating, there won't be much you can do about it. You might convince your client that the deal you proposed is fair, even generous, and that you can give her an extension to a later date in 2021. (The next Mercury retrograde months are June and October, so avoid those months for signing agreements if you can.)
If you are up for a raise and not yet approved, Mars' difficult position to Saturn suggests you have the support of most upper management, but one person—an older, experienced person—might not be fully convinced. Your job is to figure out who that person is, and work to prove your worth to him or her. This person seems a little stubborn and set in his or her ways, but you can overcome their skepticism by presenting facts and figures to bolster your case. Be subtle, ever-cheerful, and optimistic—good energy attracts good energy. You have so much going for you!
Need proof that better days are due financially? Look no further than the brilliant new moon of February 11, that will appear in Aquarius at 23 degrees in your eighth house of other people's money. This new moon will represent the most important moment of the month.
Need proof that better days are due financially?
Look no further than the brilliant new moon of February 11 that will appear in Aquarius at 23 degrees in your eighth house of other people's money. This new moon will represent the most important moment of the month. The horoscope is set up with two financial sectors. The first one, the second house, rules your income, possessions, savings, and spending—and that house was the first to be lit up at the full moon of January 28 that I just addressed.
The area that will be lit up here is the eighth house of other people's money. This house allows you to "shop" for money when you need more than the amount you have in reserve. This house helps you achieve big goals, for it is triggered when you look for a large sum of money, such as a mortgage, business loan, infusion of venture capital, or university financial aid.
This same house is the area where you are paid on a performance basis, such as when you earn a commission, royalty, or licensing fee. The eighth house often produces unusually large sums that would arrive once or sporadically, not regularly the way most people receive a paycheck. No doubt about it, in 2021, you will make quite a bucket of money. Gemini had this last year, and even in a pandemic, most Gemini made a good income. (If you know someone who did not, there must be something in their chart I cannot see that prevented that bonanza, but most saw it.) The trend I am speaking about—many planets in your eighth house—comes every 12 years.
I looked up early 2009 for you, and although Jupiter was in the same place, other planets were moving in different signs, of course, so you may not have received the full benefit of Jupiter. By September 14, the planets were in a fierce pattern, and that is when the US (born July 4, and therefore, a Cancer country) experienced a mortgage crisis of epic proportions. You may have suffered losses (due to Uranus, Saturn, and other heavenly bodies that brought things to a terrible climax), but this year will not be at all like 2009. I always have to look at the entire sky of planets, not just one element. In the fall of 2009—September 14—things were quite shocking.
One thing I can say—you will be making a lot more money in 2021 (assuming you are eager to do so and willing to work for it). You will also likely need to pay more taxes, so if you are self-employed, reserve a large portion of funds, in case I am right about this. Cancer is a supremely wise money manager, so I bet you thought of this already. Keep in touch with your accountant as you go through the year. Taxes and all loans also fall into the eighth house, which is lit up for you in 2021.
Other sources of income in the eighth house include an insurance payout, court settlement in your favor, inheritance, or a large monetary prize (such as if you were a winning contestant on a TV show). If you were owed money for a long time, you may get paid in February, at long last.
If you are opening talks about the fair division of property at the end of a marriage or business, you should do very well. It looks like you would begin talks at the new moon of February 11 and the days that follow. With Uranus in hard angle to Saturn, Venus, and Jupiter, you need to factor in a few surprises from your soon-to-be-ex partner. You are good at negotiation, so don't worry, and listen to your lawyer.
The new moon of February 11 represents a beginning of talks, and if you hope to be approved for a business line of credit or mortgage, it may take some time. As mentioned, Mercury is retrograde in Aquarius in this same house, so there is a chance you would submit a financial report containing errors. It will be vital that your accountant prepares the report, ensuring the figures reflected are impeccably correct and error-free, or your proposed lender might doubt your ability to repay the loan.
If you have no plans to borrow money, this new moon may motivate you to explore and improve your credit rating. If you find out that someone has breached your commercial or personal checking account or made unauthorized charges on your credit card, you will need to jump into action. The sooner you address it, the better. Sometimes that process takes a large chunk out of your day for weeks, but it must be done. I flag this possibility because Mars and Uranus are both in hard angle to the plethora of planets lining up in your eighth house of other people's money. You may have no problems at all, and I would be happy to hear that!
Let me give you a snapshot. The new moon on February 11 will arrive with her partner, the Sun, as usual. In the new moon's entourage will be Venus, Mercury, teacher planet Saturn, and good-fortune Jupiter. They will provide quite a bit of cosmic support, so your mind will be focused squarely on money—earning more money, taking a loan from a bank or other lender, spending money, saving, and also, once the money comes in, paying down debt.
Venus is among the planets listed, and this tells me you may improve your living quarters, either by making a down payment on a house, condo, or vacation home, or by purchasing new furniture or other accouterments, hiring a contractor to create a new kitchen, or finding other ways to make your home more comfortable.
I advise you not to buy any new electronic items while Mercury is retrograde, which is until February 20. Don't come up close to February 20 either, for Mercury will be acting wonky until the start of March. Hold off on buying furniture, a rug or mattress, a car, or any electronic item, for that will be best done in March, too. One thing you can do in February is call in repairmen to do all those little jobs that seem to just "sit" without resolution—Mercury retrograde is a good time to attend to those. If you want to call in the painters, you can, as long as you are sure about the choice of colors you will direct the painters to use.
I want to talk a bit about Mars. In 2020, starting last June 27, Mars entered Aries and remained there for six months, until January 6, 2021. You worked very long and hard on your career, the reason you are due for a reward. The harder you worked under that aspect, the bigger your bounty will be now. That's how astrology works—new aspects always hook into previous actions. Imagine you are knitting a sweater. You wouldn't start from scratch each day, but instead, you would hook into the knitting you already completed. Astrology is the same way. Aspects are never stand-alone because you are not born anew each month.
I will admit that new moons act a little differently. They refresh the energy you experienced each year, and that energy pertains to the house in which the new moon appeared. The new moon of February 11, 2021, will likely give you a refreshed picture of your finances for the coming year.
Now Mars is in Taurus, your eleventh house of fun and friendship, and this also covers casual contacts. You will need to work a little differently this month, for Mars is the natural ruler of your brilliant, prestigious tenth house of honors, awards, and achievement. The message is clear: In February, expand your circle of friends and acquaintances to be more effective at work. People will only work with people they know and trust—that's you. By next month, Mars will move to another sign, Gemini, on March 3, so this advice only holds for February.
As the month starts to draw to a close, we have a full moon on February 27 in Virgo, your third house, at 9 degrees. You might be looking over a contract, but put off signing for a few days until you get to the first week of March. It's also possible you will be aching to get on a plane and travel. All the scientists are saying this is not the time to travel as there are still too many hotspots all over the globe. Anyway, indoor restaurant dining is prohibited (or severely restricted) in most cities, and there would not be many activities to enjoy, no matter where you traveled. Even domestic travel will require at least two COVID tests and a period of self-quarantining.
From March 3 to April 23, Mars will move through your twelfth house, and during that time, you may have more interaction with medical personnel than usual. I am looking at this, and I feel that would not be the time to take risks with your health, especially during a pandemic. From April 24 to June 11, Mars will move through Cancer, and you will feel your strength surge. You may be making plans for a surgical procedure this month. If you have been putting off the procedure, you could do it now or in March (a stellar month). If your doctor tells you this is an emergency, go ahead and do what you need to do, and you will soon be on your way to better health.
Your third house, which this February 27 full moon will light, rules your sisters and brothers, so you may be seeing or talking over the phone with one of your siblings or a cousin. You may be celebrating her birthday or a bigger project, say, if you hope to work with your sibling in a new business or buy a house together. This month, with Mercury retrograde, is good for planning but not for launching anything new, and definitely not for making new agreements. Wait—you will be glad you did.
I will leave you with this little piece of chocolate: Uranus, now in Taurus, 7 degrees, will send a silvery, electric beam to the full moon in Virgo at 9 degrees. That's a near-perfect position for both the moon, Sun, and Uranus. There's a surprise coming, and it seems to be financial. You will be smiling, so I feel you will enjoy the month's end very much.
If your birthday falls on June 30, or if you have Cancer rising 9 degrees, in all cases, plus or minus four days or four degrees, respectively, you will benefit from this full moon in an outstanding way. If you have your natal chart, look to see if you have a natal planet at 9 degrees (plus or minus four degrees) in Cancer, Scorpio, Pisces, Taurus, Virgo, or Capricorn, because that planet will be lit up and beneficial to you.
SUMMARY
You have been through a lot over the past three years. Although it has not been easy, things now look brighter, and your feelings and sensitivity to others' moods and opinions will start to calm down.
As you enter February, you are coming off a full moon in Leo which just occurred on January 28. That full moon suggests you could have an influx of money, but as soon as it comes in, it will likely go out to cover bills. You were happy to have the money to do that, but Mars and Uranus are pressuring you to pay now, even if it requires a small sacrifice. Not to worry because as time goes on, you will have more than enough to enjoy.
There is reason to be cheerful, however, because more important financial news will show up after the new moon, February 11. If you work on a commission, royalty, or licensing basis, that's great, and you should make a boatload of money. If you work for a big corporation, now would be a good time to approach management about company benefits you were not given when you first joined. Superb health insurance, a larger base salary (over which you might layer commission, if you are in sales), an extra day to take care of your elderly parent or your new baby—these valuable benefits and more are all covered by your financial eighth house, and they would probably be expensive if you had to lay out the money for them yourself.
For the first time in many years, there will be a buildup of heavenly bodies in Aquarius—six out of ten. Mercury, Venus, Jupiter, Saturn, the Sun, and new moon (the moon is Cancer's ruler, so it's weighted as more influential in your chart than it is for other signs). All these heavenly bodies will be in your house of other people's money, including large loans or mortgages you might apply for now. The money will begin to flow to you in the days that follow February 11. This house is the area where we "go shopping" for money to fulfill a dream that requires hefty funding, often more than what most people have in reserve. In that respect, borrowing the money you need could transform your life.
After the new moon of February 11, you may be approved for a bank loan, mortgage, venture capital, or receive a student loan or generous financial aid. You may win money as a contestant on a TV game show, or you might receive a generous cash gift from a parent or other family member to help you get started on your goal.
This sounds like getting the money will be fairly easy, but alas, Mars and Uranus, both in your eleventh house of hopes and wishes, will be on a rampage against some of the heavenly bodies in your financial house. Obstacles will come up. Banks and other lenders—including venture capitalists—will favor you, but Saturn's presence indicates you will need to submit lots of paperwork. Of course, the better your credit rating, the better the outcome—Saturn is the planet in charge of the passage of time and always links future goals to past behavior, and he sees that we get what we deserve. If you are trying for something difficult, such as money to start a business, then your business plan will have to be polished and able to stand up to heavy scrutiny.
If you are in the process of ending a business or a marriage and attempting to divide profits, the difficult position of Mars and Uranus to some of the planets in your eighth house suggests you may encounter a tug-of-war over assets. Be ready for that, and decide ahead of time what you are willing to compromise on and which points you are not. Of course, it always helps to have a like-minded lawyer to be your advocate if talks should get tense. Keep in mind that talks will go infinitely easier in March, so don't flip out if things don't go easily in February—soon, they will.
Make use of the days that follow February 11 as productively as you can, for that is when you are most likely to make progress and also uncover any barriers that might keep you from completing your quest. It's always better to know what impediments stand in your way—this way, you can address them straight away. If you don't see them, you will forever hope against hope that you will be approved for the funds you need and wonder why it took so long or why you were turned down (quite unlikely).
Mercury, the planet of communication and contractual agreements, will be retrograde until February 20. It may be hard to get in touch with the people you need to see, or you may spend too much time with a person who has no authority to approve your application. Until you get to the key person, not much will crystalize. You will see a change in the tempo of your life once you get to February 20, when Mercury will turn direct. Keep in mind, however, Mercury is quite a wild child at the start and end of his retrograde. If you are dealing with people from your past, Mercury retrograde will be easier on you as you started that relationship long before Mercury went retrograde on January 30 last month.
After weeks of concentrating on finding money or sorting out a financial matter, the full moon in Virgo on February 27 (strong for an extra four days, bringing you into March) can help you reach a conclusion and finalize talks in early March.
You seem to want to travel to clear your mind and relax a little over the ensuing weekend of February 27/28. The pandemic is still causing suffering all over the globe, so the scientists continue to say stay home. The scientists are reporting serious mutations, so better to be safe than sorry. Sometimes, sleeping in and having breakfast in bed at home can be all it takes to feel renewed.