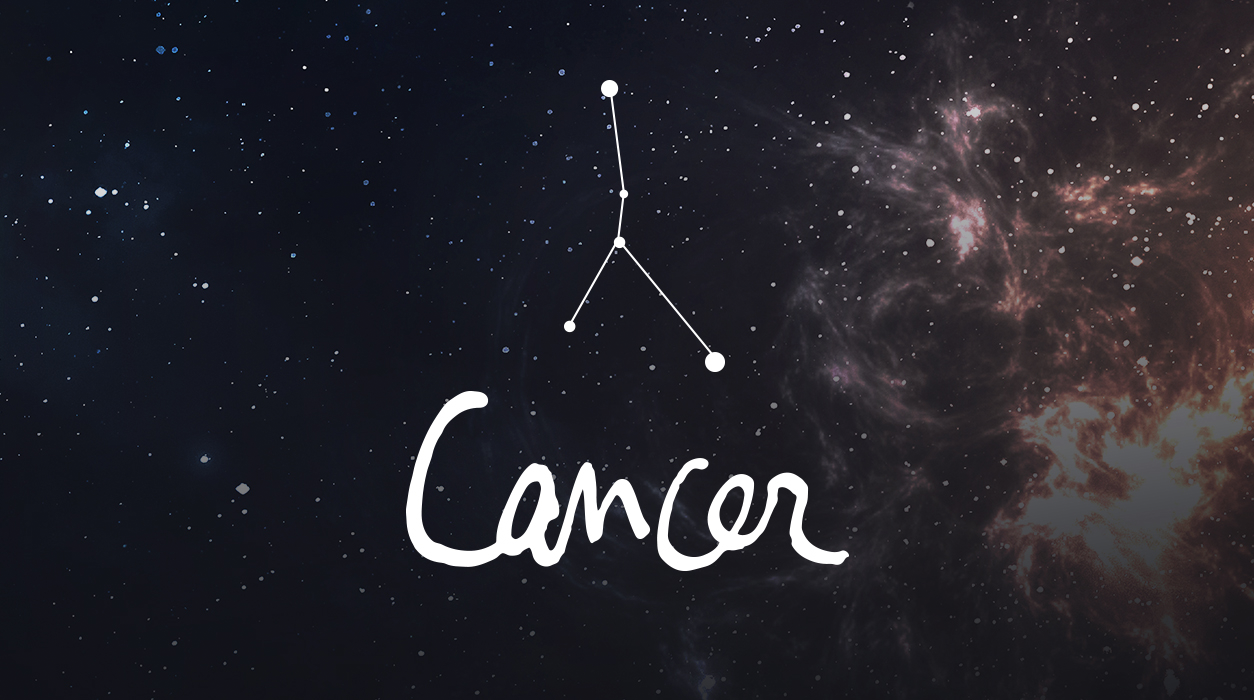 A Note from Susan Miller
April 2021
Dear Reader,
April will be a good, cheerful, and productive month until we get to the monster full moon in Scorpio on April 26. I know I am writing this on April 1, April Fool's Day, and I wish I were pranking you. This full moon will be no joke.
I am concerned about this full moon because Uranus, the planet of all things unexpected, will directly oppose the full moon in Scorpio on April 26. Uranus will be conjunct the Sun in Taurus, and Venus and Mercury will be in Taurus as well, making those planets unstable, too.
Your Horoscope by Susan Miller
Your chart is lit up like Times Square, dear Cancer, with emphasis on home and family, professional advancement, and a chance to make good money. Get all your most important activities and decisions done in the first three weeks, for they will be your best weeks in April.
As you enter April, you just had come through a fairly happy full moon in Libra that lit your fourth house of home and family. Full moons bring decisions, actions, and news to a full point. You may have moved, finished a renovation, had special furniture delivered, or had the painters finish up, as some examples. Or your focus may have been on your parent or other family member. You may have had a family dinner to celebrate an anniversary or new baby, for example.
The full moon at the end of last month, March 28, was special because it formed a rare golden triangle in the heavens, linking the full moon in Libra, your home sector, Mars in Gemini, your twelfth house of confidential matters or work done alone in solitude, and both bodies sent deeply harmonious vibrations to Saturn in Aquarius, your eighth house of other people's money (including mortgages, loans, division of property in a divorce, commissions, royalties, and other such income that comes to you outside of salary). You may have received very good news about money, such as you are due a raise, tax refund, stimulus check, or other good news that added to your sense of security. Whatever happened at March's end likely made you happy, and your family was a big focus.
Your career is going so well (or soon will), so keep following your strategy. Although Mars is the ruler of your prestigious solar TENTH house of professional advancement, Mars will remain in your TWELFTH house of plans and work crafted in solitude until April 23. During those weeks, keep listening to your intuition, for it will be exceptionally sharp in the first three weeks of April. Screen out others' opinions, and instead, follow the small voice within you—it will lead you to where you want to be.
You have a remarkably friendly new moon coming up on April 11 in the very same house that Mars rules, your solar tenth house of honors, awards, and achievement. On April 11, you will have the Sun and new moon in this house along with Venus and Mercury. Venus' presence in Aries shows that both VIPs and subordinates alike love working with you and adore your leadership style. All those heavenly bodies traveling in Aries show how well you are developing into a leadership role, trying new techniques and venturing into new territory—those innovations are apparently working. Your reputation will come up in the world after this new moon April 11, and here is why.
You have Jupiter and Saturn in your eighth house of commissions, benefits, bonuses, royalties, cash advances, and other such funds. This house also rules business loans, venture capital, company perks, like a generous health insurance policy, lines of credit, and other such sources of income that come in aside from salary. This is the place where you have the Midas touch in 2021.
Saturn is asking you to work very hard and to become knowledgeable about evolving tax rules, for you are likely to be moving into a new tax bracket because of the greater income you will be earning. If you are self-employed, you need a good accountant to help you.
The days of April 12-16 will be vital to your professional progress, for this will be one of your best moments to show your company, your industry, and the world that you are made of all the right stuff.
Jupiter is the giver of gifts and luck and is seeing to it that you make good money in 2021—possibly the most you've made in over a decade. Life can't always be this glorious, so enjoy being a star, and at the same time try to save some of the money or pay off debts. Jupiter will be sending golden vibrations to the Sun, new moon, and Venus at the new moon April 11 appearing in your house of career advancement, assuring you that your status will continue to rise in your company, industry, or the world, and with it, your income.
Mars, the ruler of your solar tenth house of prestigious career progress, will work directly with Jupiter, which is fantastic. By the time of this new moon, these two planets will be close enough to communicate, and they will make an exact "trine" over April 16-17 (straddling on both days depending on your time zone). This event only happens once every two years and always in a different place in the chart, so it's special. (This year, however, due to Mars retrograde later this year, this aspect will happen AGAIN in October—an even rarer event.) With this aspect, your actions will lead to profit, as Jupiter is always associated with money along with other things.
Mars will also send good wishes to the Sun and new moon, providing energy, courage, and drive. Very soon you will be able to show others what you've been working on behind closed doors, and that will happen when Mars moves into Cancer on April 23 to stay until June 11. This is when you will come into your own, when you can burst out of the gate, having done your research and thinking. By then you will be ready to swing into action without feeling limited by circumstances.
Mercury will go retrograde next month from May 29 to June 22, so your best period to make presentations, schedule interviews, and negotiate deals will be from April 23 to approximately May 22. You will feel the approaching delays of Mercury retrograde at least a week before it actually turns on May 29. Sign contracts early in the month, and if you need a computer, smart phone, new headphones, or other electronic items, including a car or kitchen appliance—anything with moving parts or an electronic chip inside—buy it before the middle of next month.
Now we get to the jarring, difficult full moon of April 26 falling in Scorpio, your fifth house of love. (This house also rules children, pregnancy, and creative projects.) The Sun will be conjunct unpredictable Uranus, and Uranus will directly oppose the full moon in Scorpio. Every person of every sign will have some problem with this full moon because it will likely trigger an emotional response, as all full moons can do. News will be so unexpected, coming out of left field. At the same time, Venus will be conjunct Uranus too, making Venus unstable.
Try to keep your schedule light, as it looks like you will need to direct your attention to news that is surfacing. You may have a disagreement with the person you are dating and possibly be upset about what you learn. Or you may find out that your child needs special tutoring or tests to improve his or her development. I am giving you two examples to get you thinking, but in truth when Uranus is involved, you can never accurately guess what will come up. It's always something you would have never thought possible.
The full moon in Scorpio and the Sun in Taurus at 7 degrees will both be in conflict with Saturn too, so force yourself to be practical and clear-eyed, and work on what is, rather than worry about what might be and has not happened yet (or may never happen). Saturn forces us to face facts, gather information, and put one foot in front of the other.
My mother, Little Mom, who taught me astrology, used to tell me that wringing your hands and pacing back and forth won't accomplish anything. Shrug your shoulders and realize you will have to accept what you are being told and figure out how to deal with it. It may require you to spend money, as the Sun rules your solar second house of income and savings and will be made volatile by Uranus. Jupiter in your other financial house will see to it that you'll find the money you need to fix anything that comes up.
This full moon April 26 is not all gloom and doom. Mars will be in Cancer by this time, having set up residence in your first house of personality. You will be in that rare and privileged position of being able to confidently speak your mind. Mars will still be in conversation with good-fortune Jupiter, currently in your financial eighth house. (The eighth house also rules surgery, so Jupiter will also protect you if you need a procedure. I am not saying you will, but if you do need one, it's good to have Jupiter, the Great Healer, also called the Planet of Miracles, on your side.)
There is other good news. A full moon in Scorpio blends well with your Cancer Sun, as both are water signs. If your birthday falls on June 28, plus or minus five days, you will get a double dip of cosmic favor. Dear Cancer, all you can do is keep your schedule light and then sit back, open the window, and see what flies in. You can handle whatever comes.
SUMMARY
The last few years have been challenging concerning a close relationship, but things have changed dramatically. Even competitors are not as vicious as they were, for they no longer seem to be nipping at your heels. You have been working so hard that you may not have noticed that a new day is dawning, and life will be easier from now on.
April starts with a strong accent on your home. You may have just moved into a new space at the end of last month (thanks to the full moon of March 28). Since the start of 2021, you have been under stellar financial aspects, particularly if you work on commission, royalty, or bonus, or you regularly receive licensing fees. You are also lucky in 2021 with sponsors and lenders—venture capitalists are all ears, and your banker is ready to roll out the red carpet for you. If you need a line of credit for your busines, car, or home improvement project, you will find it easier than ever to get the assistance you need. If you want to renegotiate your mortgage with a better interest rate, you can do that, too. You can make a lot of progress now, but you have to reach out and speak up for what you need.
A bigger moment will arrive at the Aries new moon of April 11, when the Sun and new moon will join Venus in your house of honors, awards, and achievement. The days of April 12-16 will be vital to your professional progress, for this will be one of your best moments to show your company, your industry, and the world that you are made of all the right stuff. Not only will you make a bigger name for yourself that week, you'll stand a chance of making a good amount of money too, especially if you are in sales or work on a performance basis like commission or royalty.
A new moon in Aries will put the spotlight on Mars, and remarkably, Mars in Gemini will be in the ideal position to bring help from a VIP who will want to remain anonymous as he or she goes the distance to see that you get all the support you need to keep moving ahead. If you regularly make client presentations, go for auditions, or are in the process of interviewing for a new position, you have an excellent chance of hitting a home run. That success will trigger help from an influential person at work who will help you from behind the scenes. You may never learn the name of the powerful person who has supported your progress (or maybe you will), but know that you have a real-life guardian angel who is watching over you.
You are certainly on the short list of stars-in-the-making, but to get further up the hierarchy you will have to work harder. Pluto is the only spoiler, positioned in your partnership house, suggesting there is an older, powerful person you still need to win over to make him (or her) understand that you have what it takes to move into stardom. The more confidence you display, the better, for only by believing in your abilities can you unlock doors. Do something to stand out from the pack—if you do, your timing in April will be superb.
Each sign is ruled by a celestial body. As a Cancer, you are ruled by the moon, so you are more sensitive than most to full moons.
The full moon of April 26 is about to reveal the truth that forms the foundation of your current romantic relationship. You may be dating seriously but be hesitant to marry, and not be exactly sure why your heart is telling you not to commit. If this is true for you, this full moon will bring emotions out in the open and show you clearly what has held you back from moving forward with this relationship. If you have been frustrated by how things have been going, you may find yourself having the "big talk," even if you never planned to do so. Full moons, and especially this one, with a direct challenge from by Uranus, will bring feelings rapidly to the surface.
If you've been hoping against hope that your relationship would improve, you may now see what friends have been saying to you all along—you need to leave. The job of a full moon is to bring closure, clarity, and truth, and to provide you with a productive future path. The universe cannot abide by a languishing situation that seems to rest on the status quo—sooner or later a full moon like this one will ask for a decision.
In this case, money appears to be a sensitive topic at the core. You may say that financial matters were never voiced as a sticking point, but if you examine the discussions, you'll find it buried under many layers of feelings and talks. You will see that a difference in how wisely you or your partner spends, saves, earns, or invests is at the center.
Alternatively, if you have children, this jarring full moon of April 26 may make it clear that your child needs you to help him or her, such as to call in a tutor for a short time to help with a certain subject that's giving your child difficulty in school. This is only one of many possible examples. You may wonder how you can pay for the help your child needs, yet your outlook for growing your income is strong and bright.
There is one other possible outcome to this full moon. If you are working on a creative project and ready to meet the deadline of April 26, you may find the wheels of the bus are ready to roll off, causing an urgent situation. For example, financial overages might suddenly start to surface and need to be covered by the client (or you) at this full moon.
Or you may have been running a busines that has been undercapitalized—suddenly it will dawn on you that you need to get a loan, sponsor, or other method of injecting cash into your business to make it more competitive. Full moons make things clear. You'll realize if you don't get the capital you need, you will risk seeing the business go downhill or collapse or, less dramatic, never see it reach its full potential. As said earlier, I feel you can find all the money you'll need if you conduct talks with bankers and lenders—with Jupiter in Aquarius, this is the best part of your chart in 2021
No matter what happens, after April 23 you'll have an advantage. Mars will enter Cancer for the first time in two years, a major plus for you. Mars, the courageous warrior, will put you in charge and in control of the direction of events. With your well-placed Mars, you will be able to keep your cool and generate solutions to any sudden event you might face.
Mars will enter Cancer just in time, April 23 to June 11. You are starting an entirely new, sparkling cycle with Mars in your sign. Be optimistic that everything is happening for a reason, and you will be heading to a better place.