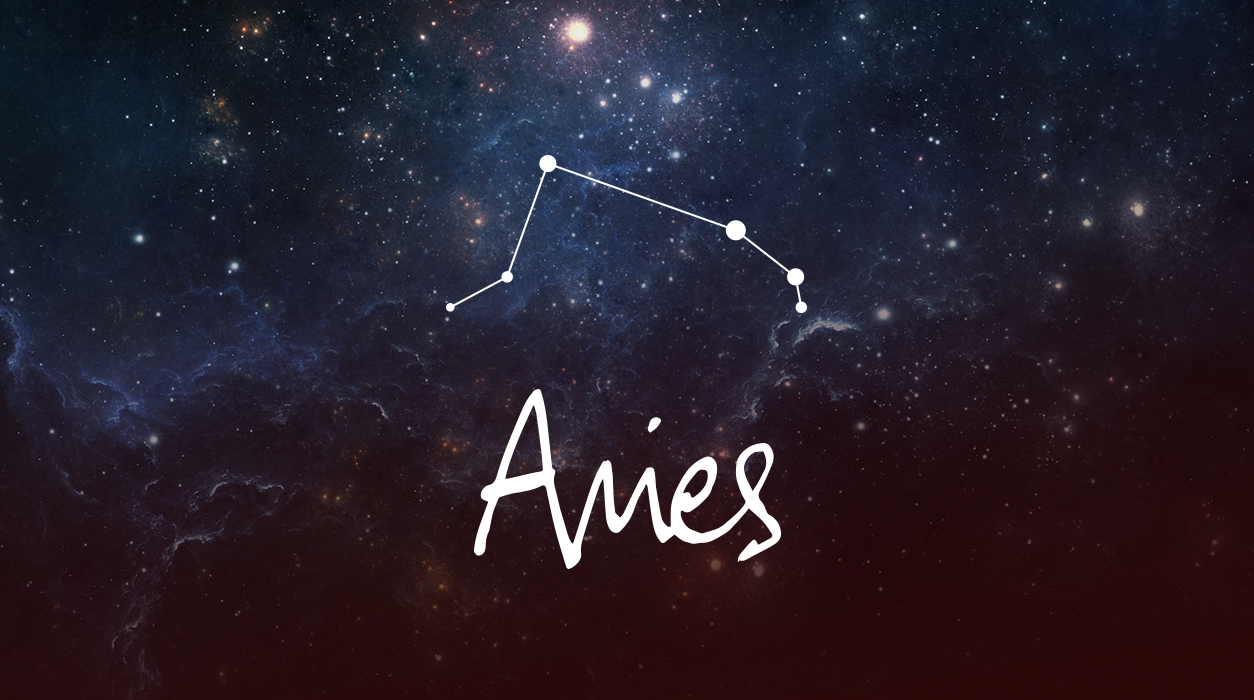 Your Horoscope for Aries
You have just come through a new moon solar eclipse on October 25, and its twin, a more emotional full moon lunar eclipse, is due November 8. Both are in financial signs—the one that appeared last month was in Scorpio, and the eclipse coming this month will be in Taurus, 16 degrees. Last month's eclipse may have brought good news about a sum of money coming to you, such as a bonus, royalty, commission check, generous tax refund, government program, inheritance, cash or valuable gift, infusion of venture capital, or large profit from the sale of property.
This coming full moon lunar eclipse will bring news about your salary, savings, or a completely unexpected jarring expense. Uranus, the planet of all things that are unexpected and volatile, is in Taurus too, at 17 degrees, and will oppose the Sun in Scorpio, 17 degrees, and conjunct the tender full moon in Taurus, 17 degrees. Saturn, the planet of the lessons we learn in life, now in Aquarius, 18 degrees, will be nearly precisely square (90 degrees) the Sun in Scorpio and the full moon eclipse in Taurus. All these planets are in fixed signs, which means if you feel this difficult eclipse, you will likely encounter a very stubborn, determined person or situation that refuses to move an inch to improve matters. You may have to take a great, courageous action to match this person's rigid energy.
Saturn is at the fulcrum of this astrological T-square (Uranus is conjunct the full moon in Taurus and opposed to the Sun in Scorpio, with Saturn in the dead center in Aquarius at 18 degrees). Saturn can give you a clue of the way out or way to improve the situation, which seems as inert as granite. Saturn teaches patience and practicality. Nothing that involves Saturn is done quickly. Saturn is slow—the opposite of Uranus, which is impulsive and lightning fast.
The situation seems to be brought on suddenly and without warning by Uranus, but the problem that surfaces WON'T BE SOLVED by using Uranus, say by reacting in a rapid, knee-jerk way but rather by using Saturn, which acts in a slow, steady practical way. It may involve enlisting a wise, experienced expert, mentor, or authority figure, possibly in your family, or maybe a parent. Saturn teaches us the importance of living up to our promises, and that might refer to doing the right thing—or for the person you may be having a conflict with , who is or was not doing the right thing.
We see that Saturn will be in good angle to Mars, indicating that the conflict (ruled by Mars) can be solved by not being overly emotional about what's going on. That lovely interplay between Saturn and Mars, your ruler (!) shows that you CAN find a path out or a workable solution. Having your ruling planet Mars so friendly to long-term-thinking Saturn in the midst of the difficult eclipse of November 8 will be a blessing. Mars is found in your third house, so a close reading of a contract (if you had signed one) may help matters, or because Mars is in your third house, you sister or brother may have a good idea for a solution.
There is a saving grace to this eclipse. It comes in the form of Neptune in Pisces, 22 degrees, trine to Venus in Scorpio, 21 degrees. Venus rules your financial second house, the place you need help to overcome the possible difficulty of the eclipse, and Neptune may bring illumination. Neptune usually rules facts that were concealed and are now revealed, so you may discover information that had been inaccessible to you and be shocked when you find out. Lunar eclipses usually bring a floodlight of truth to the surface.
Keep this ancient wisdom in mind: Do not initiate an action, but you can RESPOND to another person's action. Do so in a measured, thoughtful way, and take your time. Eclipses kick up a lot of dust, and it's hard to see the road ahead. There is no reason to rush—think first—even if you only take one day to do so.
Mars in friendly communication with other planets while in Gemini will give you a chance to travel to nearby locations within your country and decompress.
Keep in mind that eclipses are trying to protect you, even if you don't want to hear the news they send you. The message you receive from an eclipse often has nothing to do with something you did, rather something from the outside world—over which you have no knowledge or control—will zoom onto your doorstep and affect you. The dynamics of life change in one appreciable way, and your timetable about a certain financial goal will be speeded up. Eclipses change our concept of time, and suddenly we notice its passage. Things you were planning to do in two years, for example, may happen now, due to changing circumstances.
Eclipses often work on one theme, and each family of eclipses works together to bring enlightenment. Think back to earlier this year to the new moon solar eclipse of April 30, but more importantly, the lunar eclipse in Scorpio of May 15, 2022. The November 8 eclipse may be directly connected to a matter that came up on one of these two dates (most likely May 15) and will advance the conversation to a new level of understanding, allowing you to become wiser and more mature in the process.
Eclipses are non-negotiable. You can't go back in time to make the situation as it was "once upon a time." The only way is forward. Yet eclipses like this are often tipping points that create the motivation to create striking contributions to others and to overcome obstacles that seem overwhelming but that you can overcome and succeed in stellar form.
The October 25 solar eclipse was in Scorpio, ruling law and order, so you may have had to report a problem to the police or ask a lawyer to represent you about matters swirling about you. The November 8 eclipse is a full moon lunar eclipse in Taurus. The moon rules your home, land, and real estate in your chart, and Taurus rules possessions, money, agriculture, and all real estate, so money seems to be a topic of discussion. The Sun is in your house of other people's money—commissions, severance, bonuses, inheritances, insurance, mortgages, and finances outside of salary—which may be very much on your mind.
You may have already felt the November 8 full moon eclipse last month. Astrologers work with bell curves and view the concept of time differently than people who don't know astrology. A full 10 percent of my readers have already felt the November 8 eclipse during the full moon last month, October 9-10, plus or minus four days. If you have had a tense time since last month, it sounds like it delivered its message. About 15 percent of my readers won't feel the lunar eclipse this month but will feel it on or near the full moon December 7, plus or minus four days. If you have any natal planets at or within four degrees of 16 degrees, you will likely feel it in one way or another, but finances will be at the core.
Fortunately, lunar eclipses deliver their news—and then they are over. I will say that you need to take a few days before you respond to news because eclipses quickly follow with a second act, with more information coming out.
Your ruling planet Mars, as said, is friendly at this eclipse and is energizing your third house. This is the area where you may be focused on filling out important papers, negotiating a contract, or working on a communications project—writing, lecturing, selling, or developing a new website, podcast series, or app. Mars has just gone retrograde on October 30, so you may find that progress is very slow. You are not alone, for everyone will notice clients are not moving forward on ideas at the pace you are used to seeing.
The world seems to be in a watch and wait mode, and the November 8 eclipse could make the money markets rock and roll. Mars will go direct on January 12, so the atmosphere you feel now will continue. I know it's hard to have patience, but everyone has no choice but to do so. Mars in this house in friendly communication with other planets while in Gemini will give you a chance to travel to nearby locations within your country and decompress. Those trips will give you something to look forward to and take the pressure off money matters (assuming you can stay with a friend or relative and not have to pay for a hotel).
By the time you get to November 23, a normal new moon (not an eclipse) in Sagittarius, 2 degrees, will appear. The news of the eclipse will be over (for all but 15 percent of Aries). The extreme volatility and commotion of the eclipse will be done. The new moon November 23 will arrive flanked by Venus and Mercury also in Sagittarius, your ninth house of distant travel. Jupiter will beam the Sun and new moon, so it looks like travel is on your agenda, if not in November, your chances are equally good in December to pack up and go. No matter where you go, near or far, you'll love your experience. If you are in college or graduate school, you may be taking an important exam, and if so, you will nail it with an A.
Venus will be in fire-sign Sagittarius, a divinely compatible place for you—you may want to pick up something to wear to holiday parties, which will be just around the corner.
One last note: Jupiter will move forward on November 23 (the date of the new moon), after having been retrograde since July 28. Your life will take on new luster, especially after December 20 when Jupiter, the giver of gifts and luck, slips into Aries again, to stay until May 16, 2023. What an exciting year of happiness, improved health, and prosperity you have ahead! For now, if you need to spruce up your apartment or house, start browsing furniture sites and stores. If you need to buy, rent, or sell, you will be in luck, especially from November 23 to December 20.
SUMMARY
This month opens with a challenging eclipse in Taurus on November 8 and will likely bring an unwanted surprise regarding your income or savings. You won't see the news of this eclipse coming, as it will seem to come out of nowhere. This full moon eclipse will reach culmination in your second house of possessions and earnings and will affect everyone in different ways, but for you, the message will center on money. You just came through a solar eclipse last month on October 25. That one was friendly and might have brought you a new source of income, sum of money, valuable gift, or news about a bank loan, insurance payout, or other such funds. If you have not heard good financial news yet, you are likely to hear soon.
The full moon eclipse on November 8 will be much more emotional than last month's eclipse and deliver far more sudden news. Like all eclipses, the changes will be non-negotiable—you will have to find a way to come up with the money fairly quickly. There will be no way to turn the clock back to an earlier time, and with Saturn square to the Sun, there will be no way to delay or get around a financial obligation.
A lunar eclipse, like the one November 8, will always put the emphasis on the moon, and the moon rules your domestic condition, making it variable and unstable—you may find out you have to move house or that a female member of your family will need your assistance, as two of many possible examples. Uranus will be conjunct the full moon and will create sudden events that will surface without warning.
On the full moon November 8 lunar eclipse, the transiting Sun will also be brought into the conversation, and if single, it will affect your love life, accenting the relationship with the person you're dating. Alternatively, this eclipse may bring the need to make a decision about a pregnancy or care of a child. If, instead, you have an ongoing creative project, it may now be finished but still require some quick adjustments or corrections.
Keep your calendar clear for this eclipse will distract you from your normal agenda by requiring you to pay attention to news. Mars will be well angled to stabilizing Saturn, a big advantage, for the changes you may make now or in December will help you feel a greater sense of security. While everyone will notice the friendly link that will be formed between Mars (action) and Saturn (long-term gain), Mars is your ruler, so Mars' actions are weighted more heavily in your chart than most, so you'll benefit more than most.
An eclipse in Taurus puts a spotlight on Venus, which will be under siege by unpredictable Uranus, but receive help from both visionary Neptune and career- and money-oriented Pluto. Having friendly aspects to Venus suggest the long-term outcome of this eclipse will be positive, despite a possible drain on your finances now.
Next will come the new moon in Sagittarius on November 23, which could bring a distant, possibly international, influence into your life. You may travel a far distance, or family or friends who live far away may come to visit you. Jupiter, giver of gifts and luck, will be in an out-of-sign trine, indicating great harmony to this new moon, helping you to broaden your vision. Jupiter will also help you plan ways to build a richer, more interesting life. You will also have luck and opportunity in regard to college or undergraduate work, the media, legal matters, international relationships, and happy progress when it comes to immigration, passport, visa, and residency status. Jupiter will orbit close to Neptune for the last time in this decade and will be extra strong for an artistic endeavor that you may be involved with.
As you see, the second half of November makes up for any tensions you might experience earlier in the month. Take deliberate steps to slow down. Think during the early part of the month, and refuse to be rushed by anyone.