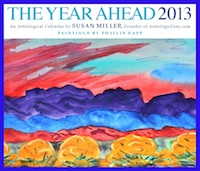 The Year Ahead 2013 Calendar!
Now discounted! Price $11.99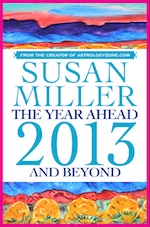 Reserve Susan's book now!
Price $12.99

Order Your "My Personal Horoscope" Custom Book Now!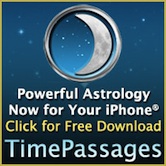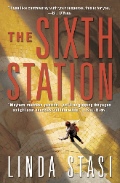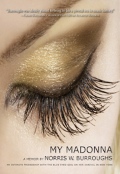 MY MADONNA-AN INTIMATE MEMOIR - great read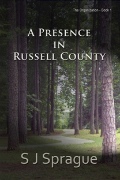 To tell a dangerous truth, disguise it as fiction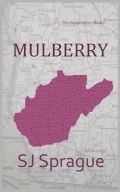 Book 2 in The Organization Series

Learn little-known things about your sign
The World of Gloria Vanderbilt
by Wendy Goodman,
plus lavish photographs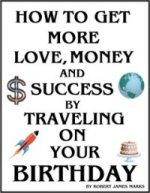 A great astrology book!
Matchmaker
Learn about the planetary forces that rule our relationships.
Fitness
The physical body and health are also influenced by when you were born.
Stress Busters
Rid yourself of unnecessary stress and enjoy life.
Gift Guide
Gifts appropriate for both men and women of each astrological sign.
Seducing Your Lover
Find out how to put some passion into your love life.
Vacation Tips
Suggestions on how and where to enjoy your precious time off.
Capricorn Woman
Capricorn is the pretty coed you knew in college, the one who looked like Grace Kelly and wore cashmere twin sweater sets. Buy her a set in butterscotch or a soft pastel color. For cold winter nights, get her lambskin slippers to keep her pretty pink toes warm. Since this sign rules things of value from the past, surprise her with a piece estate jewelry you purchased at auction, or a pair of your Grandmother's pearls or diamond earrings. She loves most antiques, so you might choose a beautiful old quilt for her bedroom along with some antique cotton lace pillows, or Oriental bowl for her mantle. Replicas are fine if well done, perhaps bought at a museum shop. Another great idea would be an authentic Schwinn bike, replicated from the 1950's that are all the rage among the status set. (They don't come cheap, so if you live in New York where bikes get ripped off daily, think twice.) An old radio, real or a replica of the 1920's could make a hit too. She is career-oriented, so buy her a fine attache case, portfolio or a filofax to keep her appointments. For fragrance, she prefers classic scents from France.